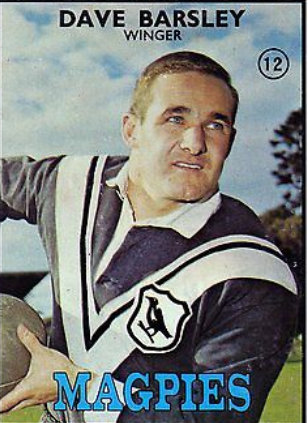 Dave Barsley wearing the famous Black and White jumper in 1968.
Being a big fan of Dave Barsley  I had wanted to interview him for many years but had not had the chance to do so.
I rang Dave and arranged to meet with him at his Port Macquarie home.
He was very generous with his time.
I hope everyone enjoys this fascinating story of  David John Barsley.
Below is the Fort Street Boys 4th grade Rugby Union side of 1954.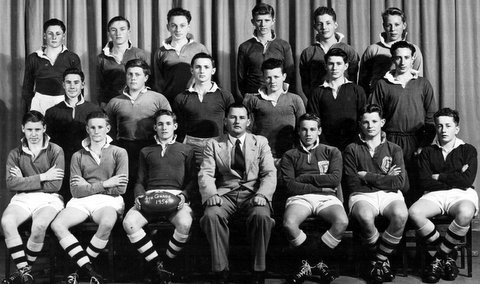 Thats Dave sitting with ball front row next to the coach.
Dave Barsley was born in Burwood and spent all of his early life at Enfield.
Dave went to Enfield Primary school followed by Fort Street Boys High School.
As a young boy he played Soccer on the weekends but after the game loved to watch Rugby League which was played on the adjoining fields.
Dave played Rugby League at primary school during the week and only started to play weekend Rugby League with South Strathfield in 1953 at the age of  14.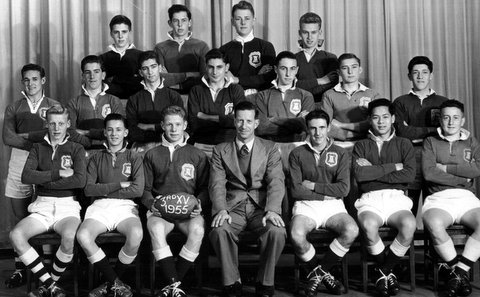 The Fort St Boys 3rd XV Rugby Union Team.
(Dave is far left middle row)
While at Fort St Dave played Rugby Union, Cricket and was a very good runner with the school Athletic Team.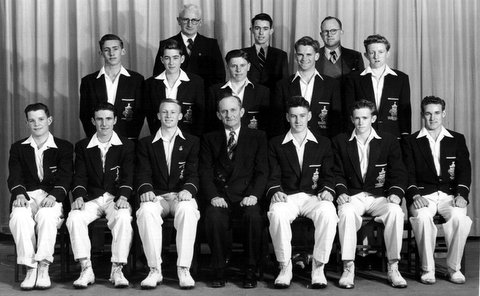 Fort St First XI undefeated premiers 1955. (Dave far right seated.)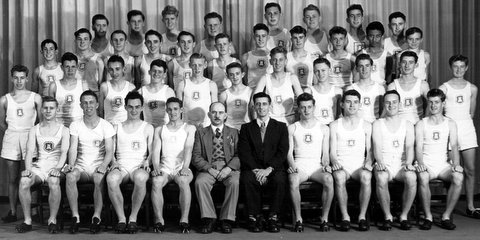 Fort St Boys 1955 Athletic Team.
( Dave is next to the old guy with the moustache front row)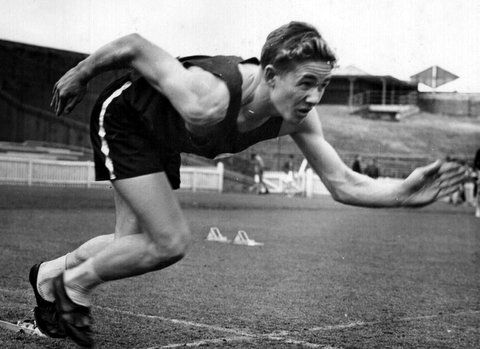 Dave running at the SCG for Fort St in the CHS Championships. 1954.
Dave ran well in the CHS Championships but was beaten in the final by a future Commonwealth and Olympic runner Denis Tipping.
Denis Tipping running behind Michael Cleary and Bob Lay.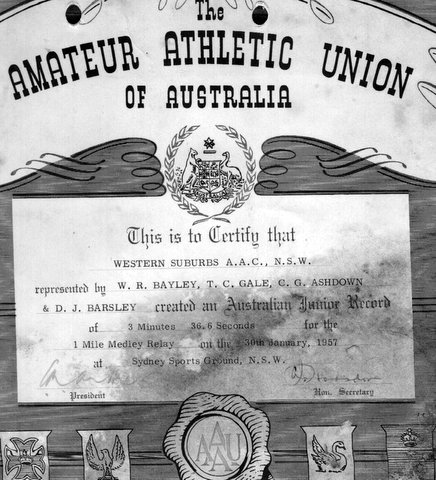 One of the many awards Dave received during his running life.
When not attending school sports Dave played Rugby League for the South Strathfield club.
Dave played with South Strathfield between 1953 and 1956 winning a few comps along the way.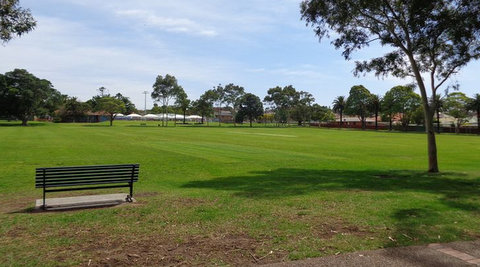 Henley Park @ Enfield the home ground of South Strathfield.
In 1957 and 58 Dave played A grade with Concord United it was from this club that Dave was chosen to play for the 1958 Wests President Cup team.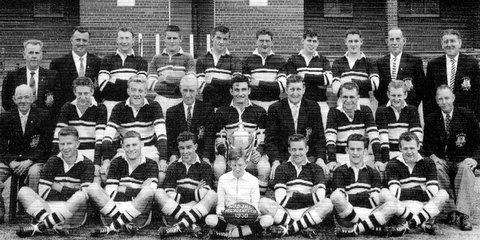 The winning 1958 Presidents Cup Team.
(Dave is seated on the right of ball boy)
The same year 1958 Dave was graded and played in Wests 3rd grade team.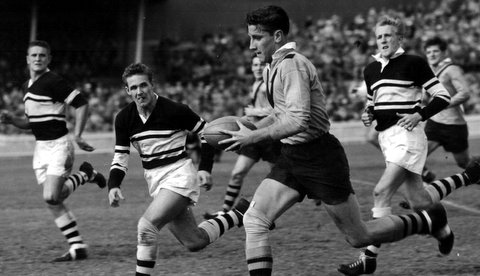 A very young looking Dave @ the SCG.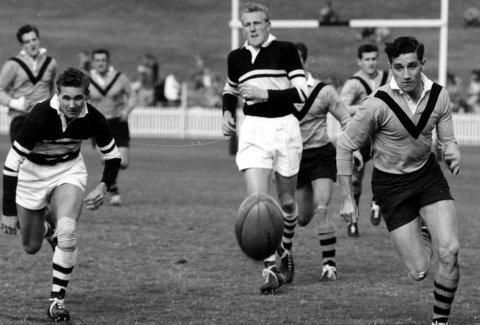 Dave and Ces Partland (Balmain) going for the ball.
Les Wyatt (Wests) looks on.
Dave @ SCG 1958.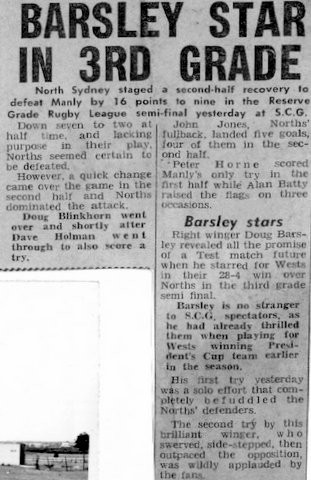 Good story about Dave and Wests winning the Semi Final v Norths.
Note. Dave was using his alias Doug Barsley for this match.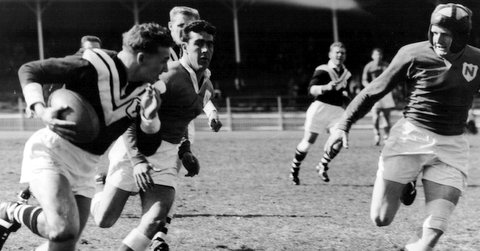 Dave on the run Wests v Newtown.

Wests beat St George in Grand Final.  Dave kicked 2 goals.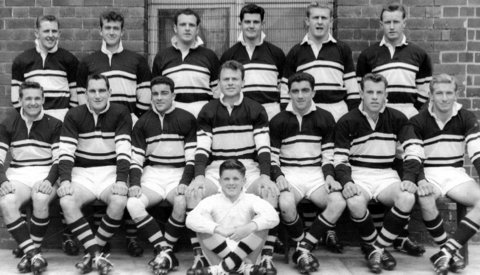 Team photo of Wests 1958 Third Grade winning side.
(Dave is seated far left.)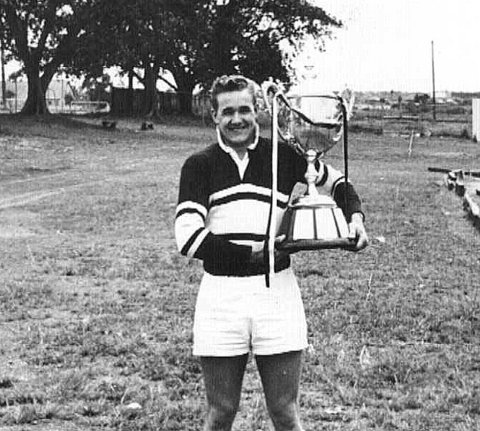 Dave holding winning Cup.
Note: not sure but looks like the old Concord Oval?
Thanks to the records kept at the Wests Archives I know Dave played 10 games in 3rd grade.
(Dave scored 9 tries and kicked 4 goals.)
During the 1958 season one player that Dave remembers as a player of the future was
Frank Stanton who played for the Manly club.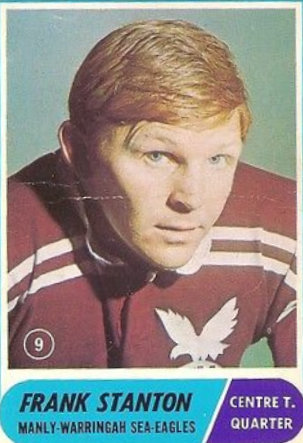 Frank Stanton 10 years later.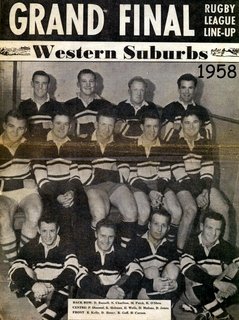 1959.
 1959 was the year that Dave played his first First Grade game. It was against Newtown he scored a try and had his collarbone broken by Newtown half back Bobby Whittion.
Welcome to First Grade Dave.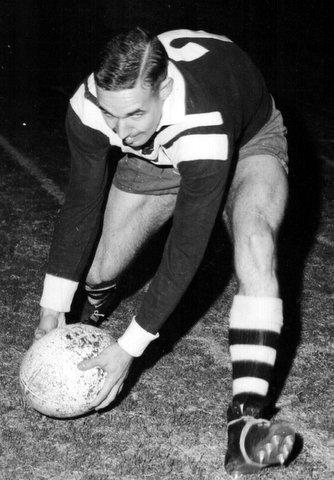 Dave at First Grade training @ Pratten Park 1959.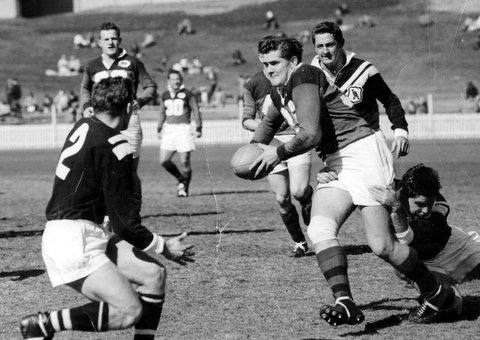 Dave playing in the 3rd grade semi final v North Sydney @ SCG.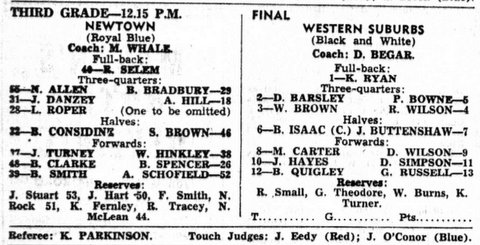 Program of Wests v Newtown in the Final of 3rd grade 1959.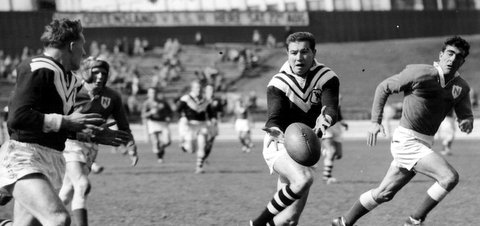 Dave about to receive ball from ??? in the Final v Newtown.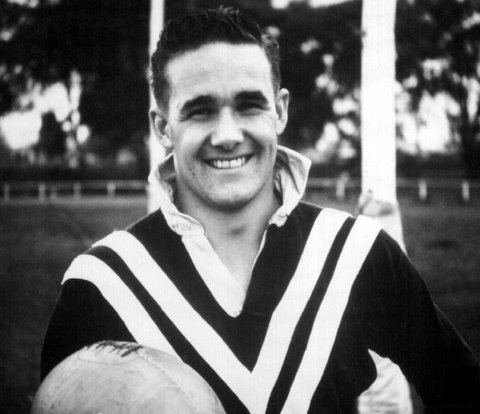 Dave on the end of season trip to play Southern Riverina.
In 1959 Dave played one 1st grade game, 12 reserve and 7 third grade games.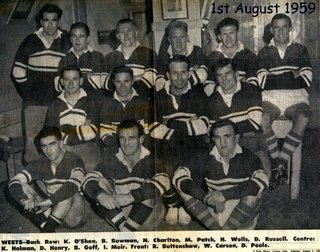 The Wests Team 1959.
1960.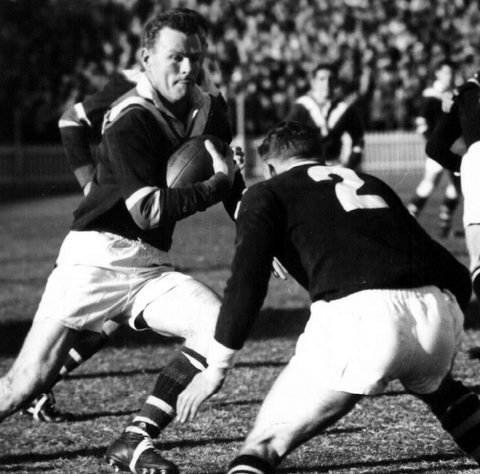 Dave about to tackle the late Terry Fernley @ the SCG.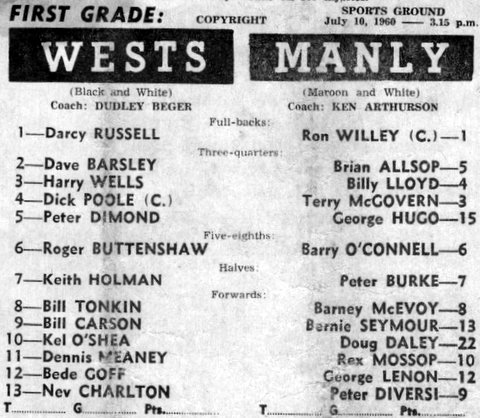 A very good Wests side. Dudley Beger coached Wests for one year.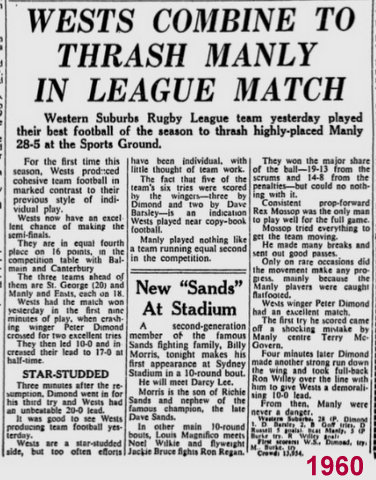 Match report after a good win V Manly.
Dave scored 2 tries.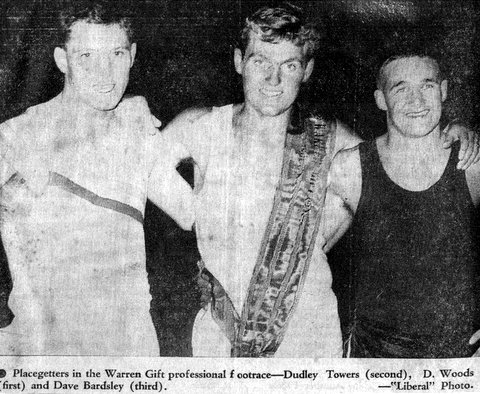 Dave was also running in Gifts as a professional runner in 1960.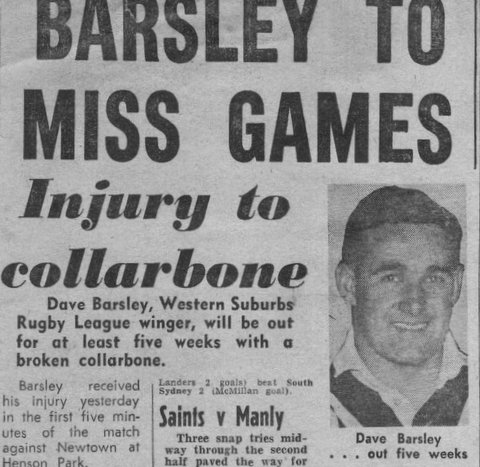 Dave had a lot of trouble with his collarbone all through his football career.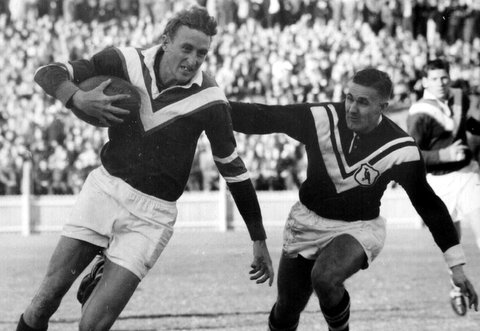 Straw Andrews (Easts) and Dave Barsley @ SCG.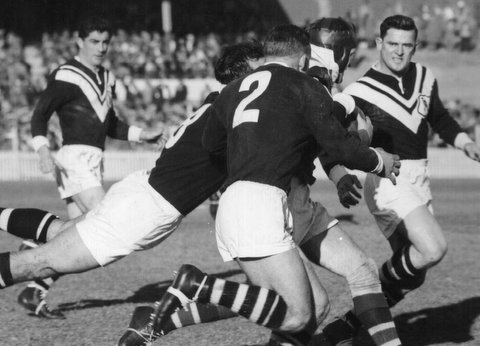 Bill Tonkin, Roger Buttenshaw, Dave and Yappy Holman.
Dave's stats for 1960:
First Grade 11 games 9 tries.
Reserve grade 6 games 4 tries and 2 goals.
1961.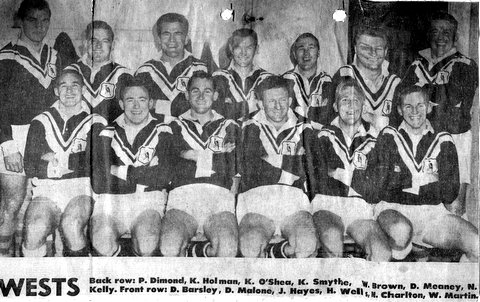 1961 the first year of the famous 3 years were Wests tried everything to beat the
Mighty St George Teams.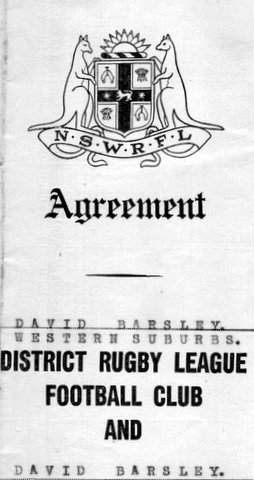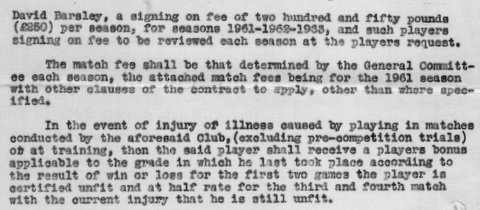 Dave signs a contract to play for Wests for the next 3 years.
(I hope Dave read the small print!!)

Once again Dave injury's his collarbone.
Dick Poole passing to a flying Dave Barsley.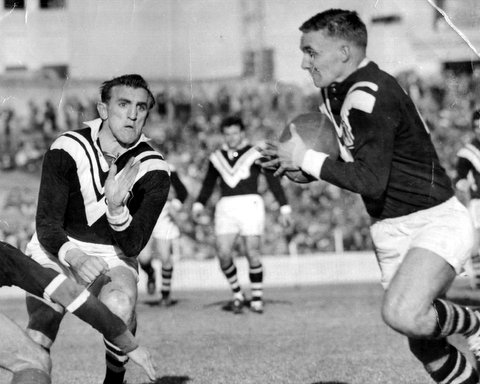 Dick was one of players that Dave said helped him with his football career along with Harry Wells.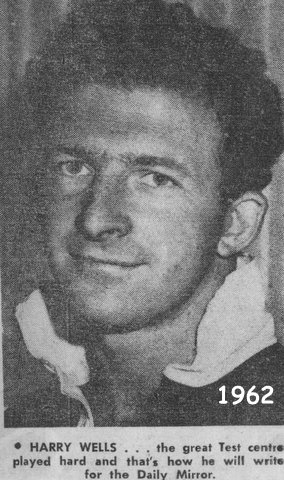 Harry looked after Dave like a son.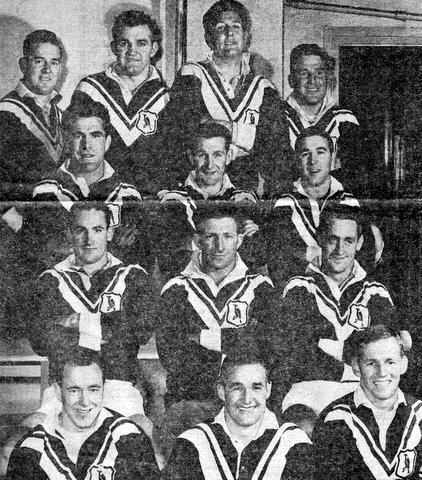 Team photo taken inside Pratten Park dressing room.
Dave sitting in front of Harry Wells.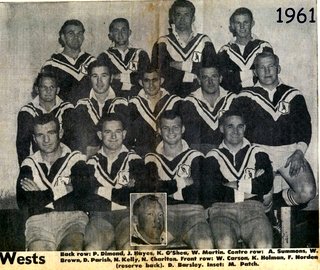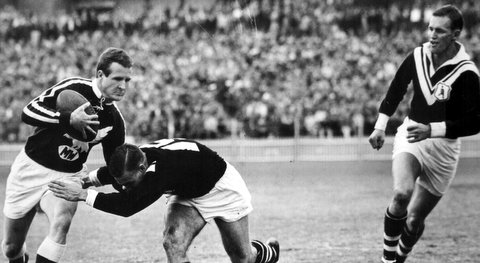 Nick Yackich being tackled by Dave, Bill Martin looks on.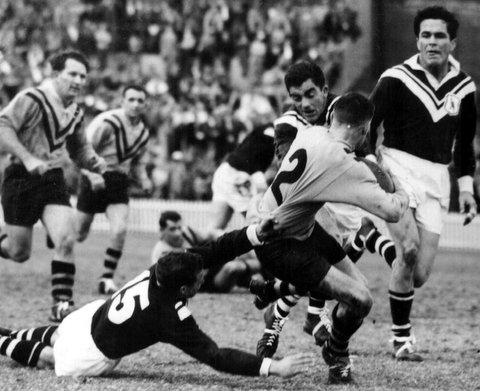 Dave has Bobby Mara with Roger Buttenshaw and Kel O'Shea about to help.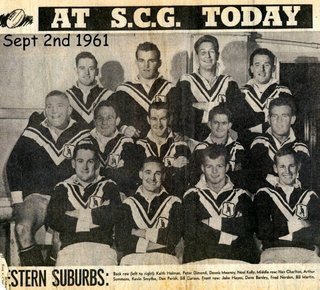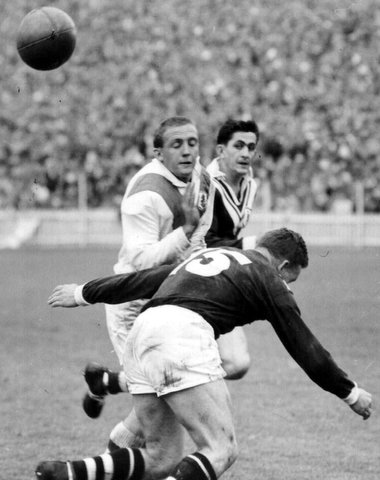 Dave tackling Dave Brown.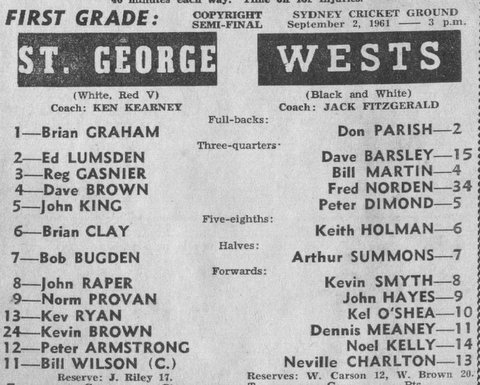 Wests v Saints Semi Final.
St George won 9 – 4.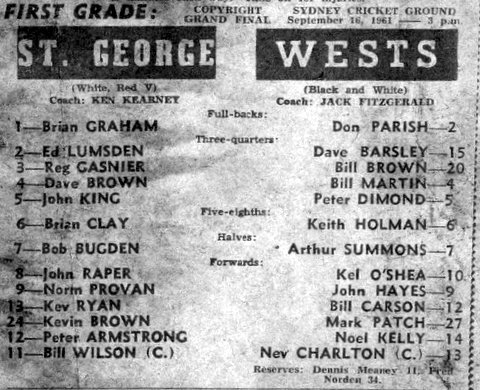 1961 Grand Final program.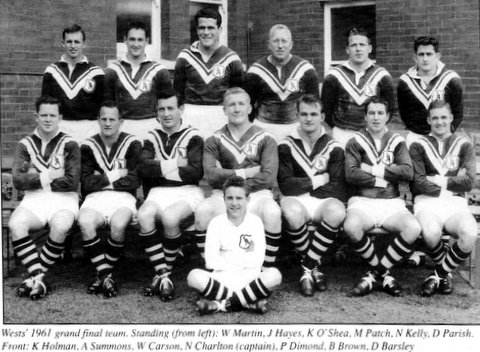 Wests team photo of 1961 Grand Final Team.
Dave is front row far right.
Dave remembers the sea of faces as he ran out onto the SCG.
A moment that he will never forget.
Dave told me he thought to him self as he ran onto the ground  "if this is what 60,000 people look like what chance do you have winning a lottery when there is only one winning  ticket in a 100,000″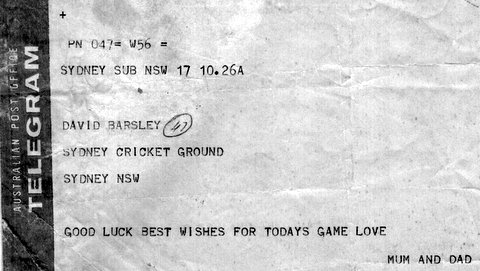 One of the many telegrams Dave received at the SCG before the Grand Final.
Dave's comment about the 1962 Grand final "Saints were far to good on the day"
Oh almost forgot the final score St George 22 Wests 0.
Dave played 17 games in First grade scoring 4 tries and kicking 12 goals.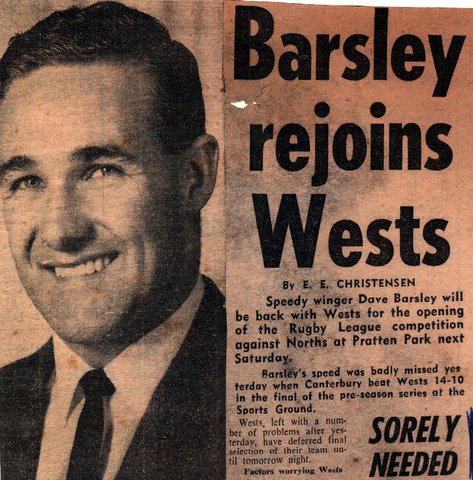 Dave ready to play for the season opener.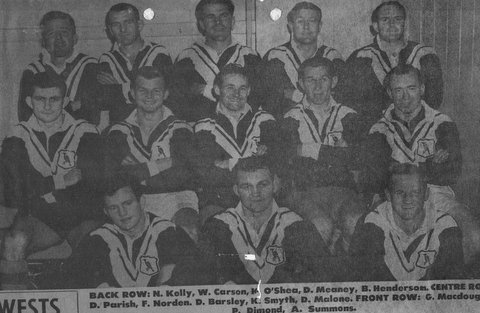 Wests team photo taken at Pratten Park dressing room.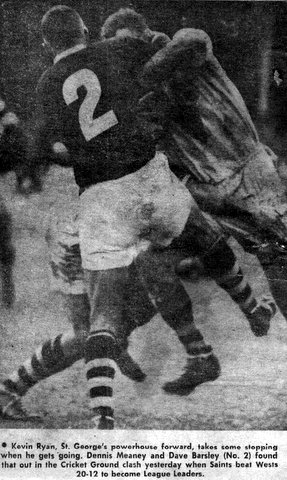 Dave and Kevin Ryan meet at the SCG.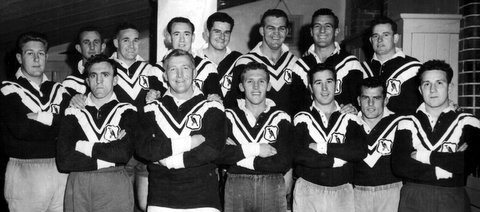 A fine body of men ready for training at Pratten Park.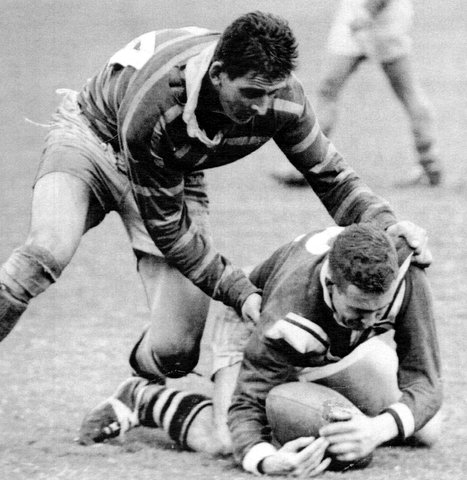 Noel Dolton tackles Dave Barsley @ SCG 1st Semi.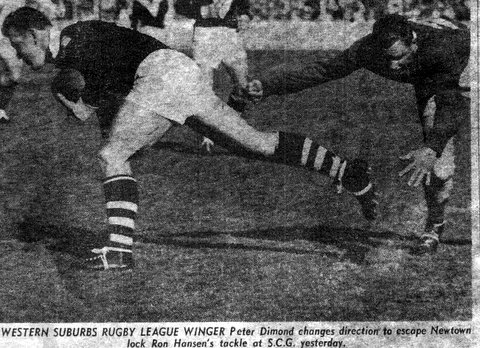 Peter Dimond playing on the other wing.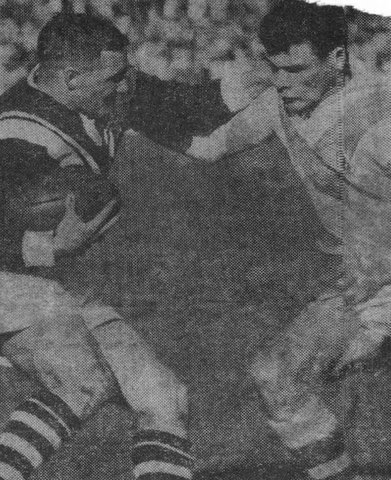 Dave and Johnny Graves @ the SCG.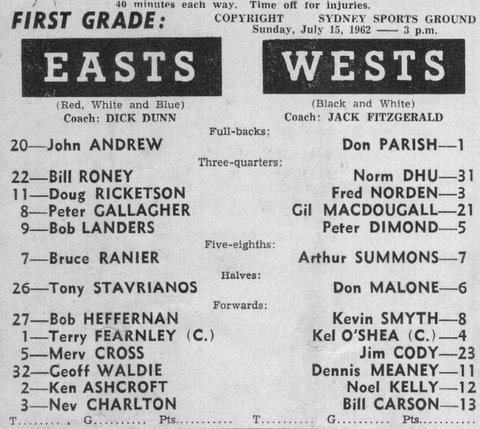 I think this was the only First grade game that Norm Dhu played for Wests.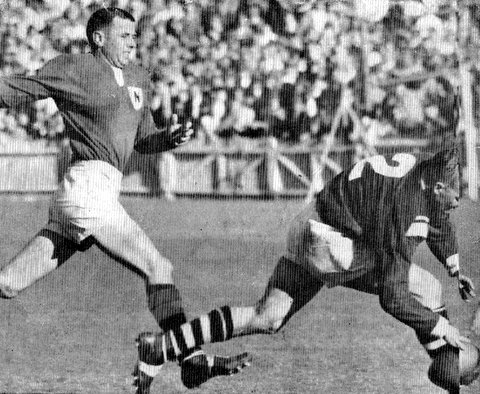 Dave Scoring a try v Newtown at the SCG.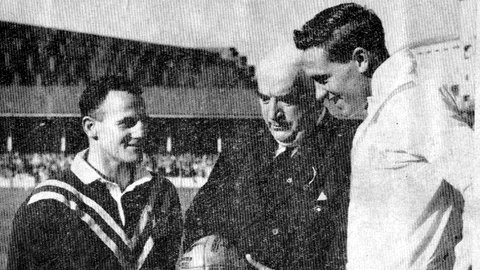 Arthur Summons, Bob Menzies and English captain Eric Ashton.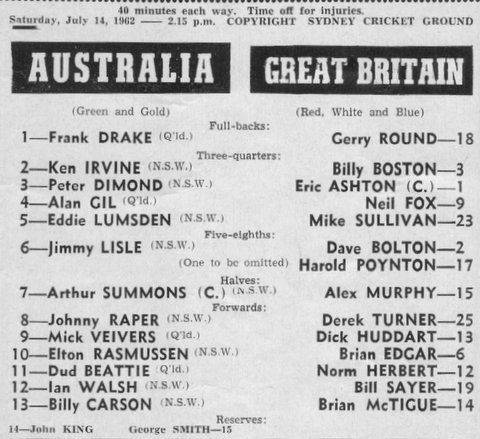 Two Wests players playing for Australia.
Arthur Summons and Peter Dimond.
Australia 18 beat GB 17.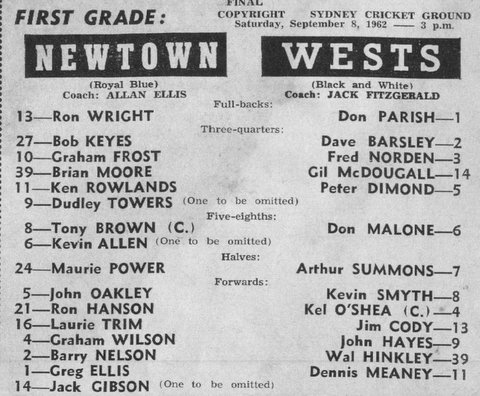 Wests 25 beat Newtown 13.
Dave scored a try and kicked 2 goals.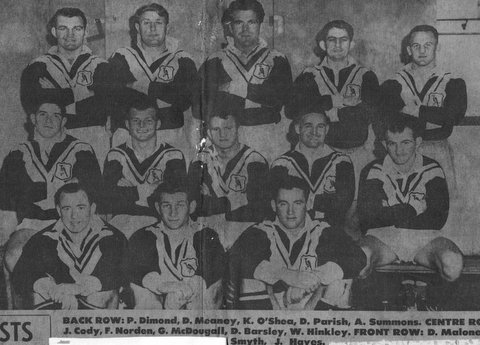 Team photo from Newtown game.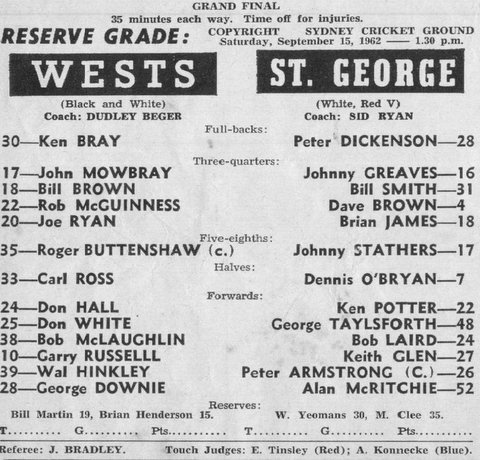 Wests played in both Reserve and First grade Grand Finals.
Reserve grade lost to St George 19 Wests 0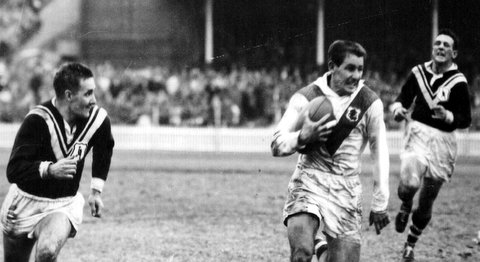 Dave lining up John Riley in the 1962 G.F.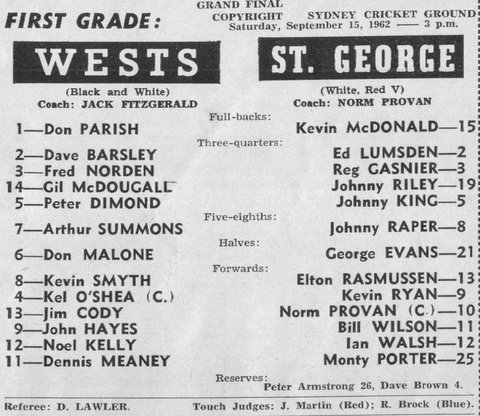 St George 9 beat Wests 6.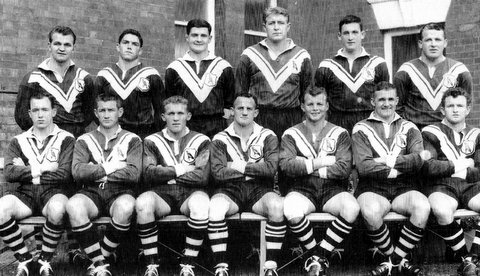 The Wests 1962 G.F. team.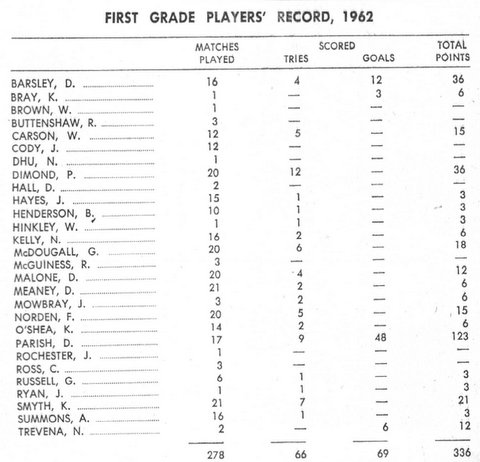 1963.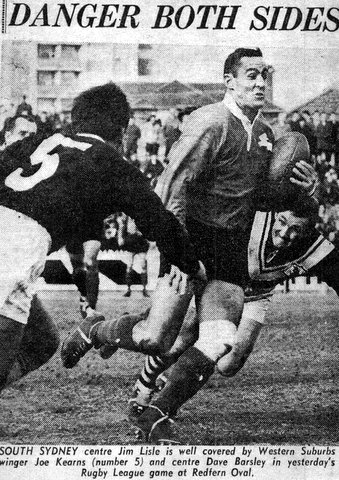 Dave playing centre and about to tackle Jim Lisle.
Dave getting ready to take on Eddie Lumsden.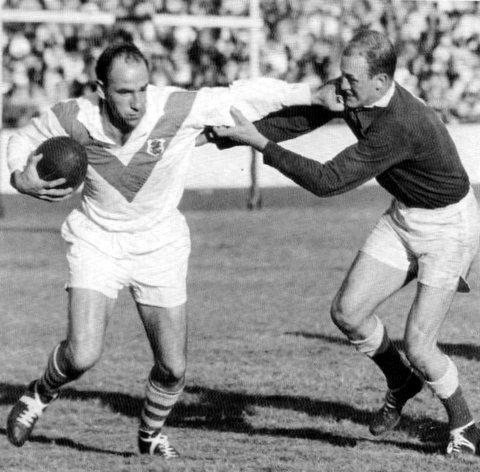 Ed Vs Brian Moore.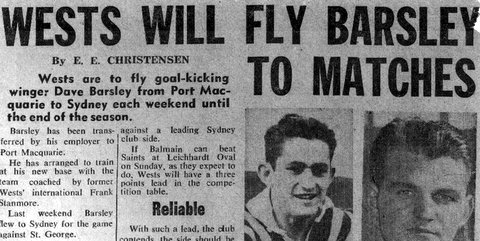 Due to work commitments Dave had to move to Port Macquarie.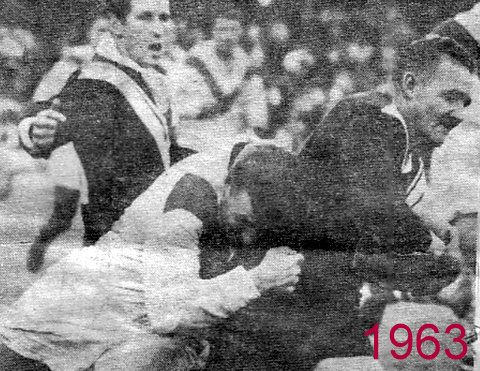 Dave playing against St George @ the SCG.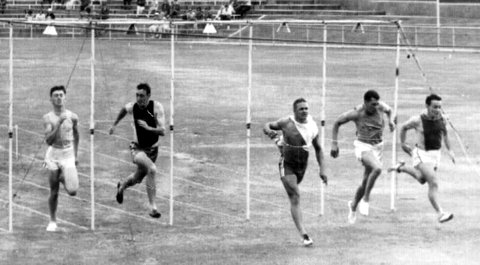 As well as Rugby League Dave ran in many Gifts.
Dave was part of a group of pro runners who were trained by
Husky Moore at Bankstown Oval.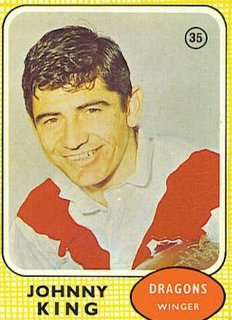 Some of the other runners included John King, Dudley Towers ,
Peter Thomas, John Mowbray and Ken Irvine.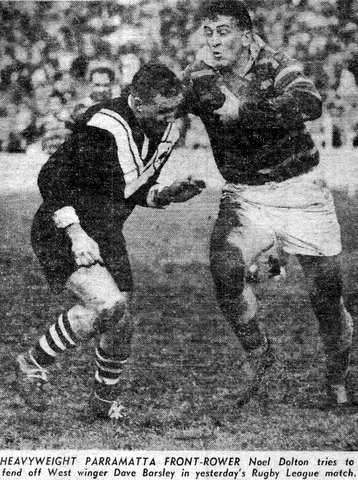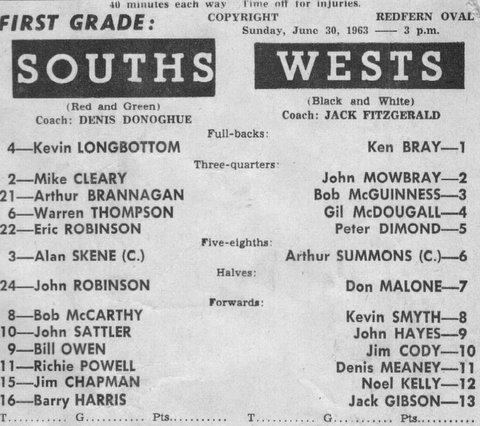 Wests V a very young Souths side.
Note: Flying winger Warren Thompson playing out of position for Souths.
Dave told that because he could not get time off work leading up to the 1963 Grand Final he was not picked in the '63 Wests side.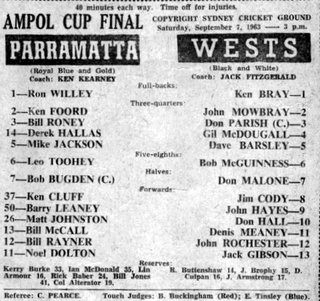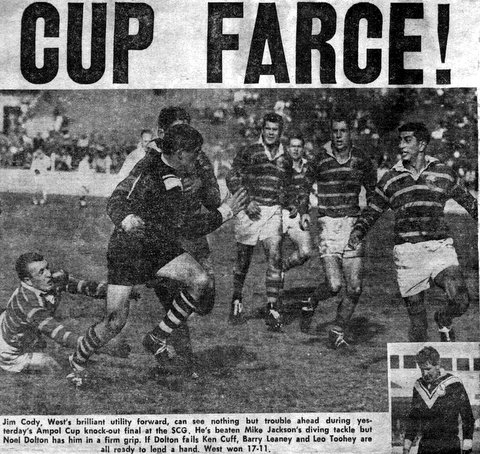 We may of lost the 1963 Premiership to Saints (again) BUT we beat Parramatta.
Dave played 12 First grade games and 5 Reserve grade games.
1964.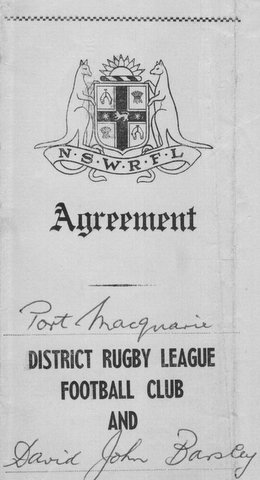 Due to a work promotion with Arnotts David John Barsley needed to go full time to beautiful Port Macquarie.
Dave signed a one year agreement to be the Port Macquarie Sharks Capt/Coach.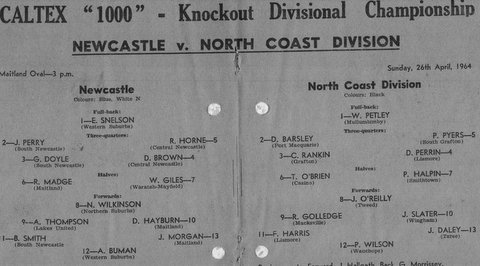 While playing for Port Dave played many rep games in 1964.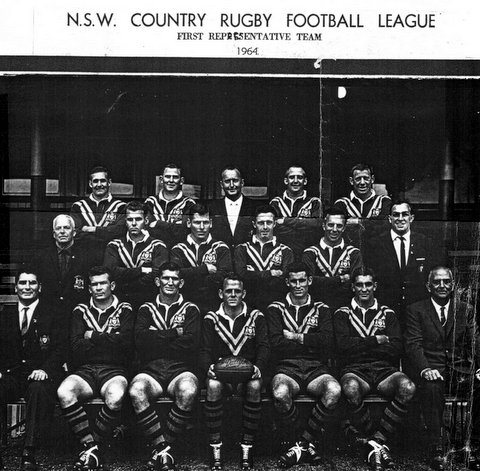 Dave is back row far left.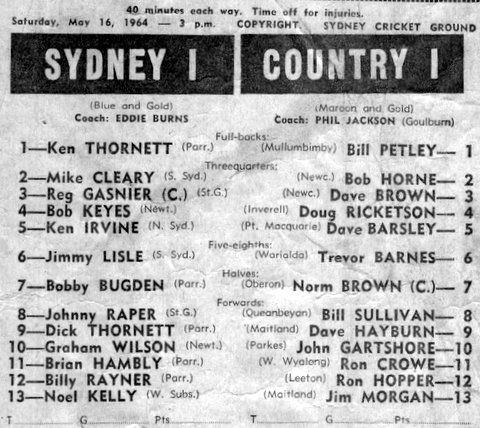 Two very good sides.
Sydney I  27 beat Country I 4 
Dave kicked 2 goals for Country.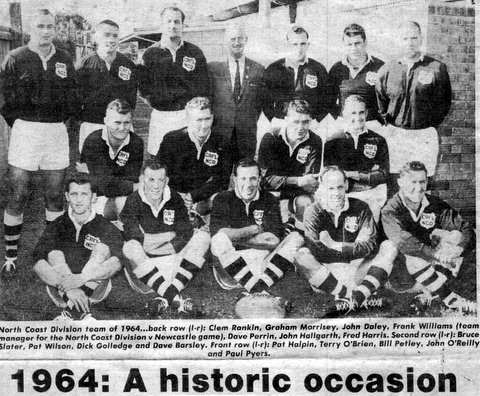 Dave is middle row far right.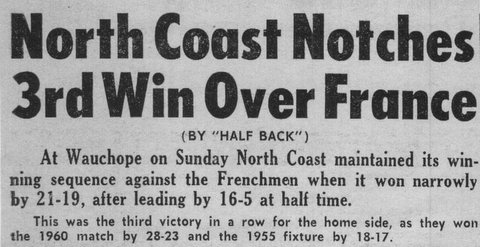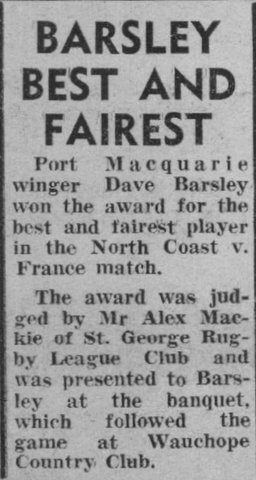 Dave scored 3 tries against the touring French side.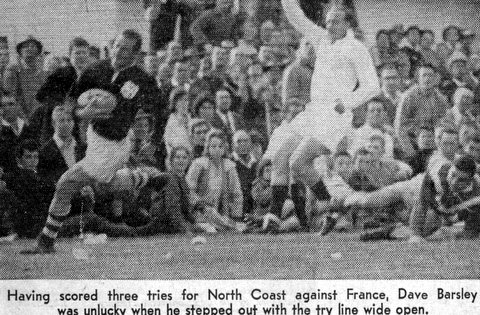 Showing lots of class.
What a feast for our French friends.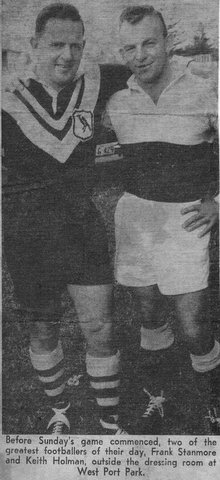 A visit from two old Magpies Yappy Holman and Frank Stanmore.
Frank was such a great player they named a suburb after him.
During his time at Port Dave played a game against Smithtown @ Smithtown.
I will let Dave tell the story…." after I had tackled a few players high eg Owen Elford I was playing full back on this day and I saw a very young winger set sail for the try line so running across in cover I tried to take him ball and all…the ref saw it differently and was giving me a harsh talking to when I felt someone hitting me over the head with her umbrella…it was Mrs Elford and the young winger was John Elford.
Grand stand at Smithtown.
This is about were Mrs Elford met Dave Barsley.
Due to Dave playing so many rep games he was often away when Port played.This made it very hard for any great success during the 1964 season.
Time to go home to Wests.
After getting a transfer back to Arnotts at Homebush it was time for Dave to find a Sydney team to play with one would think simple go back to Wests…..not as easy as it looks……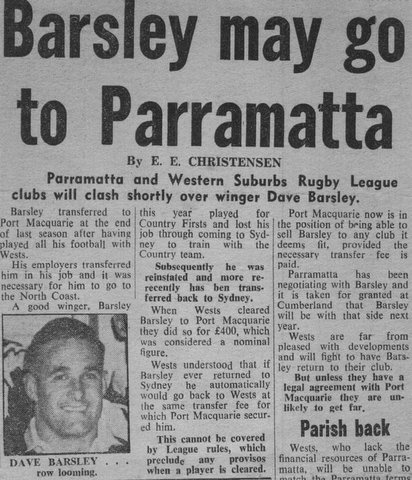 The plot thickens.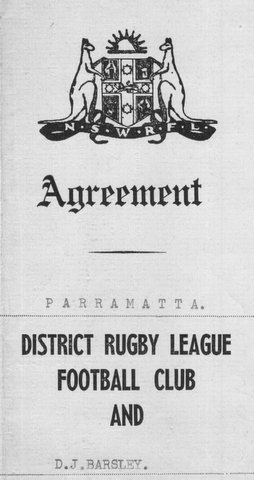 Did Dave sign a contract with Parra ??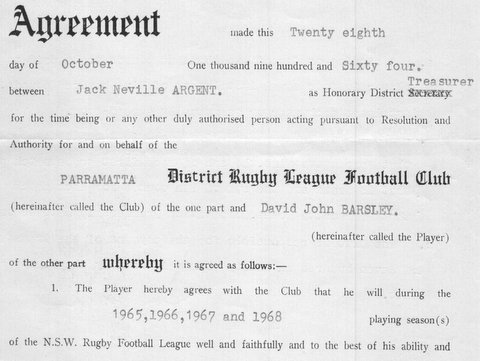 It appears so !!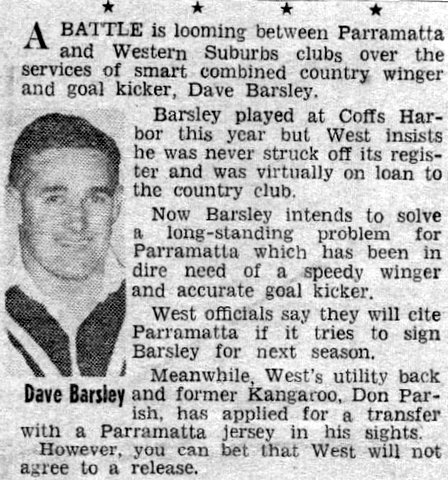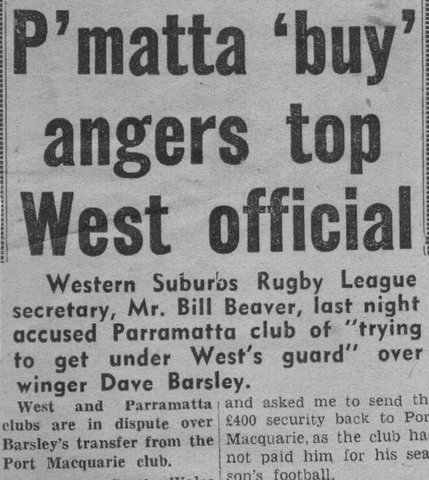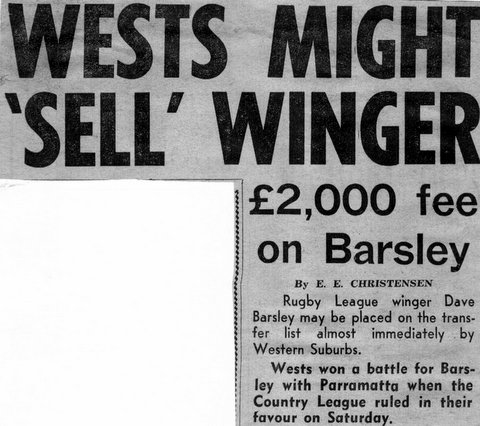 Good news for West supporters.
1965.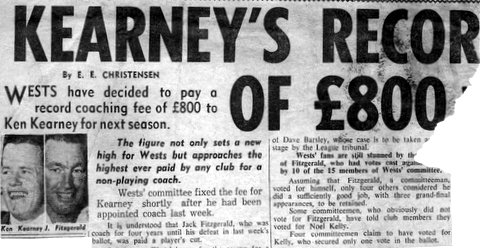 A new coach Ken "Killer" Kearney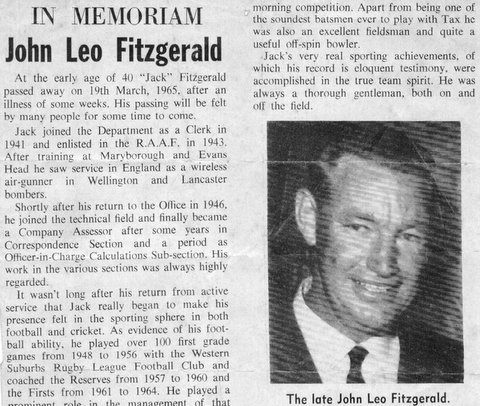 A very sad loss.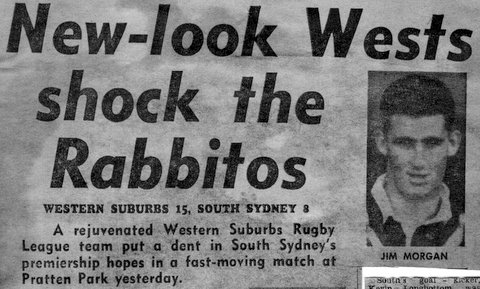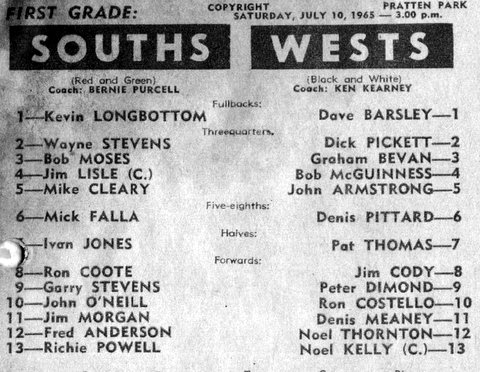 Wests still playing at Pratten Park.
Wests 15 beat  Souths 8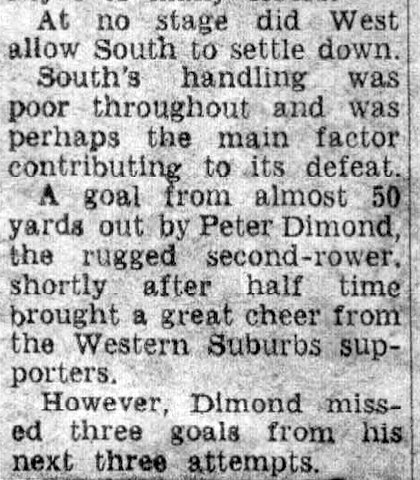 Peter Dimond taking the long range kicks.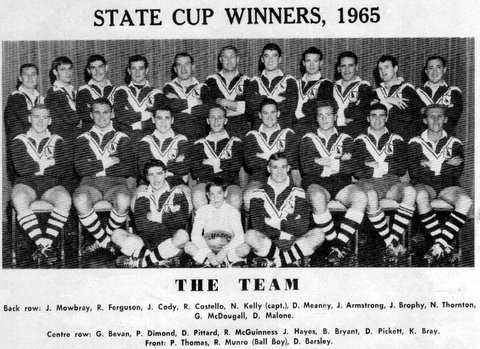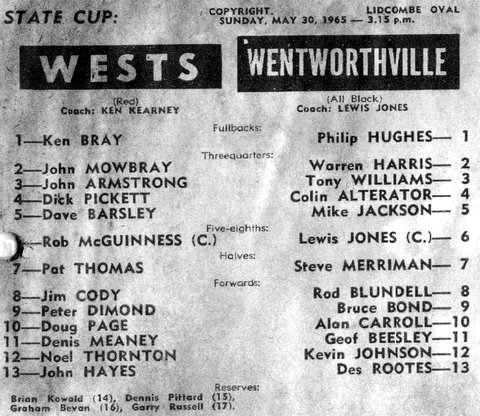 The famous game were Wests worn a all RED jumper.
Have you got one ??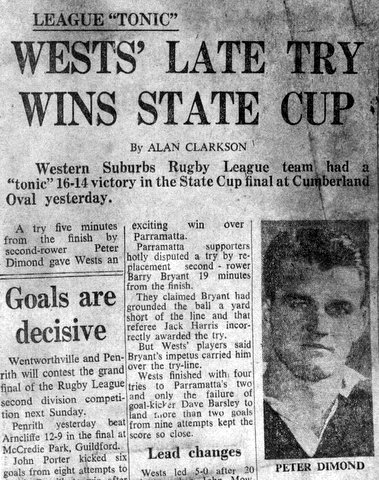 Maybe Barry Bryant's first First grade  game.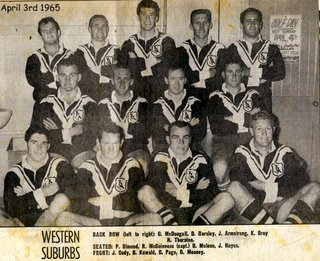 Dave is back row 2nd from the left.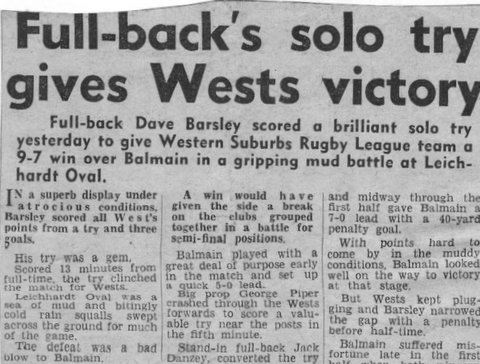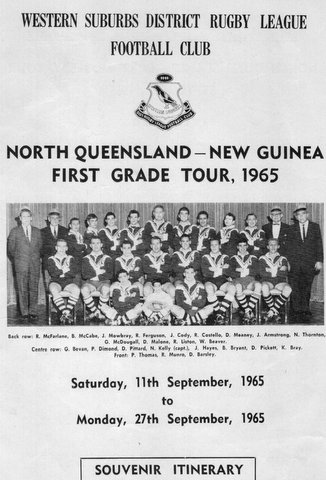 End of season trip.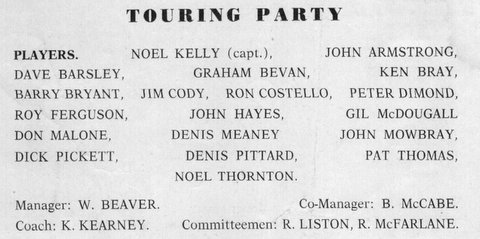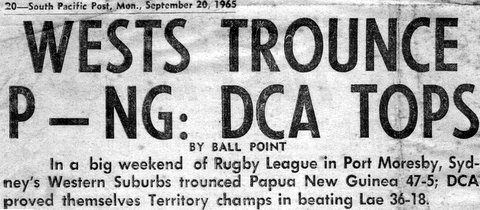 Good win too Wests.
Dave had a busy year with playing both State Cup and Premiership games.

Dave played 25 First grade games and scored a total of 124 points.
1966.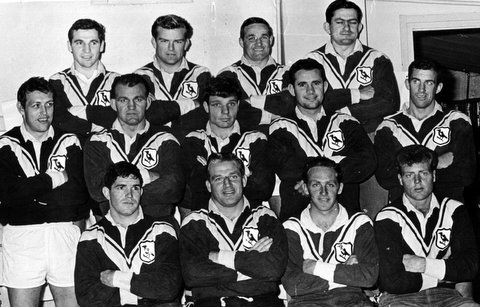 Photo taken inside Pratten Park dressing room.
Dave is back row 2nd from right.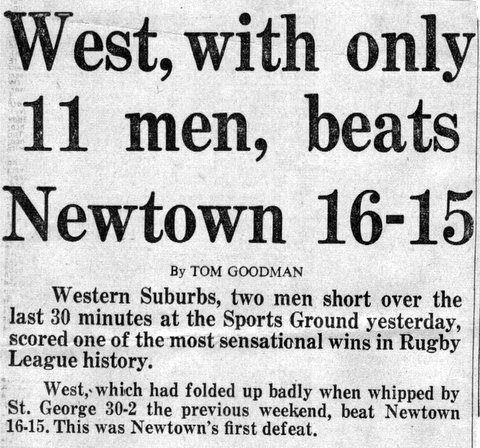 Famous win over Newtown.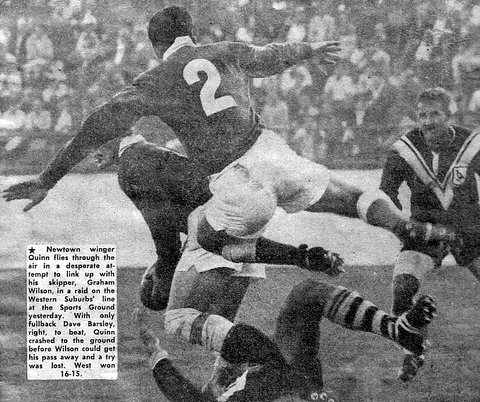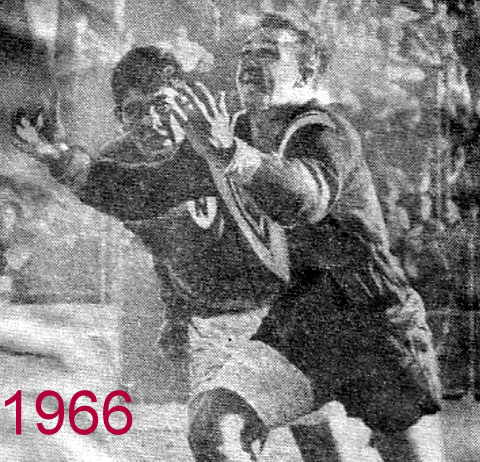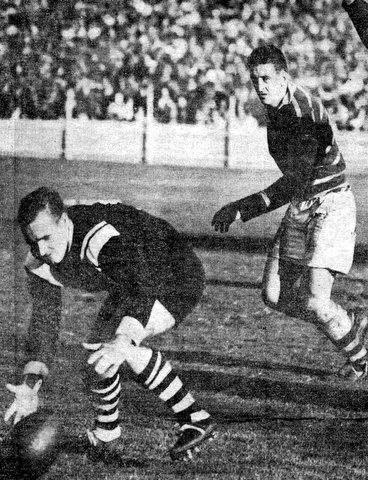 Dave being chased by Noel Dolton.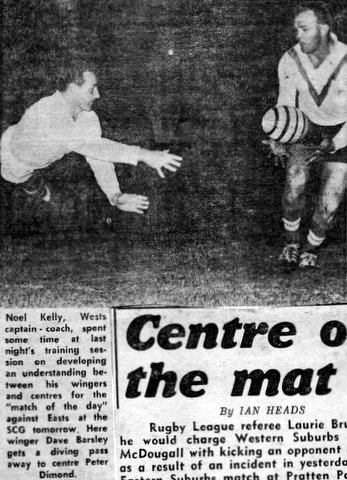 Dave and PD at training.

Busy time at training.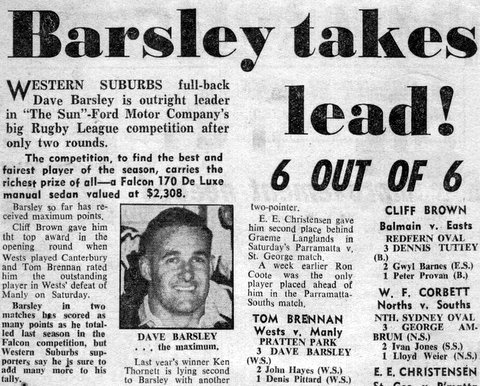 Dave playing to win the Falcon 170 De Luxe.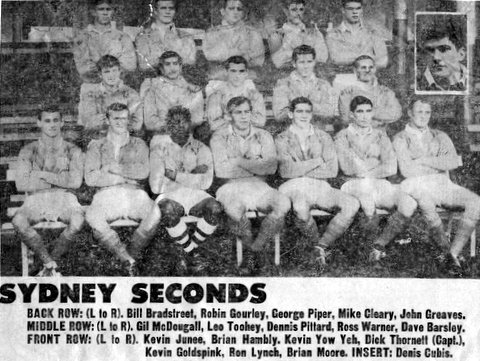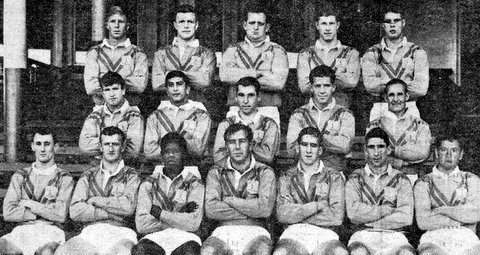 Two photos of 1966 Sydney Seconds.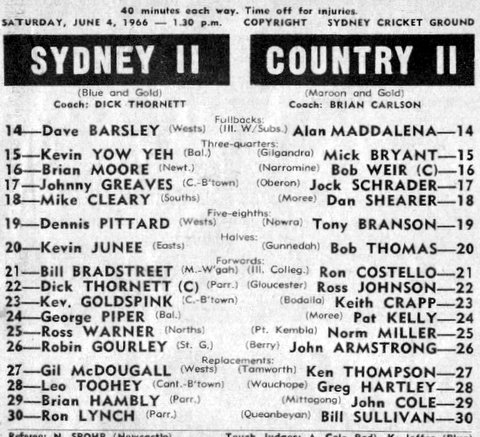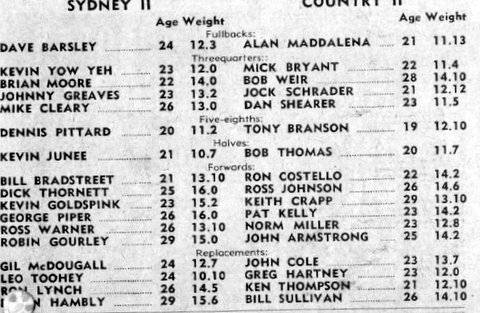 Not sure how correct the Age column is.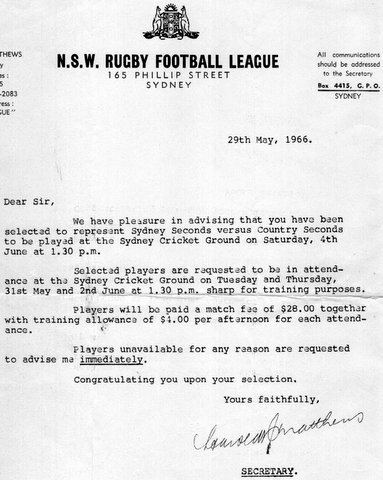 Huge money for playing for Sydney.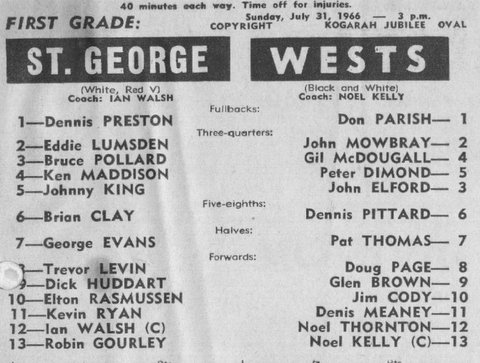 This game was on TV has anyone got a copy of the game.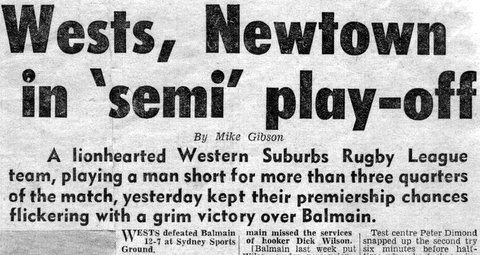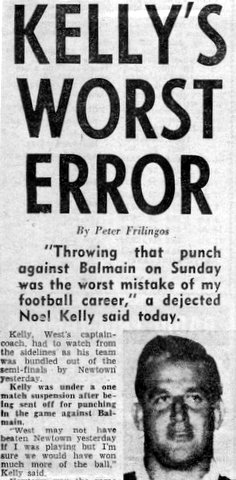 I guess the headline says it all.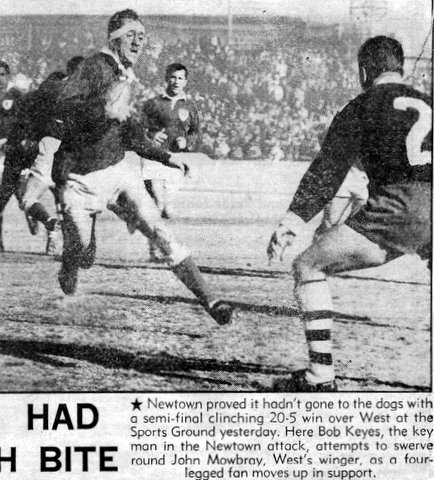 Sad end to the season.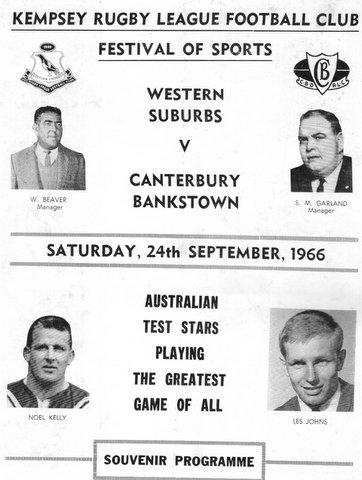 End of season game played one week after Grand Final.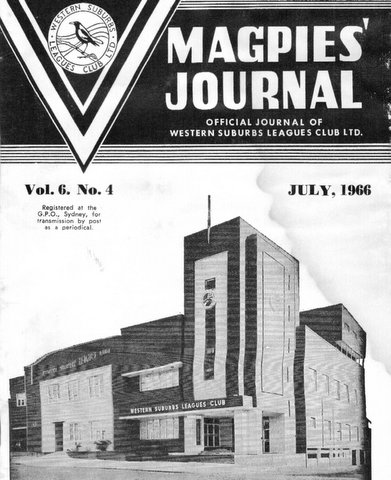 The Old Club .
Below who can remember the Warren Carr Show Band ??
Only signer I know is Judy Stone.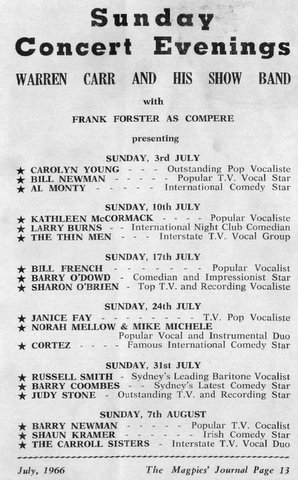 Those were the days……
Dave's stats for the year were 1st grade 13 games and
1 game in Reserve grade.
1967.
The 1967 Wests Team.
(poor old Roy Ferguson….bad photo shopping)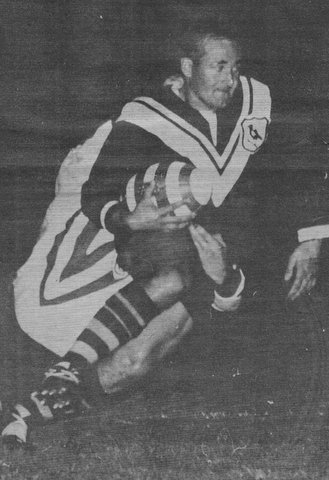 Preseason game V Berries.
Dave trailing Peter Dimond @ the SCG.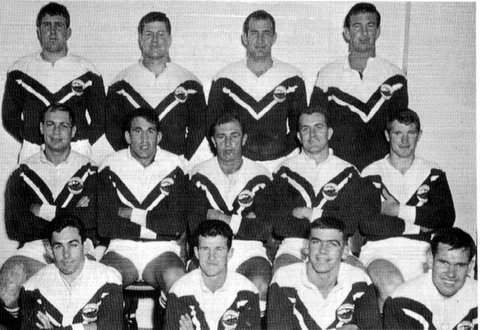 The 1967 Penrith Team.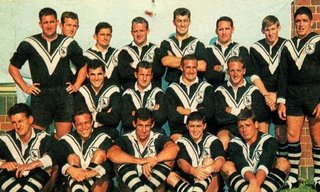 At last a Wests Team in color.
Dave is middle row 2nd from right.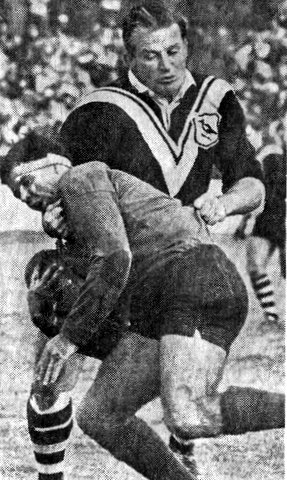 Noel Kelly meet Paul Sait.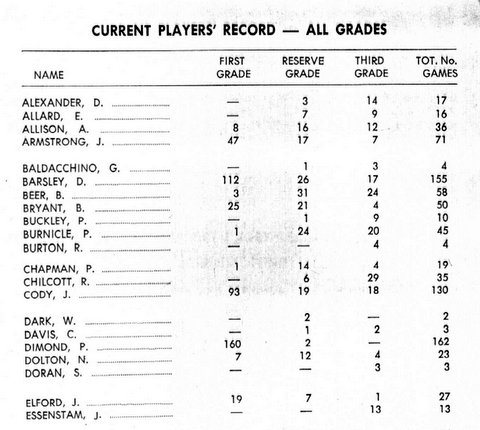 Its  1967 and Dave has a total of 155 games for Wests.
Just for the record Dave played 22 games in First grade.
1968.
We all lived in hope……..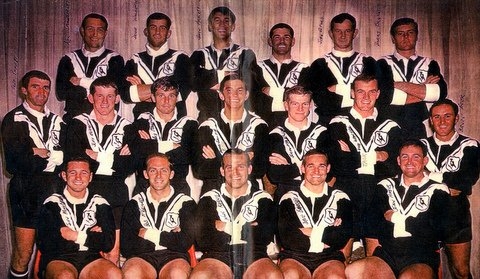 Dave sitting next to Noel Kelly in the front row.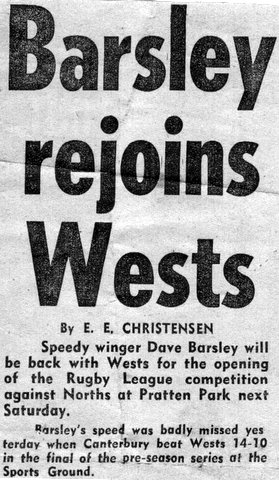 Good news for Dave and Wests.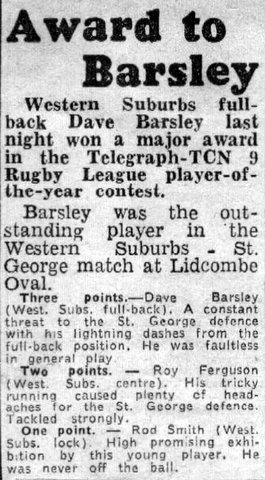 1968 was the year that Wests beat arch rivals twice.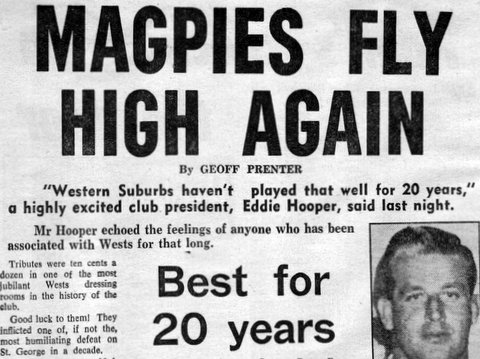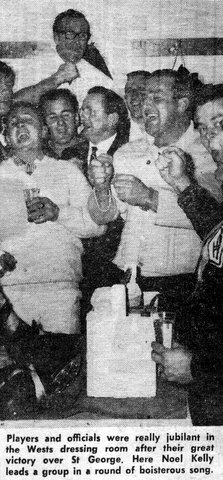 "We are the boys from Western Suburbs….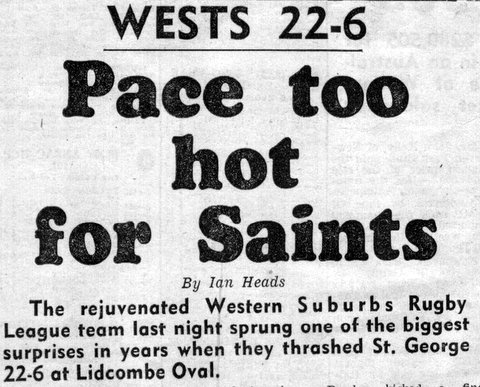 Love these headlines.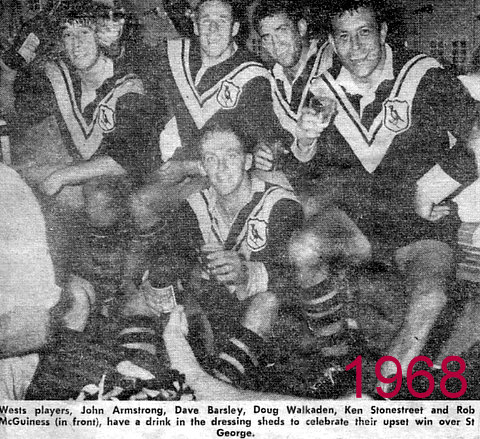 What a night that was……

Unfortunately neither Dave or Nebo made the squad.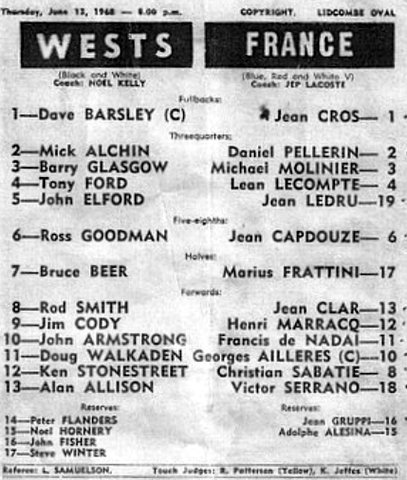 Dave as Captain against France.
Wests beaten by a point.
France 11 Wests 10.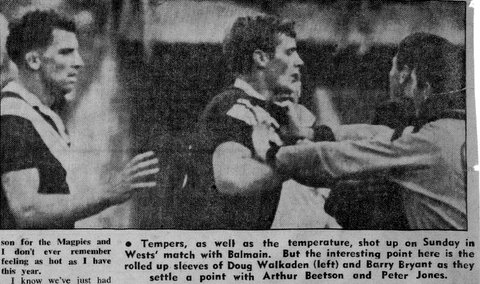 Rolled up sleeves were very popular.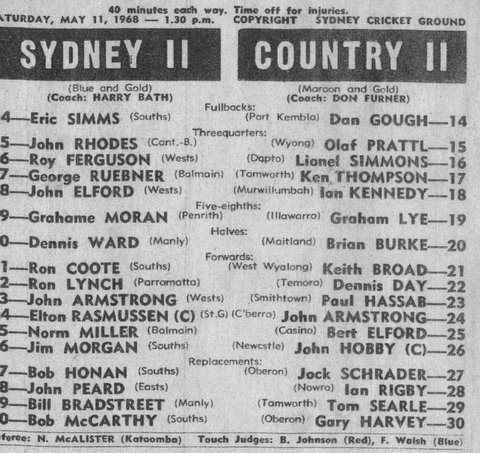 Three young Magpies made the Sydney II team.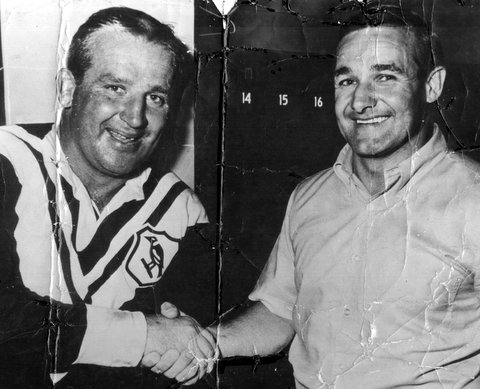 Noel Kelly wishing Dave Barsley all the best at Newtown.
This was Dave's last year at Wests. Dave only wanted the same money as 1968 but the conditions of the contract stated that he had to play 12 First grade games to get his money.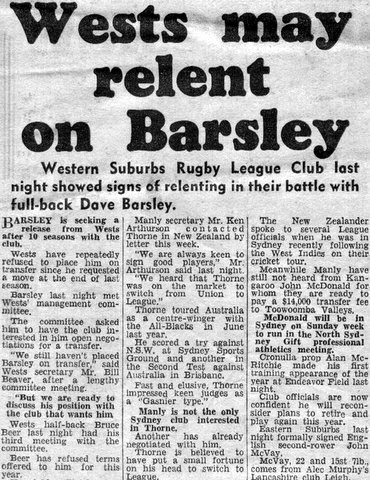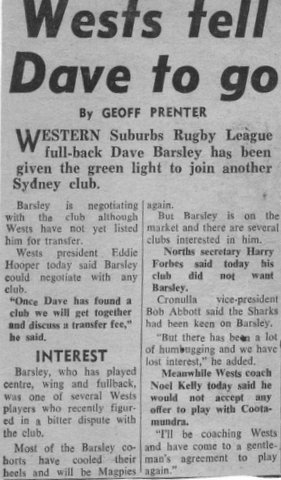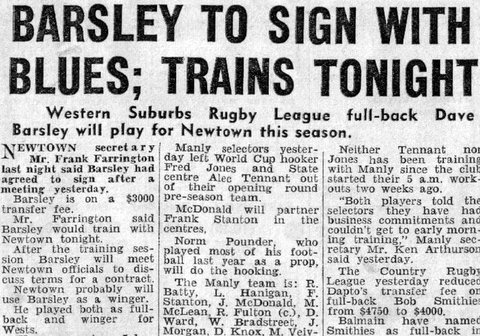 Dave received a phone call from Newtown coach Harry Bath and it was off to the Blue Bags for 3 years.
Dave signs with Newtown for 2 years.
The sign on amount was $4,500 which was very good money in those days.
Win payment $150, Draw $100 and Lose $50.
Dave remembers his wage at Arnotts was about $35-$40 a week.
1969.
The Newtown Years Begin.
The Year begins.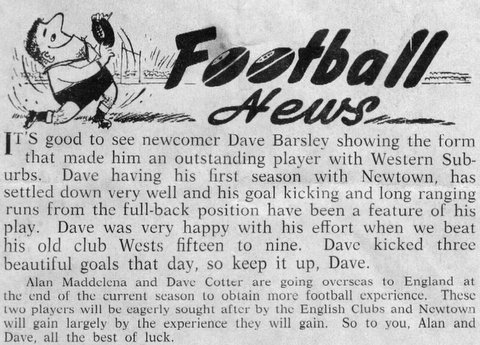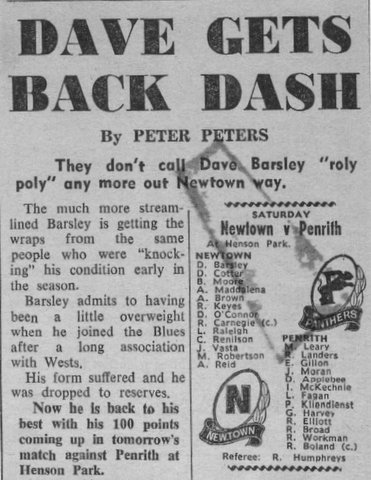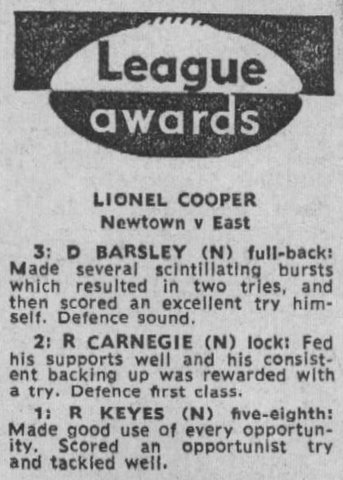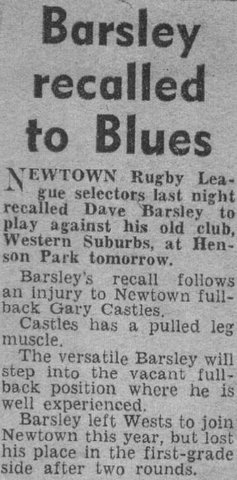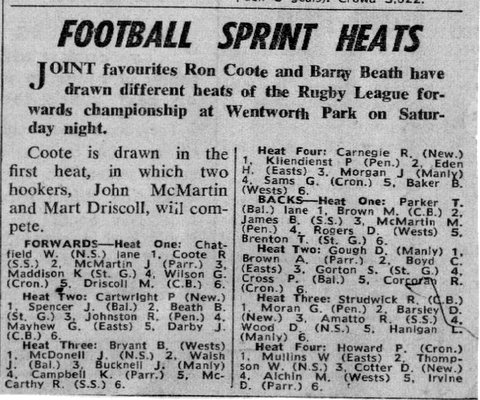 Dave still very fast.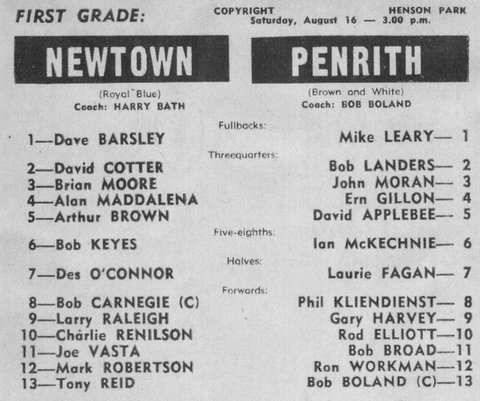 Newtown 19 beat Penrith 12. Dave kicked 5 goals.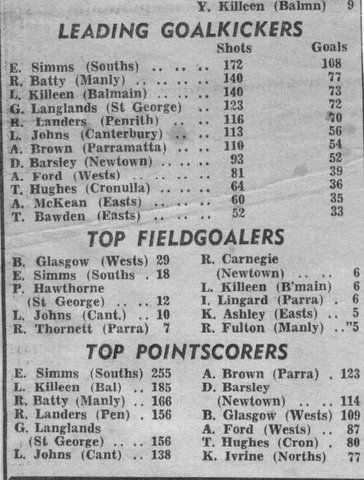 After 11 years playing football Dave still in the top 10 point scores.
1970.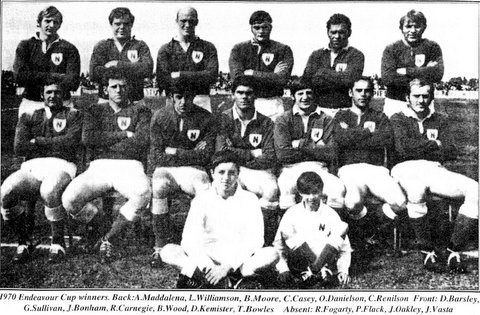 Newtown the 1970 winners of the Endeavour Cup
Match report. They beat Balmain 12 to 8.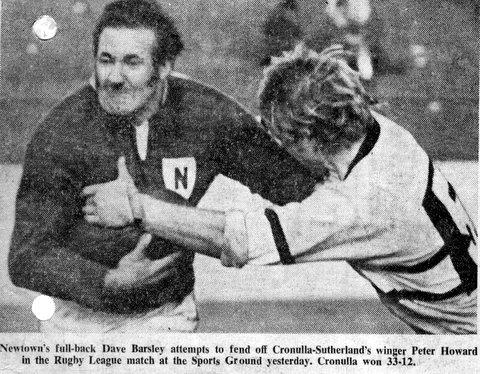 Dave still hard to tackle.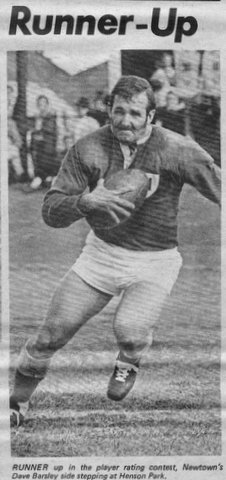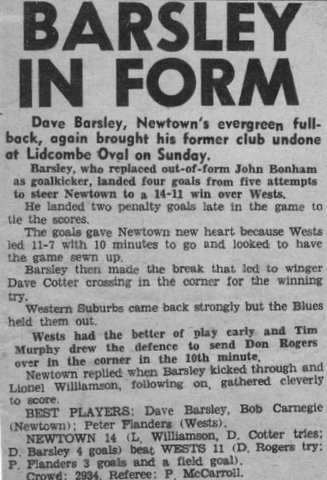 Always good to beat your old club.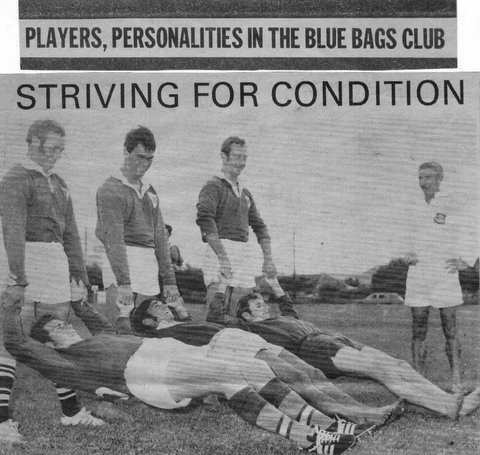 Thats Dave with the big side burns.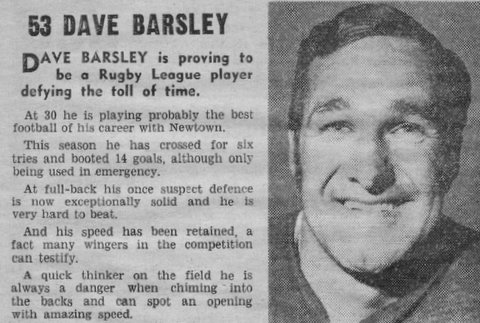 A good way to finish 1970.
1971.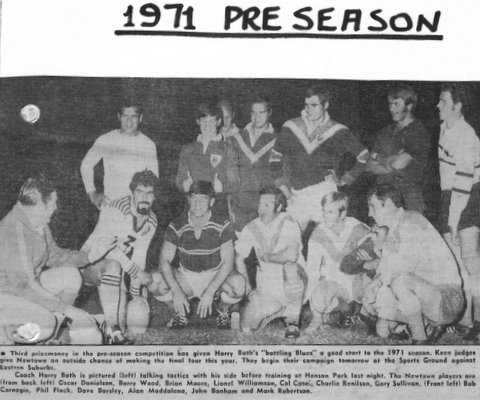 The Newtown team gets together before the 1971 season.
This will be Dave's last season in the Big Time.
Dave almost played no first grade games and only scored 4 points for the 1971 season.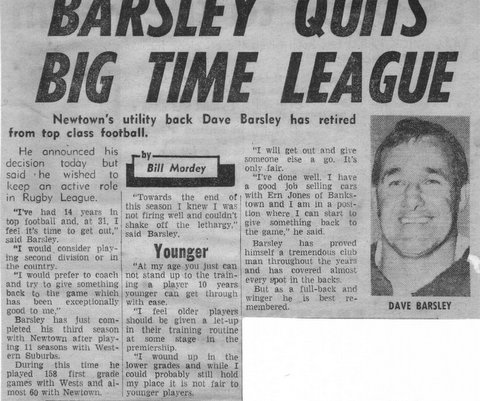 Please read the story its a good read.
1972.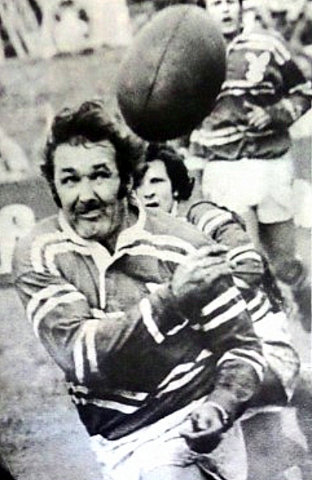 Dave decided to play with Ryde Eastwood in the 2nd Division comp.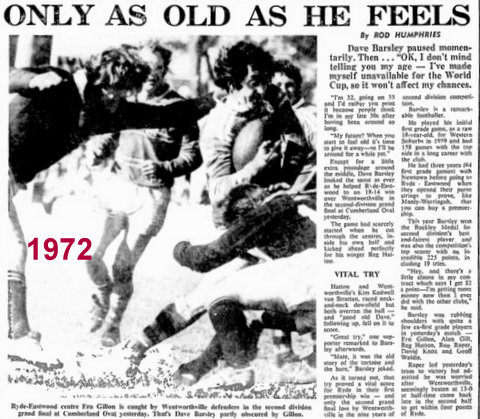 Dave declares him self unavailable for the 1972 World Cup squad.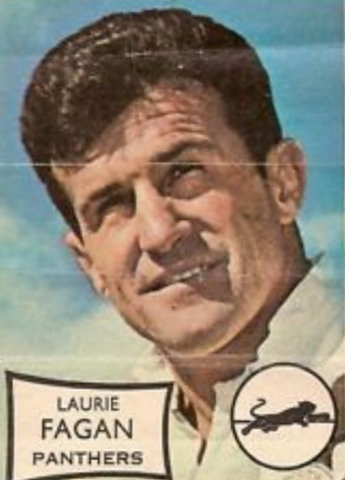 Ex Balmain & Penrith player was the Captain/Coach of the Hawks.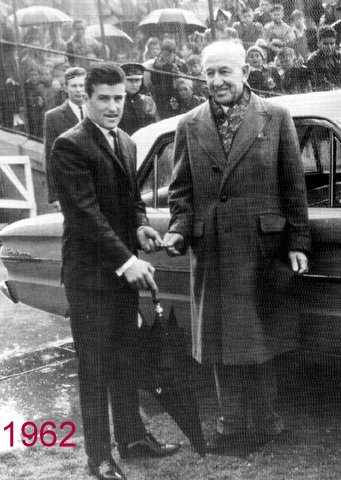 Laurie Fagan had won a Falcon 10 years earlier.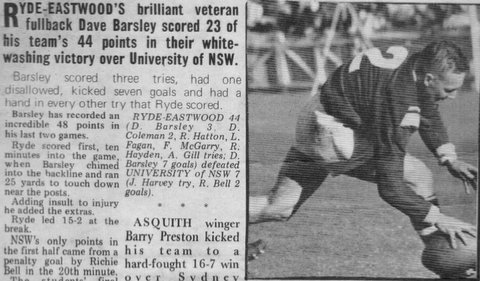 Not bad for an old bloke 23 points in one game.
(Dave is wearing a Wests jumper for old times sake)

What a year Dave is having.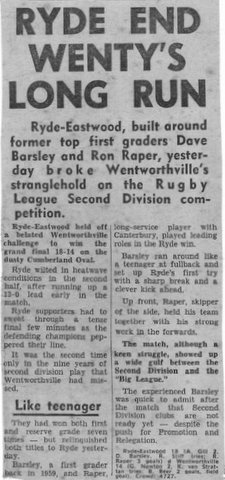 The Hawks Win .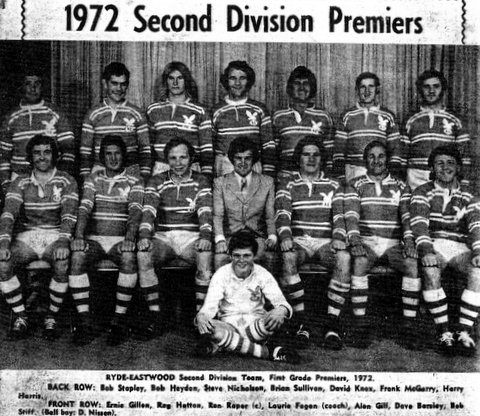 The winning Team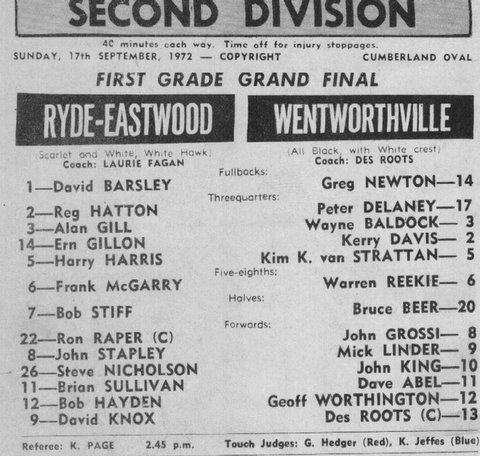 The two Grand Final teams.
Note: Bruce Beer playing for Wenty.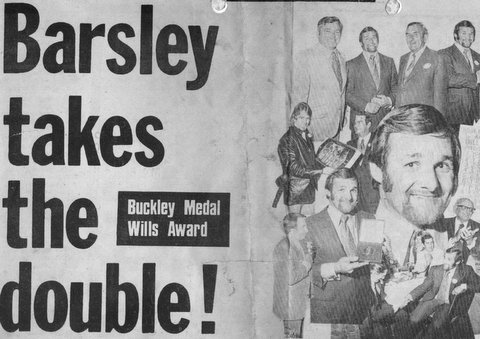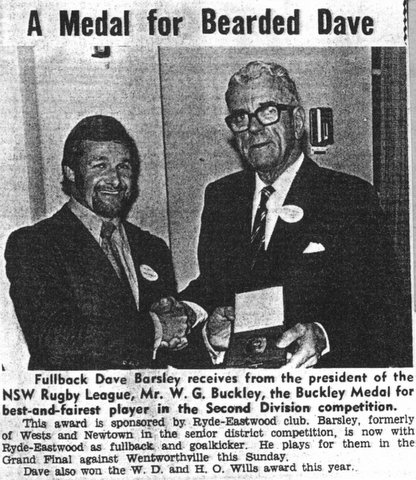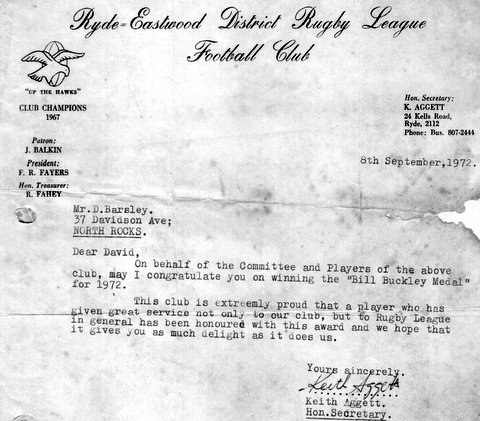 A nice way to finish off the year.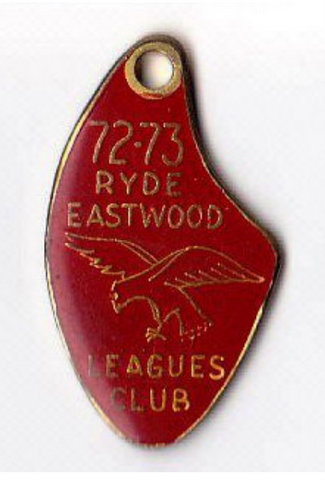 In total Dave played three years at Ryde Eastwood.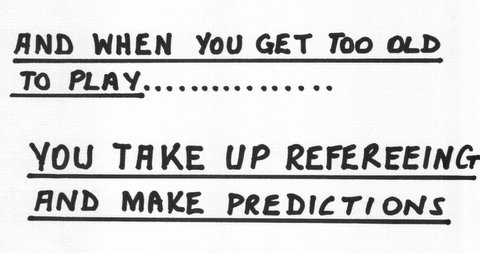 This is the heading to the file in Dave's collection of footie memorabilia.
Dave was bored just sitting around watching Rugby league on TV when a old mate Bill Peerson who was a referee rang and said "why not become a ref… Dave joined the Western Suburbs Referee Association and was taught by one of the best referees Laurie Bruyeres. After passing his test he started to ref under 8's and slowly worked his way up to refereeing Reserve Grade.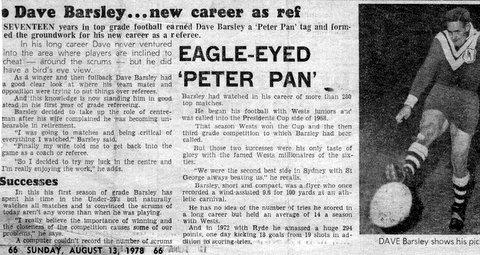 In 1978 Dave was refereeing Under 23's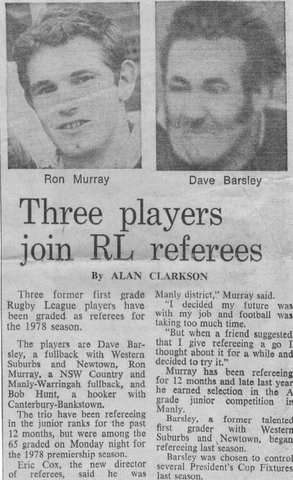 Story by the late Alan Clarkson.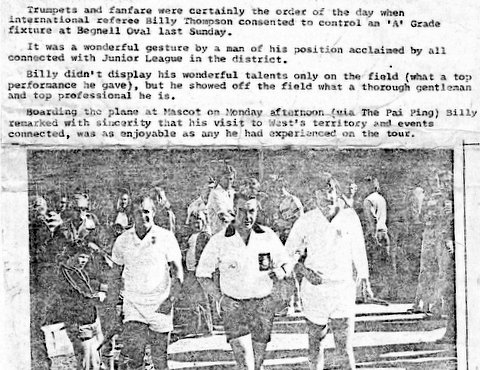 Dave (left) at Begnell Oval.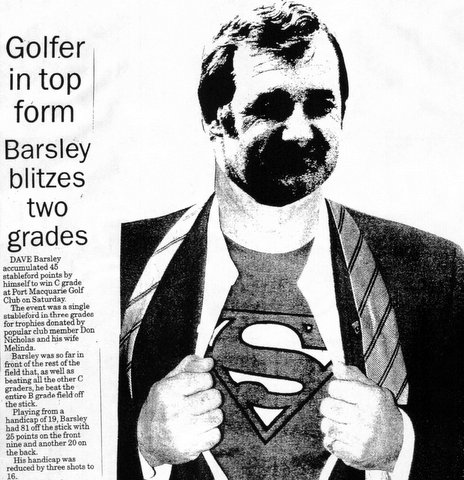 After 10 years as a ref and at the age of 47 Dave and his wife June moved up to Port Macquarie.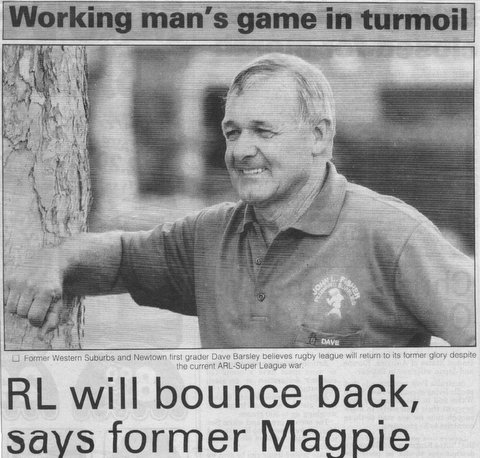 Dave making correct predictions.
As the day came to an end I asked Dave the usual questions.
Best player by far John Raper.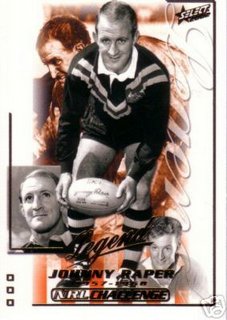 Best winger he faced Ken Irvine, also the fastest.
Hardest player to tackle Ed Lumsden and a close second was Bobby Fulton.
Favorite grounds were Lidcombe Oval. Dave played a lot of junior football there before Wests moved in 1968. Also the Sydney Sports Ground was good to play at.
Worst ground ever….North Sydney Oval. Mainly because of the shape of the ground and the famous hardness in the centre.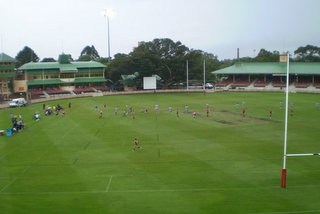 Not the North Sydney Oval Dave remembers.
(I still can see the cricket pitches)
Best Coach… well Dave had a few over the years Vic Hey 1958-59, Dudley Beger 1960,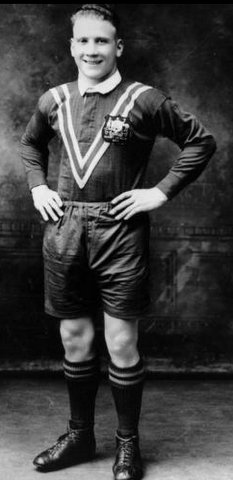 Vic Hey in his playing days.
Jack Fitzgerald 1961-63, Ken Kearney 1965,
Noel Kelly 1966-68, Harry Bath 1969-71, Laurie Fagan 1972-74.
The winner is Noel Kelly. Great coach great bloke. Also the hardest man he ever met.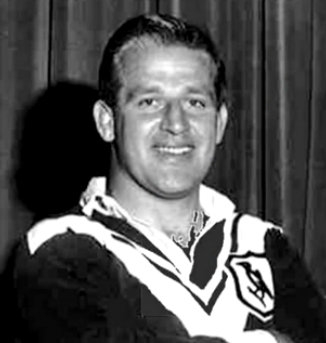 Noel Kelly.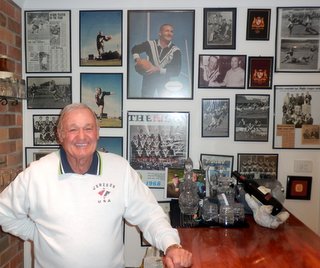 Dave Barsley at his Magpie Bar 2015.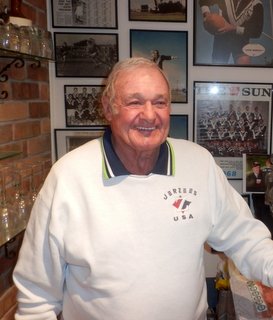 Thanks Dave for allowing me to share your long and interesting career with the world..
Also a very big thank you to Dave's dad for saving all of his sons memories via newspapers, Rugby League Magazines  and photos.