Kel O'Shea.
13 July 1933- 22 January 2015.

Gentlemen its my sad duty to tell you of the passing of Kel O'Shea. Kel died on Thursday 22nd January 2015.
To Margaret and Family the Pratten Park Magpies extend to you our deepest sympathy at this sad time.
Kel O'Shea was one of the greatest second rowers to play the game of Rugby League.
Below I have tried to cover Kels football life from his early days at Ayr where he played for Queensland and then Australia through his years at Wests 1956 – 1963  until his last years playing for the Maitland Pickers 1964-65.

Kel O'Shea is on his way.
Kel O'Shea made his Test rugby league debut for Australia from his home town of Ayr in North Queensland in 1954, scoring a try in a 37-12 win over Great Britain at the Sydney Cricket Ground.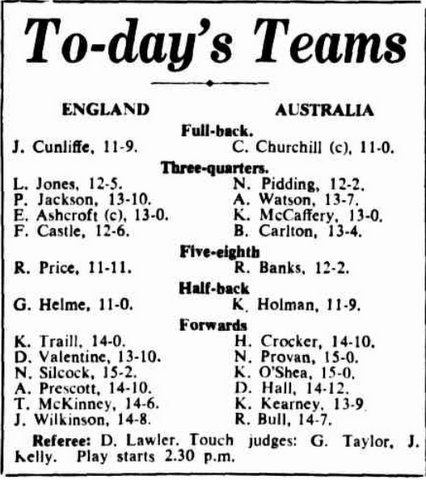 Kels first Test Match June 12th 1954.

Kel O'Shea, who died at Redland Bay on Thursday night, aged 81, went on to earn another 19 Test caps, as well as touring England and France with the 1956-57 Kangaroos.
Kel first represented Queensland in 1953, from the Ayr club in Central Queensland. Still only 19, the talented second rower, played three of the four games for Queensland in the drawn series with NSW, as well as the 39-36 win over the touring American All Stars. He played 10 matches for Queensland and was still playing with Ayr when he was selected at age 20, for his first Test. He went on to play 20 Tests for Australia with his last one being at the SCG in the 40-17 loss to Great Britain on 19 July 1958.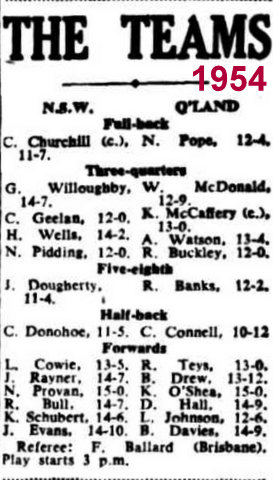 Note Kels weight he and Norm Provan were the heaviest players on the field.
He combined with Norm Provan to form one of Australia's greatest second row combinations, with the British press calling the towering twosome "Sticks" (Provan) and "Twigs" (O'Shea).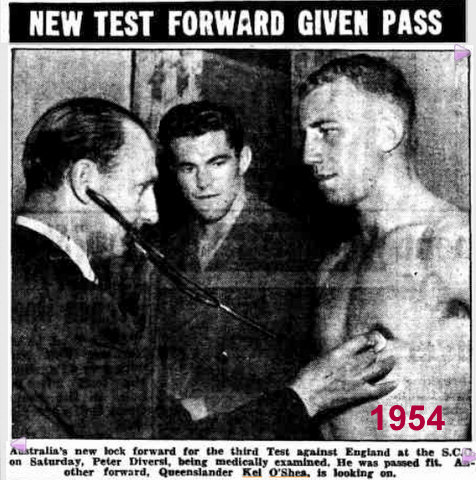 O'Shea won a Foley Shield title with Ayr. Plus a season with Souths in Brisbane, when he was a National Serviceman, based at Wacol.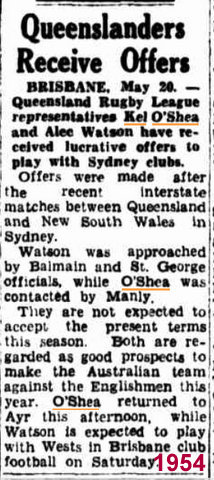 Kel O'Shea may have been a Manly Silvertail!!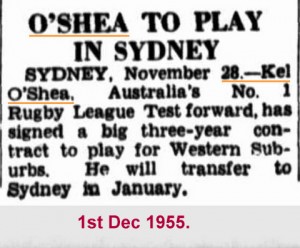 Luckily for Wests Kel made the right decision.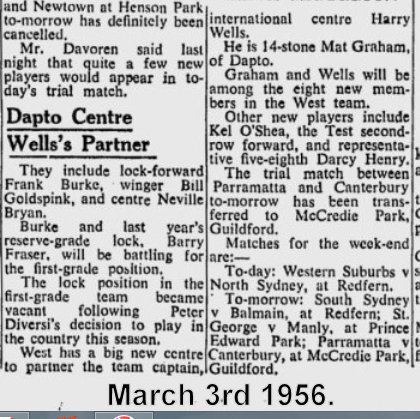 I think the first mention of Kel after arriving in Sydney.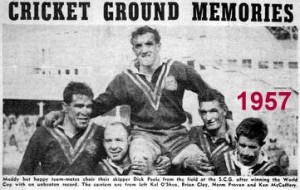 Kel O'Shea and his second row partner Norm Provan chair off Dick Poole after World Cup win.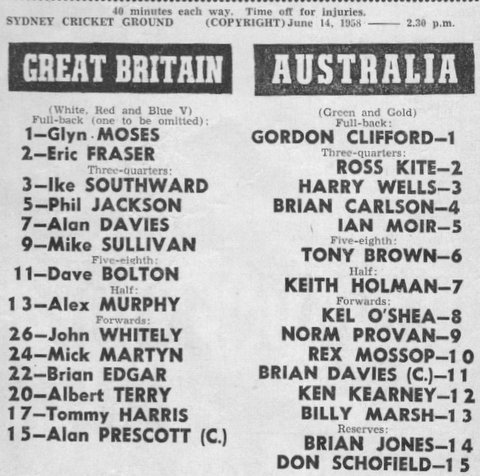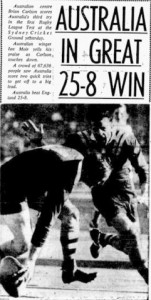 Front page story about Australia's big win over Great Britain 1958.
(Kel scored a try in this match)
He played eight seasons with Wests, including two grand final losses to St George when he went head-to-head with Provan. Kel should of played in the 1958 Grand Final and the 1962 Grand Final but due to serious injury he was replaced on the morning of both Grand Finals. See stories from SMH below.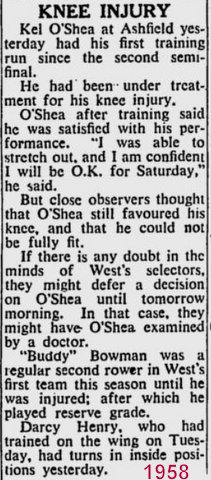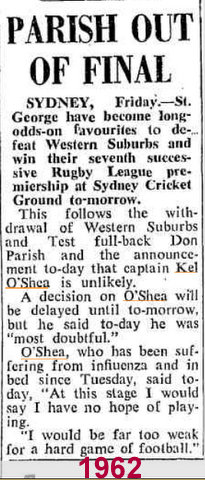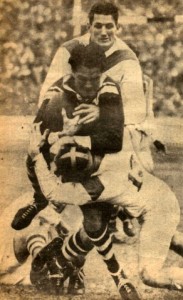 2 Rare photos of Kel and Norm Provan playing against each other.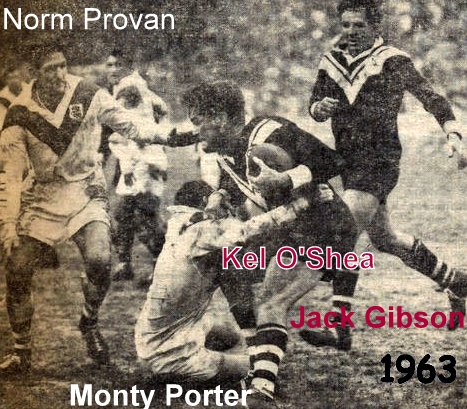 O'Shea played his earliest football at Mt Carmel College, Charters Towers.
 He was already an established Test player when he joined Western Suburbs in 1956.
 He made his premiership debut for the Magpies v Canterbury at Belmore Oval, 2/4/1956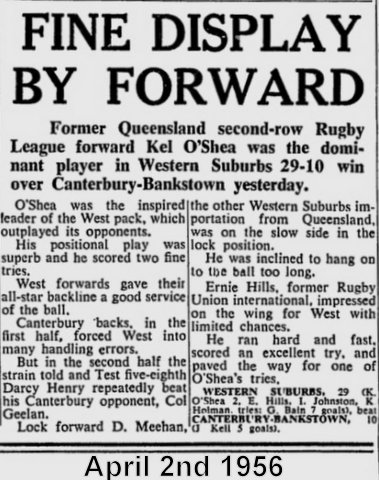 Not bad Kel scores two tries on debut.
 He played in two grand finals for Wests – 1961 and 1963 – both resulted in losses to the great St George team.
 He formed a lethal second-row partnership with Norm Provan in eight Test matches (1954, 1956-57).
 After leaving Wests he helped guide Maitland to a Newcastle premiership win in 1965.
 He was later named in Western Suburbs and Wests Tigers Teams of the Century (2003), the NRL's Team of the 1950s (2007) and was selected as one of Australia's Top 100 players of the Century in 2008.
Wests were known as the "millionaires" of Sydney rugby league during O'Shea's time, and he was being paid 50 pounds per week by the Magpies when he retired from representative football at the end of the 1958 season.
He was paid 17 pounds each time he represented New South Wales and 30 pounds for a Test, but was not paid by his club during those times.
The Wests Years 1956-1963.
Wests V Newtown @ SCG Aug 15th 1956.
Kels first year at the Magpies.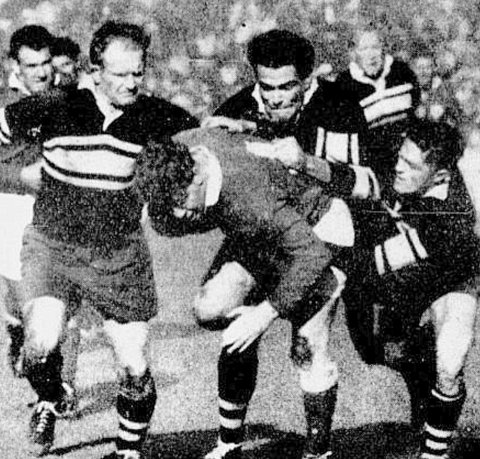 Ron Watson, Tony Brown, Kel O'Shea and Darcy Henry.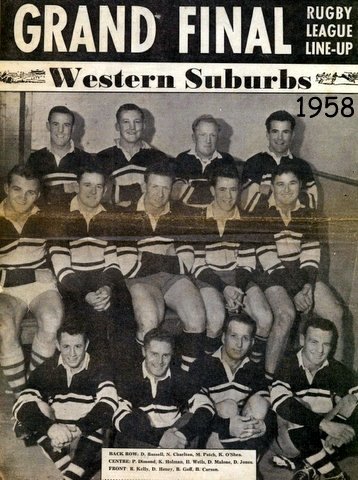 This photo was taken early in the week before Kel pulled out of the 1958 Grand Final.
(Kel is top right standing)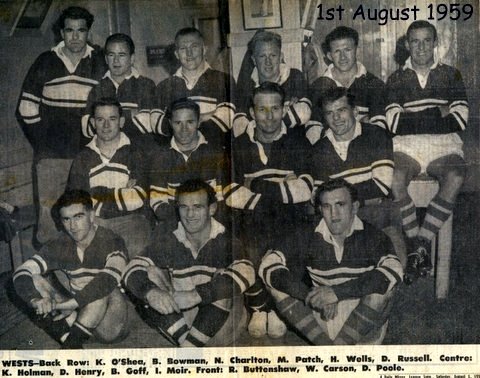 Photo taken inside the Wests dressing shed @ Pratten Park.
Kel O'Shea taking the ball up for Wests.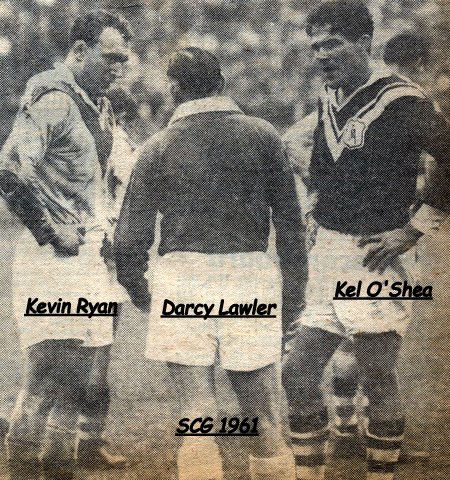 Kel and Kevin chatting to Darcy 1961.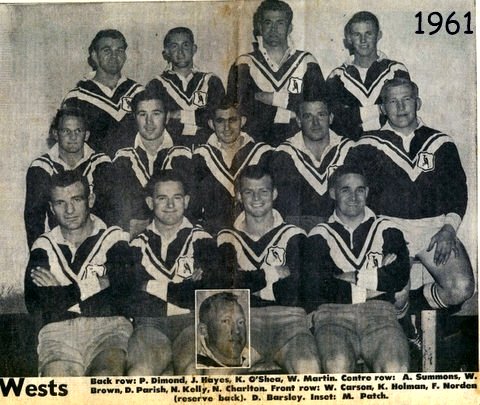 This photo shows how much bigger Kel was to the other Wests players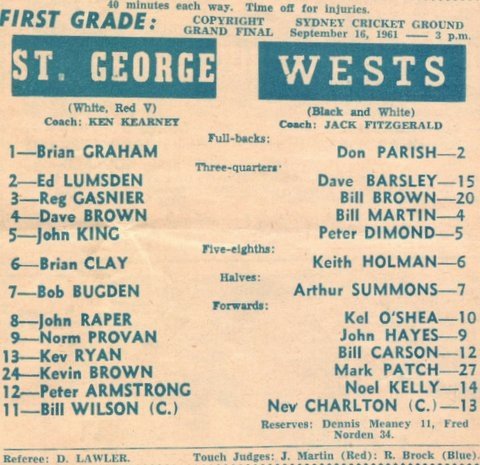 The 1961 Grand Final.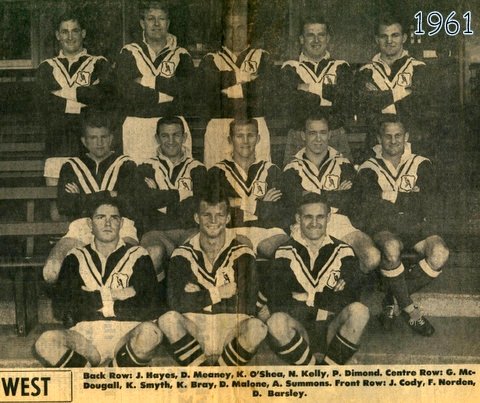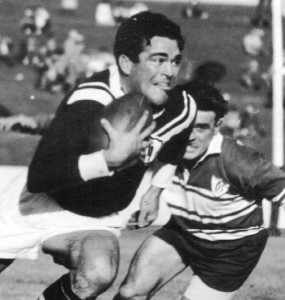 Kel O'Shea at the Sydney Sports Ground.
Kel O'Shea, Darcy Lawler and Norm Provan running onto the SCG before 1963 Grand Final.
Copy of 1963 Grand Final Program.
This was Kels last game at Wests.
Ian Johnson, Kel and Wests team mate Keith "Yappy" Holman.
In eight seasons with the Magpies, he played 118 first grade games, scoring 30 tries. During his time in Sydney, Kel played eight matches for NSW and three for City Firsts against NSW Country.
In 1965 he came out of retirement to captain-coach Maitland in the Newcastle competition, before returning to Queensland.
Maitland won the 1965 decider 22-3 against Souths at Newcastle No.1 Sportsground.
Bill Yeomans was the captain-coach but he and Terry Pannowitz were sidelined for the top-two clash.
This meant O'Shea, who was Maitland's captain-coach the previous season, was captain on the day.
The uncompromising second-rower converted the Pickers' second and final try, which had been scored by classy centre Bell.
In later life Kel  was licensee of the Redland Bay Hotel from 1977 until 1990.
 Some of Kels recent Rugby league Achievements.
In 2004 O'Shea was named at second-row in the Western Suburbs Magpies team of the century. See photo below.

               Kel is at the back left in front of the entrance to Pratten Park.
In 2007 O'Shea was selected by a panel of experts at second-row in an Australian 'Team of the 50s'.
In February 2008, O'Shea was named in the list of Australia's 100 Greatest Players (1908–2007) which was commissioned by the NRL and ARL to celebrate the code's centenary year in Australia.
In 2009, he was inducted into the Queensland Sport Hall of Fame for his achievements in Rugby League.
Below is the Eulogy presented by Rick Wayde at Kels funeral.
KEL O'SHEA Eulogy
Representing Western Suburbs Magpies, PPM, Wests League Ashfield: Mick Liubinskas, Carl Ross and RW.
Also here today: Internationals Harry Wells, Ken McCaffrey, Tom Raudonikis, John Elford and Dennis Ward plus former Wests captain, Warren Boland.
APOLOGIES: Noel Kelly [Just had a couple of operations], John 'Chow' Hayes, Bill Owens, Arthur Summons, Peter Dimond and former great Australian fast bowler/all rounder, Alan Davidson [who trained at Pratten with Kel and the Magpies].
KEL O'SHEA WAS A GENUINELY BIG MAN AND IN THE RUGBY LEAGUE FRATERNITY WAS DEFINITELY 'LARGER THAN LIFE'…he certainly had very large hands…a VERY BIG HANDSHAKE.
IN KEL'S ILLUSTRIOUS RUGBY LEAGUE CAREER, HE FAMOUSLY TEAMED WITH NORM 'STICKS' PROVAN TO CREATE ONE THE GREATEST SECOND ROW PAIRINGS OF ALL TIME.
KEL PLAYED 20 TIMES FOR AUSTRALIA BETWEEN 1954 AND 1958, inclusive…
STARTING WITHTHE WINNING TEST SERIES versus GREAT BRITAIN AND THE WORLD CUP OF '54, KEL PLAYED AGAINST ALL RUGBY LEAGUE NATIONS AS HIS 'CV' INCLUDED THE 1956 KANGAROOS, THE VICTORIOUS 1957 WORLD CUP TEAM AND ALL 3 TESTS versus GREAT BRITAIN IN 1958.
WHILE I HAVE NO DOUBT THAT KEL WAS A 'QUEENSLANDER AT HEART', HE WAS EVEN HANDED WITH HIS STATE REPRESENTATION…PLAYING 8 FOR QLD. AND 8 FOR NSW.
HE STARTED, AT AGE 20 IN THE 'AYR COLTS'…THE EMBRIONIC 'NORTH QUEENSLAND COWBOYS'…WAY UP, BEYOND THE BURDEKIN.
DURING HIS 3 SEASONS AT AYR, KEL DEBUTED FOR AUSTRALIA…one year, NAMED AS 'QUEENSLAND PLAYER OF THE YEAR', HE RECEIVED A DRESSING GOWN AND A PLAQUE!!
HE MOVED ON TO SOUTHS, BRISBANE FOR A SEASON, IN 1955…PLAYING ONLY 5 GAMES OF LEAGUE, DUE TO NATIONAL SERVICE DUTIES.
THEN, KEL BECAME A 'WESTS MILLIONAIRE' IN 1956…
WESTERN SUBURBS HAD PIONEERED THE 'LEAGUES CLUB' MOVEMENT AND INVITED KEL TO JOIN-UP WITH 3 OTHER INTERNATIONALS…HARRY WELLS, DARCY HENRY AND IAN JOHNSON…
MARK PATCH WAS ANOTHER TO JOIN THAT YEAR AND LEGENDS KEITH HOLMAN AND NEVILLE CHARLTON WERE ALREADY AT WESTS.
PETER DIMOND, IAN MOIR AND DICK POOLE ALSO ARRIVED IN THE '50s.
WHILE THE OFFER, THAT ARRIVED BY LETTER FROM THE MAGPIES, …500 POUNDS PLUS MATCH FEES WAS ATTRACTIVE…AND ENTICED KEL AND MARGARET DOWN SOUTH…
THEIR ARRIVAL WASN'T EXACTLY 'MILLIONAIRE' STATUS…
AS MARGARET WILL PROBABLY RECALL, THEY ARRIVED IN SYDNEY WITH A BABY SON, IN A SECOND HAND CAR, TO FIND CLUB SECRETARY LOU MOSES HAD GONE TO WOLLONGONG TO HARRY and YVONNE WELLS' WEDDING.
WITH 35 SHILLINGS [$3:50 ???] IN THEIR POCKET…AND NO ACCOMODATION ARRANGED…THEY FOUND A BOARDING HOUSE, THAT CHARGED THEM 30 SHILLINGS…[THE LADY HAD TAKEN PITY???].
THE O'SHEAs STAYED WITH LOU AND TOPSY MOSES FOR A FORTNIGHT…AS SO MANY OTHER MAGPIES HAD DONE…BEFORE THEY GOT SETTLED IN.
THINGS GOT BETTER…AS KEL IS QUOTED IN THE WESTS' BOOK, 'CLOUDS OF DUST, BUCKETS OF BLOOD'…THEY WERE TREATED LIKE ROYALTY…THERE WAS ALWAYS A RESERVED PARKING SPOT AT WESTS LEAGUES CLUB, AND…THERE WAS CHILD MINDING AS MARGARET 'SANG A FEW SONGS AT THE CLUB', WHILE KEL HAD A FEW BEERS [or MORE THAN A FEW BEERS]…AND KEL'S SIGN-ONS INCREASED, TO 1,000 POUNDS BY THE LATE 1950s. [GOOD MONEY, AT THE TIME]
KEL WAS AN INSTANT HIT WITH WESTS MAGPIES FANS…
AND HE GAVE GREAT SERVICE, PLAYING 111 GAMES THROUGH UNTIL 1963.
KEL WAS TOUGH YET SKILFUL…HE SCORED 32 TRIES AT WESTS…AND 7 IN HIS 20 MATCHES IN THE GREEN AND GOLD…AN IMPRESSIVE STRIKE RATE FOR A BIG FORWARD.
THERE ARE MANY OPPONENTS WHO COULD TESTIFY TO HIS TOUGHNESS …MAYBE SOME OF THOSE STORIES CAN COME OUT LATER OVER A FEW BEERS…!!
AND KEL HAD A SENSE OF HUMOUR…A KEEN PRANKSTER…APPARENTLY ON THE FLIGHT TO BRISBANE IN 1957 ON WESTS' 'END OF SEASON TRIP', HE TRAVELLED UP AND DOWN THE AISLE WITH A WATER PISTOL, LEAVING SEVERAL MAGPIE PLAYERS WITH A WET PATCH THAT GAVE THE FALSE IMPRESSION THAT THEY HADN'T MADE IT TO THE TOILET IN TIME…
THAT TRIP WAS, IN FACT, TO LAUNCH LANG PARK…WESTS PLAYED A COMBINED BRISBANE SIDE… BUT BY MATCH TIME, MANY OF THE MAGPIES WERE A LITTLE THE WORSE FOR WEAR…AND WERE TRAILING BRISBANE VERY BADLY AT HALFTIME…BRISBANE OFFICIALS STORMED INTO THE DRESSING ROOM AND VENTED THEIR DISPLEASURE…IT'S ONE OF THE VERY FEW OCCASIONS WHERE THE 'OPPOSITION' PROVIDED THE HALF-TIME 'PEP TALK'…IT WORKED, WESTS RALLIED, TO WIN.
KEL WAS PART OF ONE OF WESTERN SUBURBS' MOST TALKED ABOUT MATCHES…IRONICALLY HIS LAST FOR THE MAGPIES…THE 1963 GRAND FINAL versus ST. GEORGE.
['WE WERE ROBBED'…ASKED ANYONE!!]
WHEN REFEREE DARCY LAWLER LOOKED SET TO SEND-OFF CHOW HAYES, KEL TOLD ME, AS CAPTAIN ON THE DAY, HE WAS RIGHT THERE, WHEN JACK GIBSON PROCLAIMED,
"THERE'LL BE NO SEND-OFFS TODAY DARCY, OR I'LL GIVE YOU UP".
LAWLER's REPLY WAS, "PLAY ON".
AS I SAID, KEL WAS A GREAT FAVOURITE WITH WESTERN SUBURBS FANS OVER 8 EVENTFUL SEASONS. HE PLAYED IN 2 GRAND FINALS [1961 AND '63]…AND IT WOULD HAVE BEEN 4, EXCEPT FOR INJURY KEEPING HIM OUT, IN 1958 AND 1962….
ALL OF THOSE GRAND FINALS WERE LOSSES FOR WESTS….BUT KEL COULD NOT BE DENIED, COLLECTING A PREMIERSHIP AT MAITLAND IN HIS LAST SEASON, 1965 [Also the 'black & whites']
KEL O'SHEA WILL ALWAYS BE REMEMBERED….ETCHED IN HISTORY AS A MEMBER OF:
'WESTERN SUBURBS TEAM OF THE CENTURY'
' WESTS TIGERS TEAM OF THE CENTURY'
AND SELECTED BY THE NRL… AS A MEMBER OF THE 'TOP 100 PLAYERS OF ALL TIME'
…A 'MILLIONAIRE' WHO GAVE US MORE THAN OUR MONEY'S WORTH!!
I'll let Kel finish this tribute with his own words.