Ken Bray Story. Tiger to Magpie.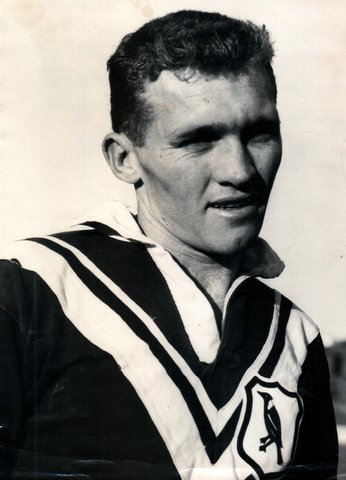 Ken Bray.
I had spoken to Ken Bray a few times at Pratten Park Magpie Reunions and taken a few photos for him with his mates from his time at Wests.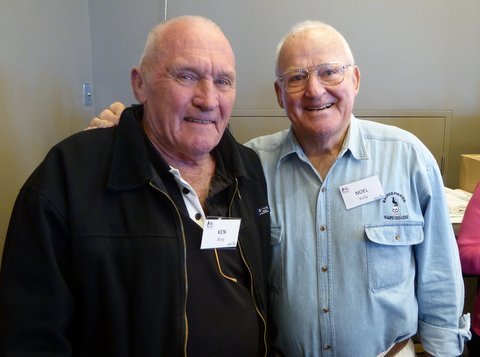 Ken with Noel Kelly.
Tony Blaikie, Bill Wilson, Denis Culpan, Colin Bell, John Curran,
Roger Buttenshaw, Ken Bray, Kevin Hayward.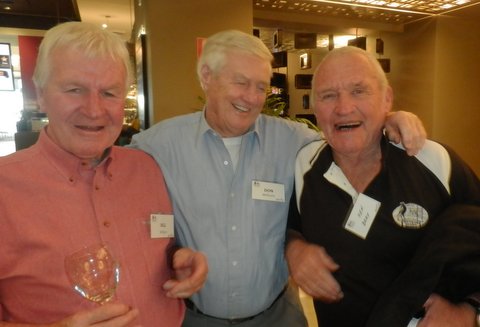 Bill Wilson, Don Williams and Ken Bray.
Ken said "next time you are up at Tweed give me a ring……well I did and spent a few hours with Ken talking about his time at both Balmain and Wests.
I don't know about Ken but I had a brilliant time…..
Ken went to Drummoyne Primary School then onto Ashfield High School. Because of his ability in all sports Ken almost went Rozella High.
The principal was very keen to have Ken at the school because of his natural gifts at all sports.
After school Ken played Rugby League with two junior clubs. Firstly with the Balmain Arlines and then with Drummoyne.
1953.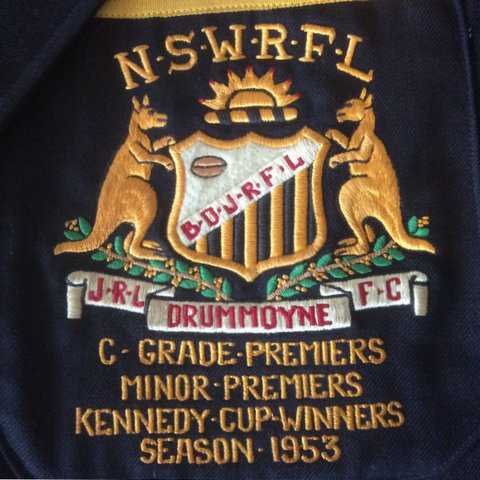 Ken and the boys from Drummoyne win the lot in 1953. This was Ken's first year playing football with Drummoyne.
1954.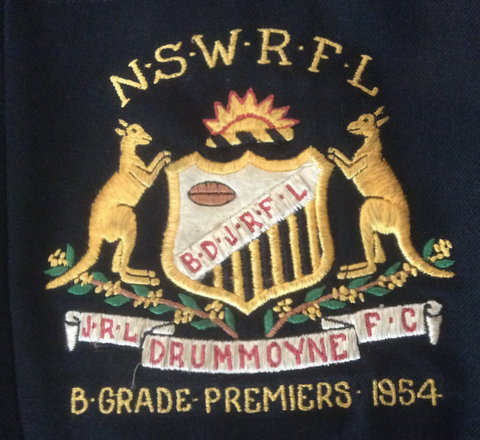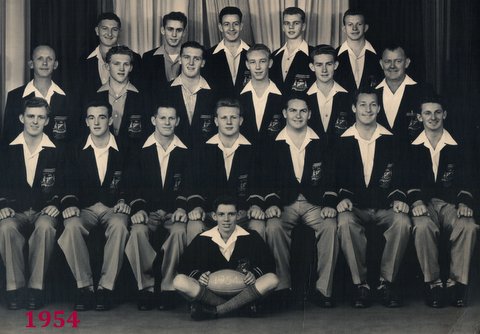 Sorry no names came with this team photo. Ken Bray is second from the left middle row.
The year was 1954 and Ken was playing for Drummoyne their home ground was Drummoyne Oval.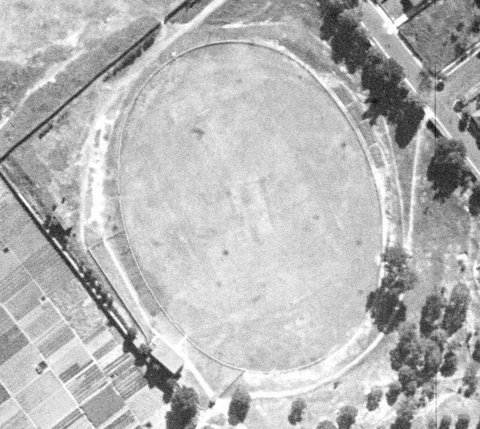 Drummoyne Oval around 1950's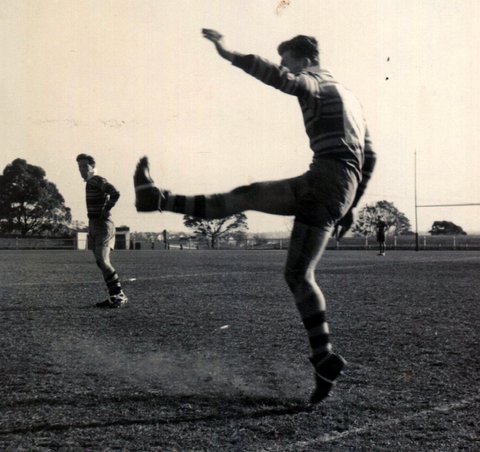 Ken kicking a goal from the side line at Drummoyne Oval in the early 1950's.
The coach of Drummoyne A Grade said to Ken " you will never make grade football……
1955.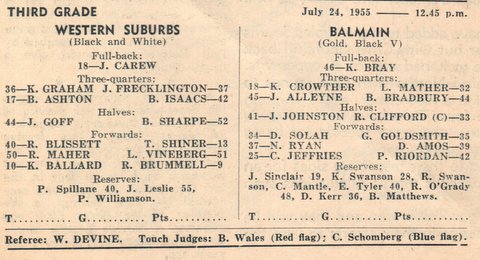 In 1955 Ken was graded straight from Drummoyne B grade to play Third Grade with Balmain.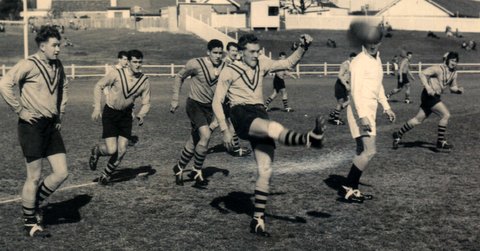 Ken playing for Balmain third grade at Leichardt Oval.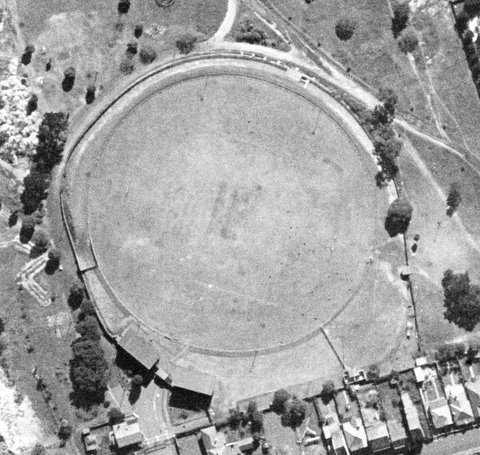 Leichardt   Oval in the early 1950's
Ken also played in the Reserve Grade Semi Final in 1955.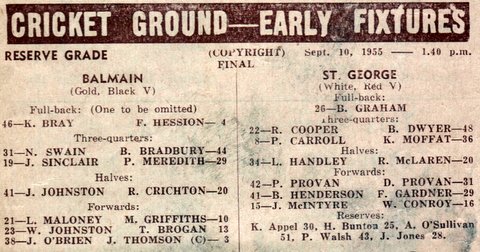 And Final.
I guess the A grade coach got it wrong??
1956.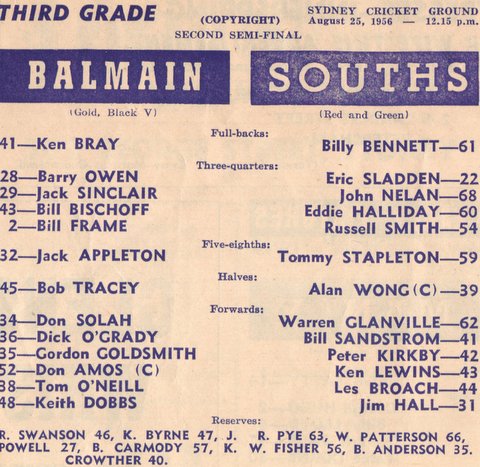 A very big year for Ken and Balmain.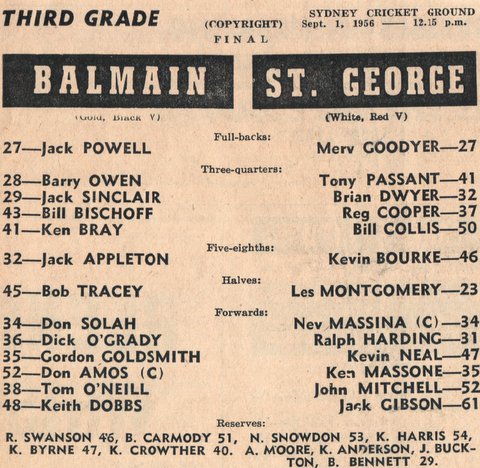 Ken playing on the wing.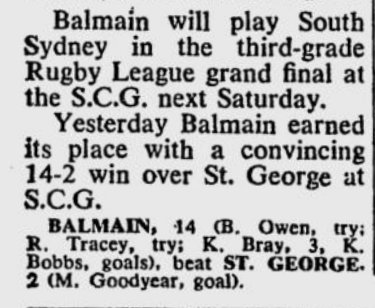 Ken kicked 3 goals.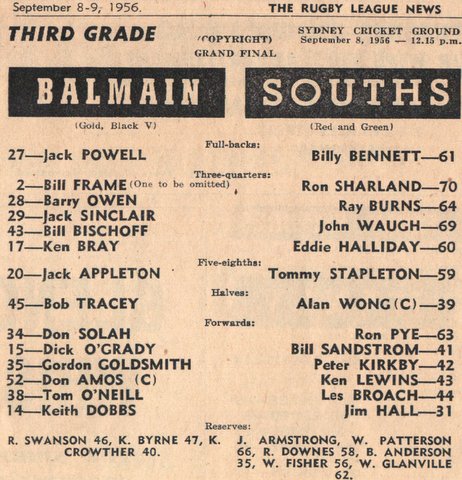 The Grand Final of Third Grade and Ken tastes victory at Grade level.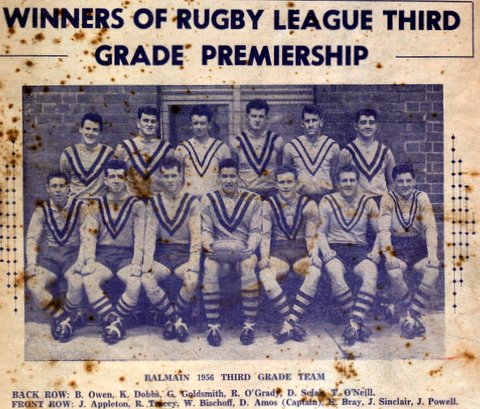 The winning Team.
1957.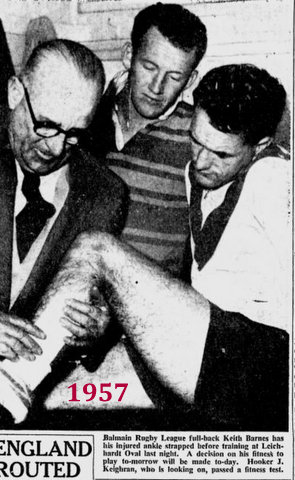 Keith Barnes is injured and Ken is chosen to play
First Grade for the Tigers.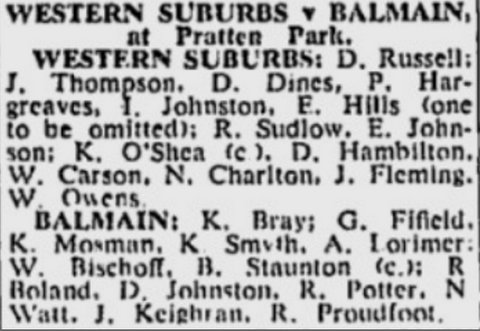 Ken's first game in First Grade.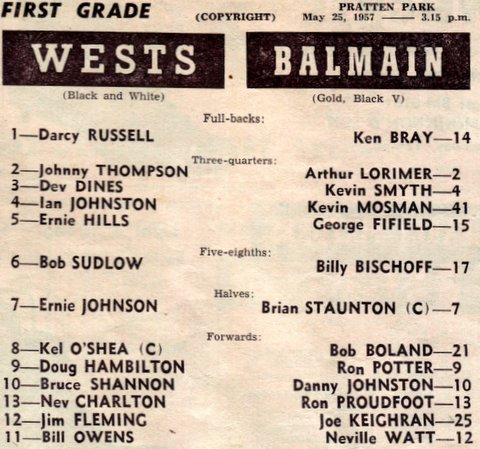 Balmain 23 Wests 9. Ken kicked a goal.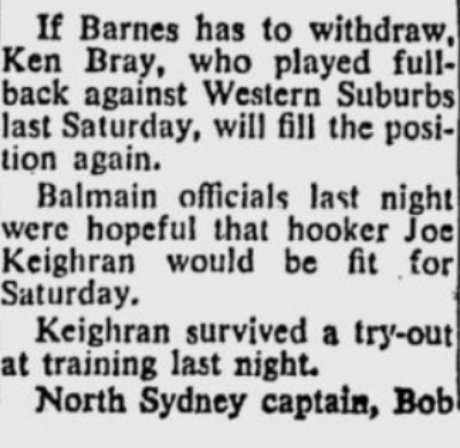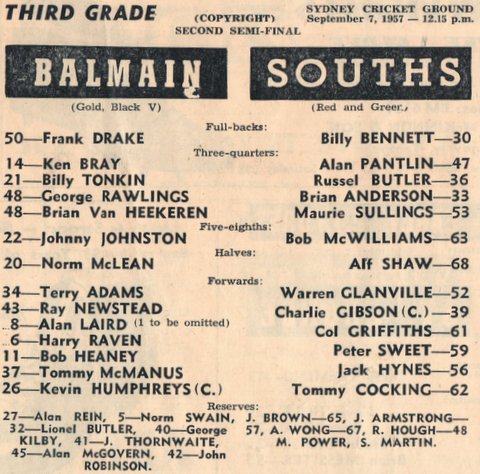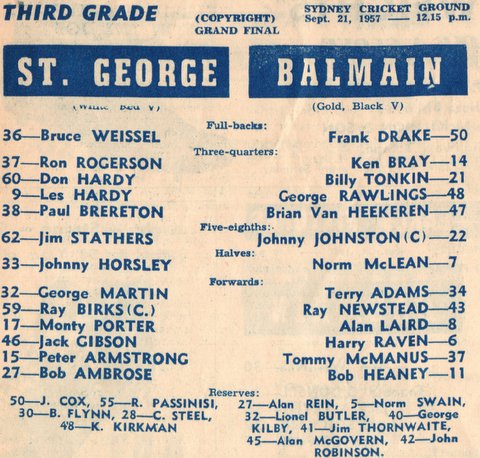 Ken plays in the Semis and Grand Final for Balmain Third Grade.

Ken who was playing five eight is sent off in the Grand Final.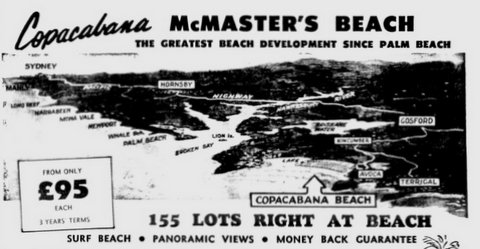 Meanwhile land was cheap up the coast.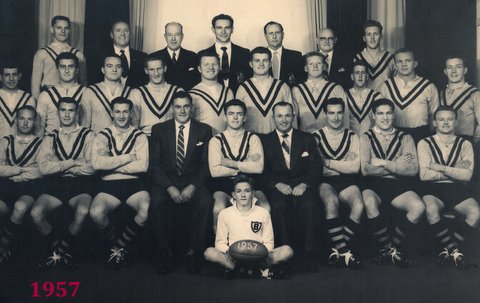 The Third grade squad of 1957.
Ken is standing on the right of the officials.
1958.
Little did Ken know that this would be his last year at Balmain before seeing the light and moving to Wests.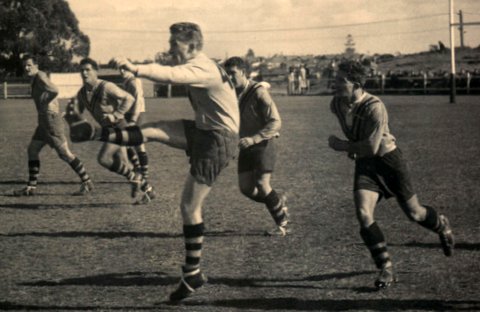 Ken playing in Reserve Grade in 1958. Ground unknown.
Ken played mainly in Reserve grade in 1958 and was around when the big games were played at the end of the season.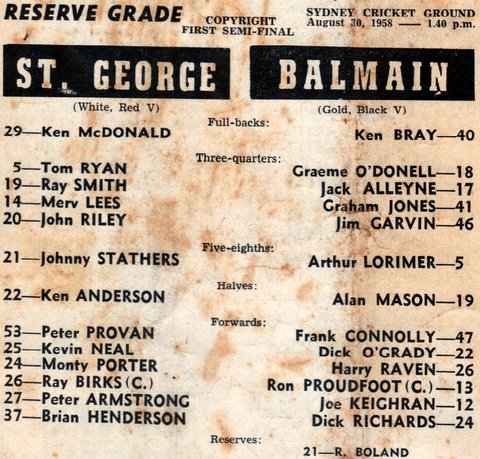 Balmain 13  beat St George 9.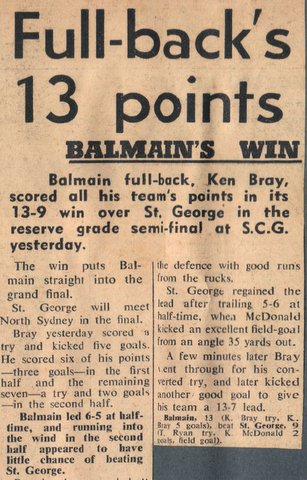 Ken stars in this Semi Final.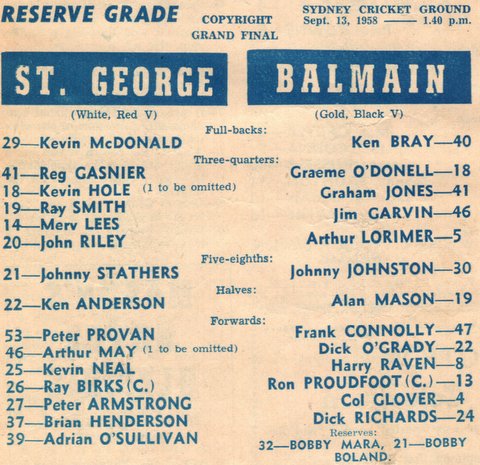 Ken plays in the lucky number 40 jumper.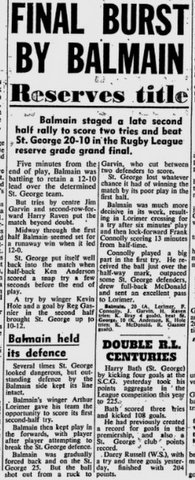 Balmain 20 beat St George 10 with Ken kicking 4 goals.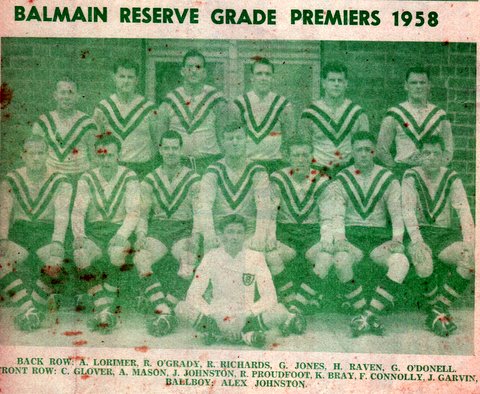 A great way to finish the 1958 season.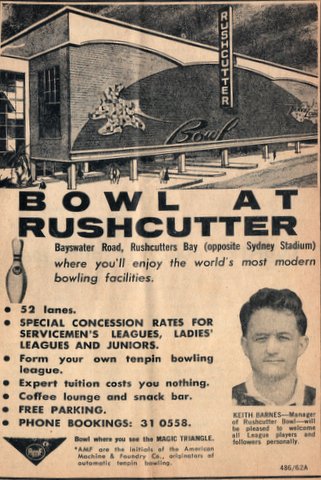 Keith Barnes Manager of Rushcutter Bowl.
1959.
Not only was 1959 the year Ken moved to Wests but it was the year that "the music died……..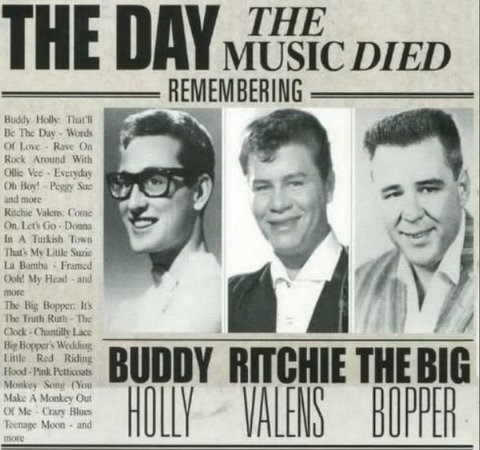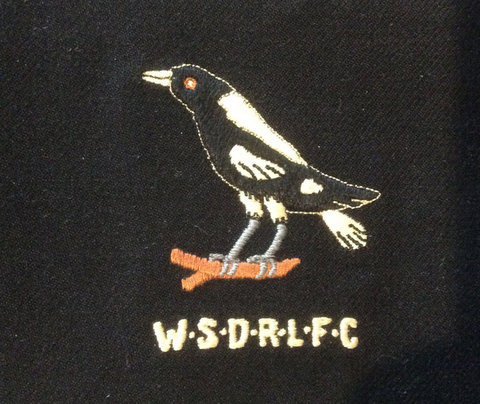 In 1959 Wests early season training was held at Ashfield Park this is where Ken got to  meet his new Wests teammates.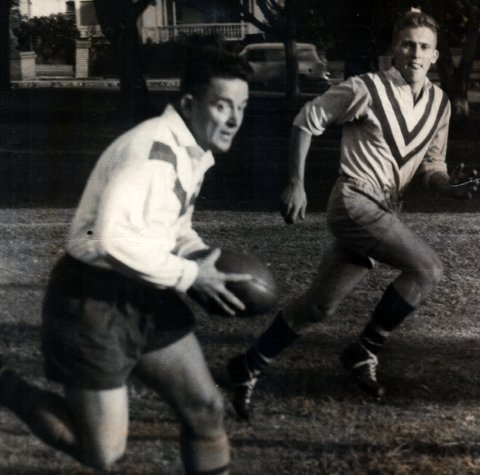 Keith Holman and Ken Bray.
Nice boots Ken.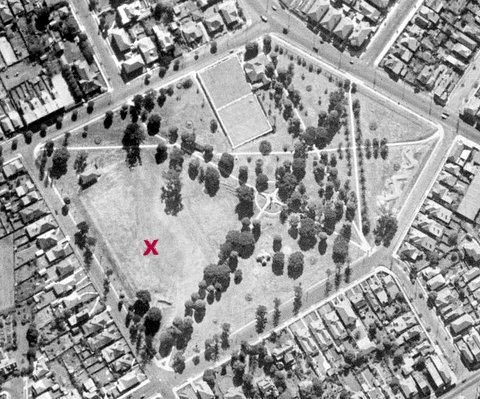 X marks the spot at Ashfield Park where Wests would train when Pratten Park was not available due to cricket.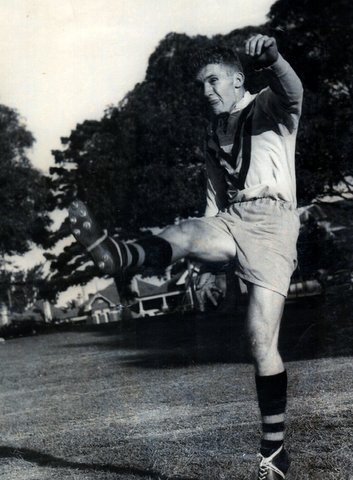 Ken having a kick at Ashfield Park.
Kens first year at Wests was spent at fullback in Reserve Grade.
Playing 17 games scoring 1 try and kicking 43 goals Total 89 points.
Ken was asked to go away on an end of season trip to Lismore.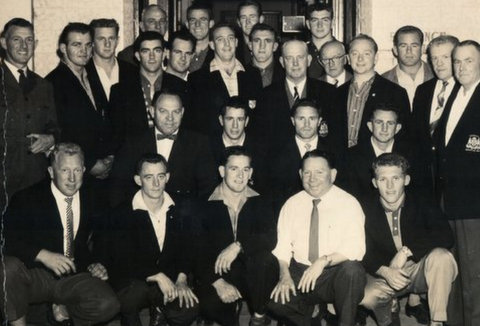 Ken is bottom right .
The pub the team is standing in front is the Station [formerly terminus] Hotel, Lismore.
Licensee was Pat Bugden a former captain-coach of Wests. The Magpies journeyed
on to play another couple of games in Qld.
1960.
Ken's second year at Wests.

Ken gets a couple of games in First grade and plays 15 games in Reserve grade scoring a total of 117 for the 1960 season.
We must remember that one D. Russell was playing full back in First grade.
Russell was the leading point-scorer at the end of premiership rounds in three years; 1957 (3t, 74g – 157pts),
1959 (5t, 90g – 195pts) and 1960 (3t, 83g – 175pts).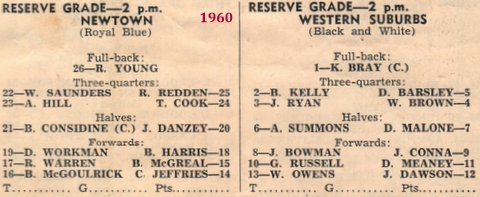 It was Arthur Summons first year at Wests.
He also spent most of the year in Reserve Grade learning the game.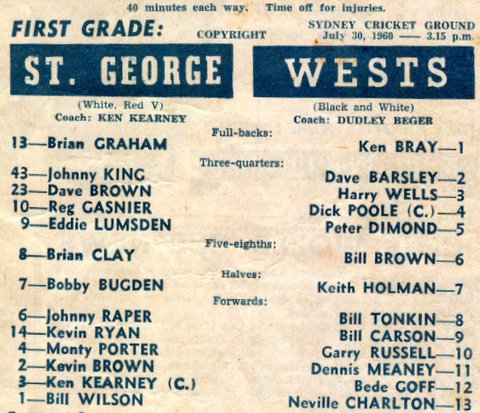 St George 21 beat Wests 10.  Ken kicked two goals.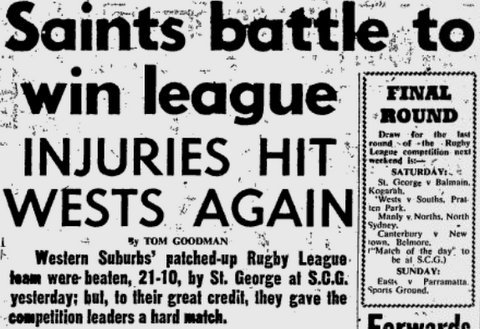 Match report from the SMH.
Wests 7 V Manly 8.

Unfortunately not the Wests Full back………
On the front page of this paper BIG news from Roma.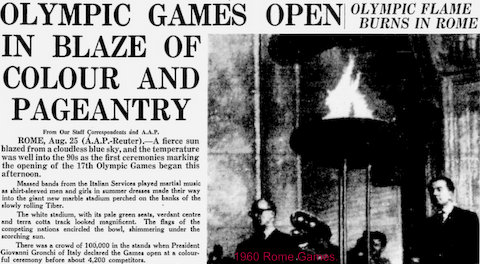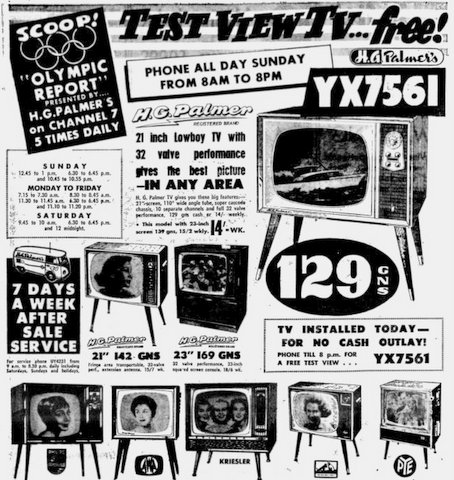 and who can forget H.G. Palmer's.
1961.
Due to a serious knee injury which happened in the very first game of the season Ken only played 1 game in 1961.
It was against Newtown at Henson Park .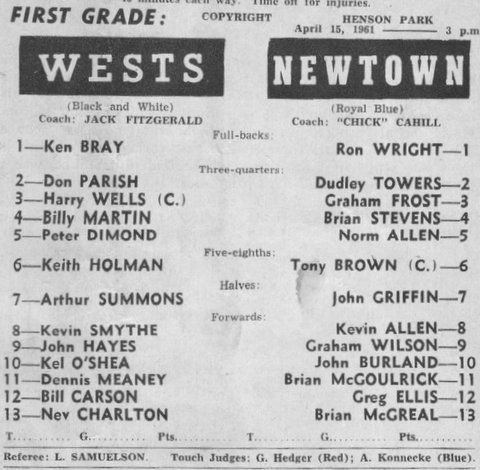 Wests 25 beat Newtown 15.
Ken scored one try and kicked 2 goals.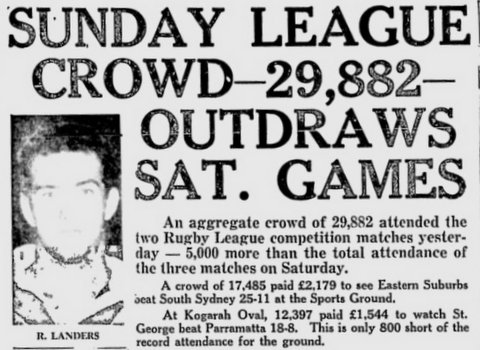 The times they are a changing in Rugby League…..
1962.
Ken had a busy year in Reserve grade scoring 5 tries and kicking 21 goals. Ken also played 3 Third grade games .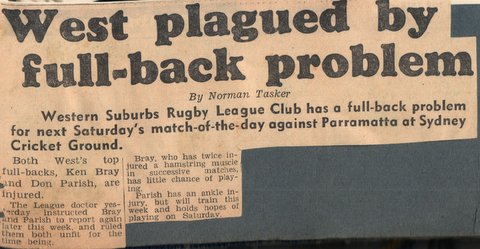 It was half way through the season, June 30th and Ken and Don Parish are both out.
Ken's big problem is his hamstring muscle.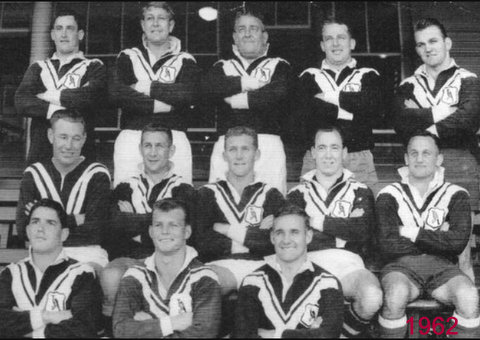 A Wests Team 1962 style.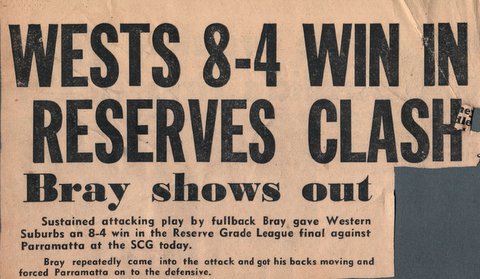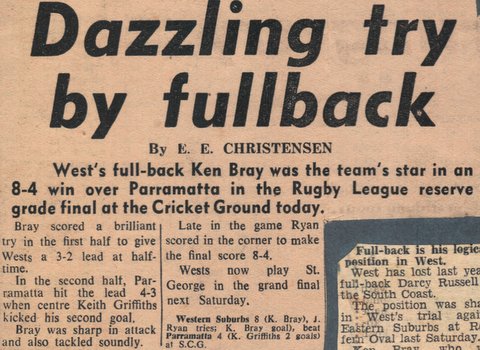 But when the finals series came around Ken was ready to play.
Ken was ready to play in the Reserve Grade Grand Final but fate would step in and change history.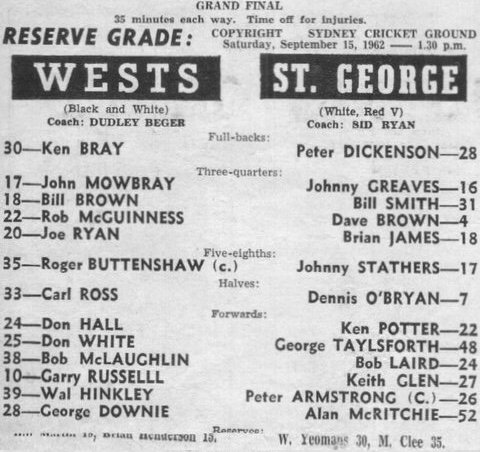 Ken wearing his now Famous number 30 jumper.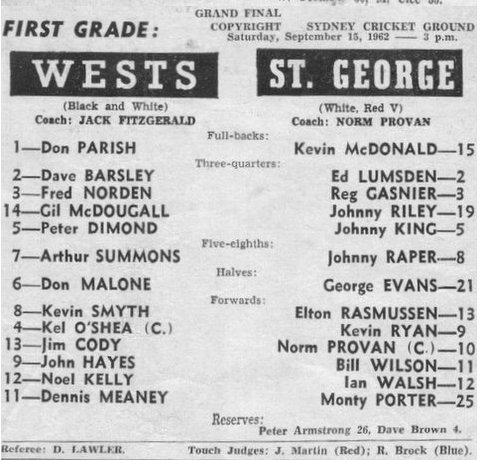 Don Parish playing fullback for First grade…..all good.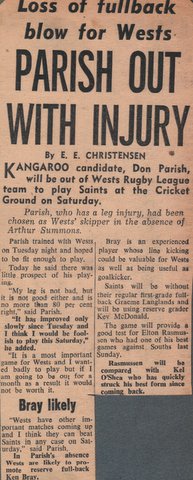 Those four words "Parish out with injury"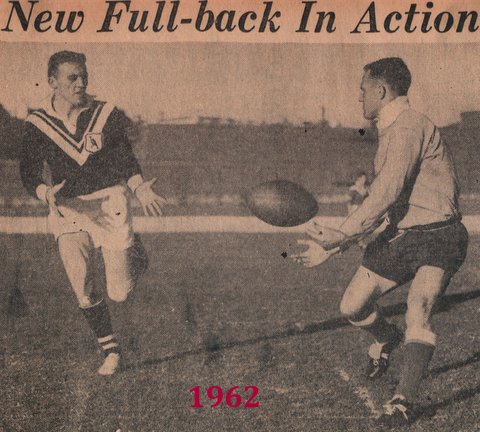 2 years later and Ken and Arthur Summons are now playing in 1962 Grand Final.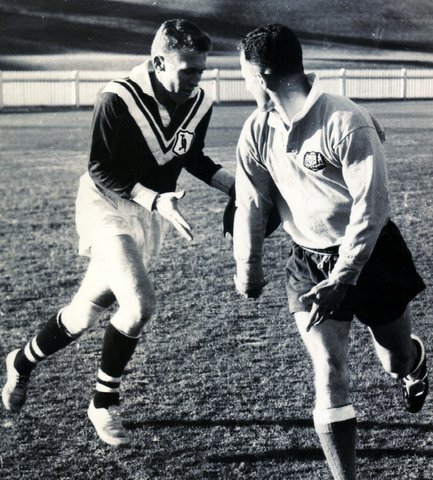 Note: Ken's preferred foot wear at training Sandshoes.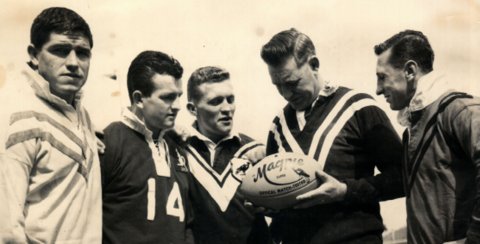 Jim Cody, Gil McDougall, Ken, Coach Jack Fitzgerald and Mowy.
Don't you like the goodold days when players would wear other team jumpers to training.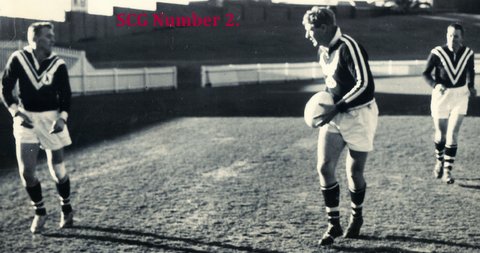 Ken passing the ball to Big Denis Meaney .
Coach Jack Fitzgerald in back ground.
Most of the above photos were taken at the SCG number 2.
Wests had asked the League to have a final training run at the SCG number 2.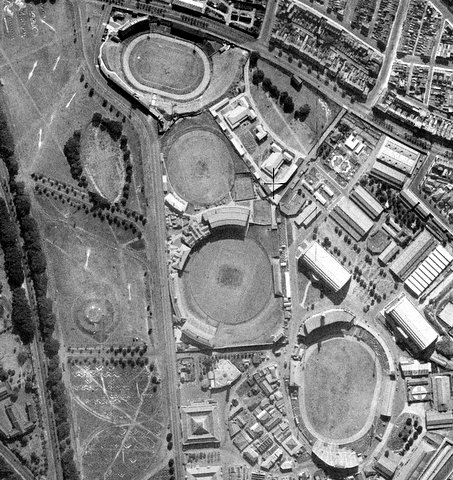 Sports Ground at the top of photo,then SCG 2, SCG and then the RAS Show Ground.
All three grounds were used to play Rugby League at over the years.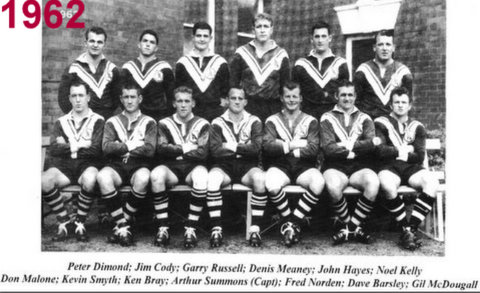 The Wests 1962 run on side for Grand Final.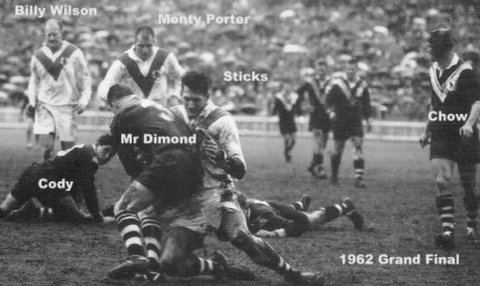 A little action from the SCG GF style 1962.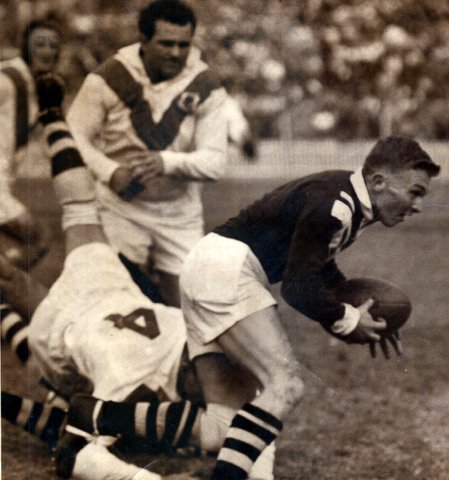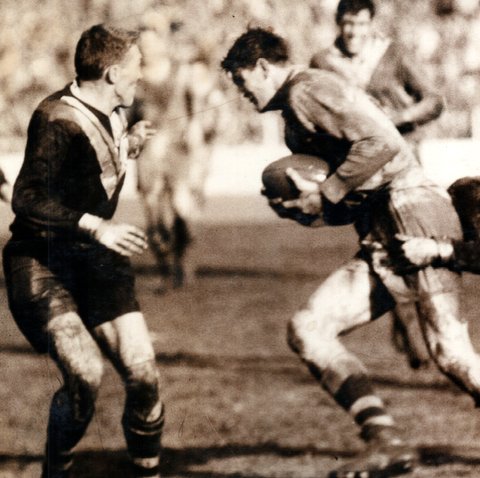 Ken in the thick of things.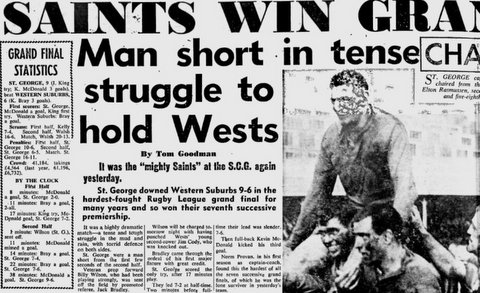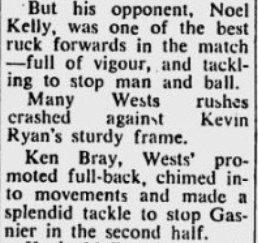 Game Day.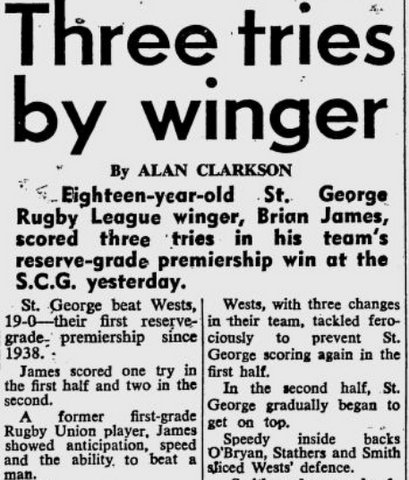 And we also lost Reserve Grade.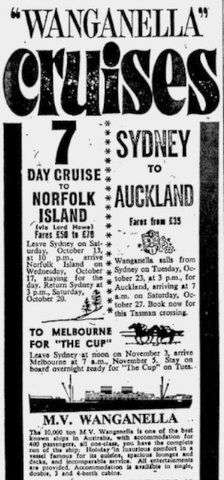 Maybe time to take a relaxing cruise??
1963.
Ken's year was marred by many injuries and his playing time was restricted to only a few games.
5 First Grade games in which Ken scored 2 tries and kicked 6 goals. 6 Reserve Grade games Ken kicked 6 goals.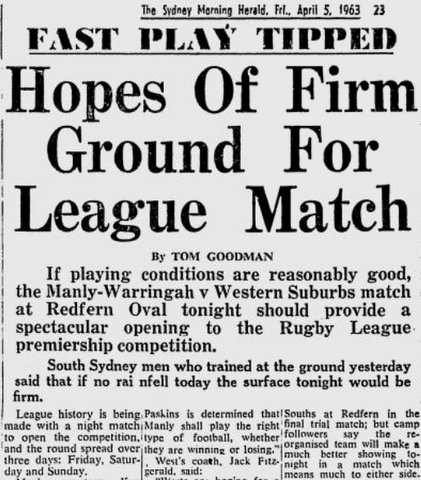 The first time in history a night match opened the competition.
Wests 13 beat Manly 6 on this historic night.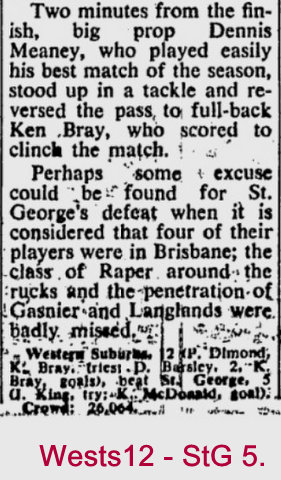 As usual the press making excuses for St George.
A crowd of over 26 Thousand went along to the SCG to see this rematch of the 1961/62 Grand Finalists.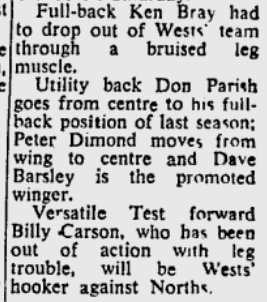 Just two of the many times Ken's injuries prevented him from playing in 1963.
Ken still wearing his sand shoes at training.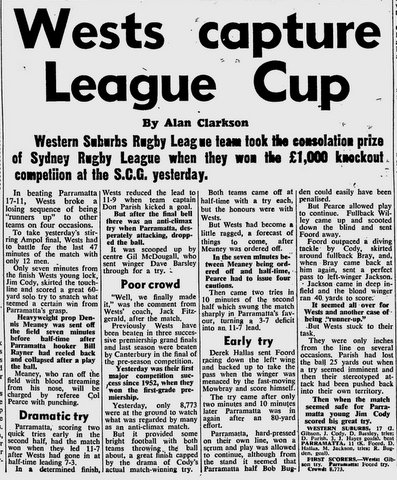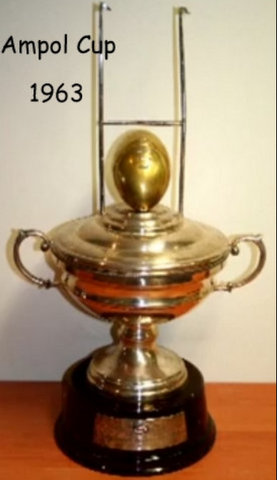 The Ampol Cup which is at the NRL Museum Sydney.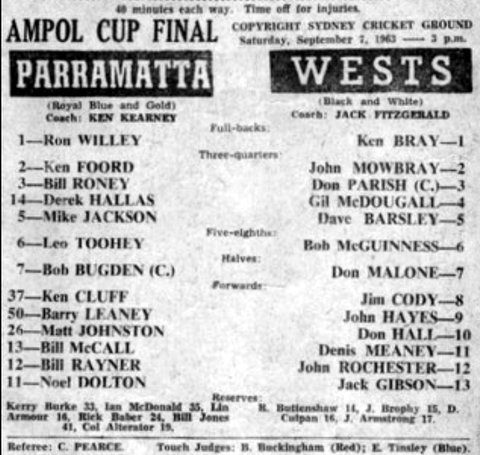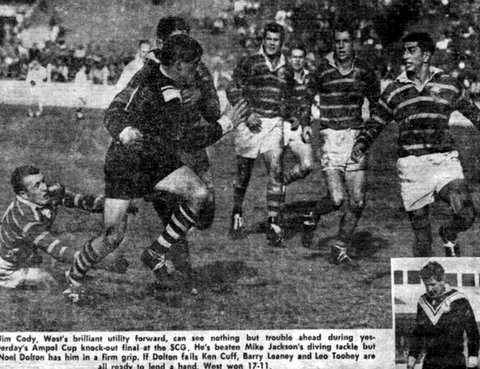 Wests 17 beat Parramatta 11 at the SCG.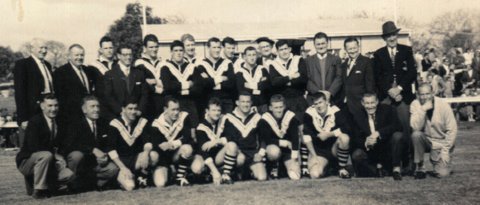 Ken is 4 from the right kneeling.
Kangaroos Summons, Dimond, Kelly, Smythe had departed.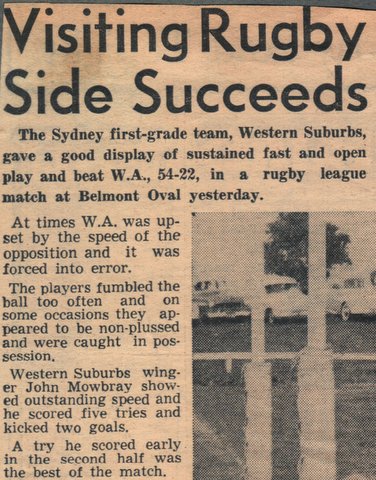 At the end of the season Wests headed off to W.A. to help promote Rugby League.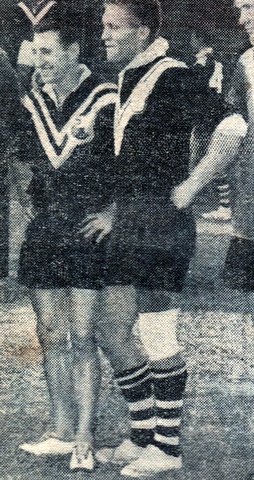 Mowy wearing a WA jumper.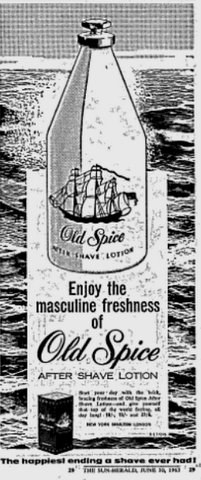 After a hard game of football in Perth Old Spice is the lotion you would use after shaving.
1964.
1964 was Ken's best year at Wests.
Ken played 16 First grade games scoring 1 try and 64 goals.
Total 131. 4 preseason games in First Grade plus the State Cup .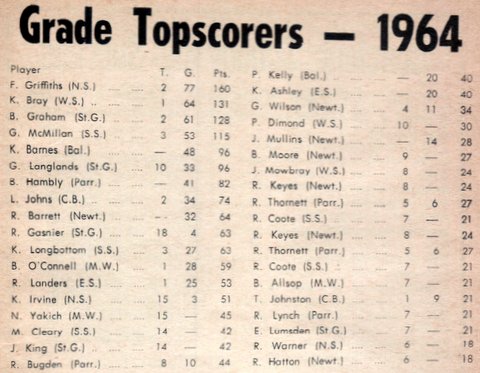 Ken was the second highest point score in 1964.
Wests 4 were beaten by Souths 28 in the Craven Mild preseason comp.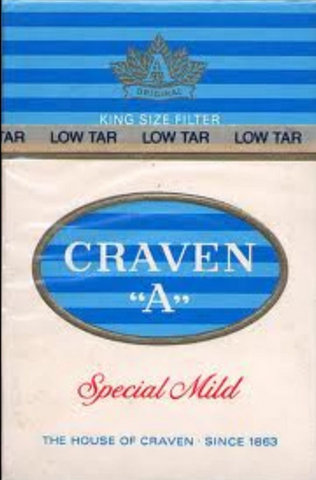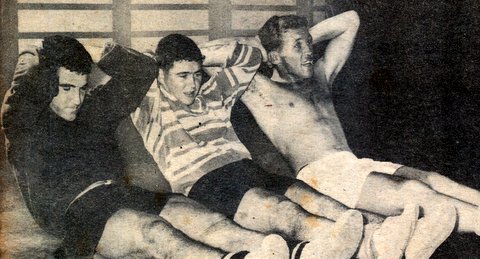 Training the old fashion way.
Denis Pittard, Pat Thomas and Ken showing off his 6 Pack.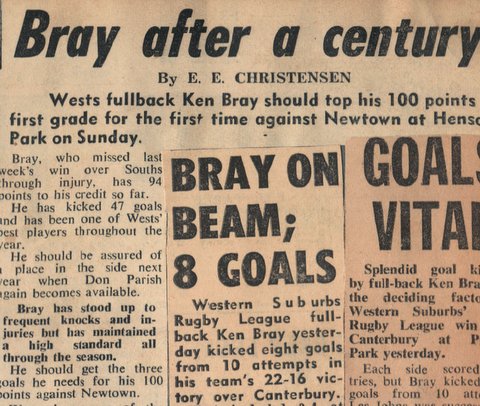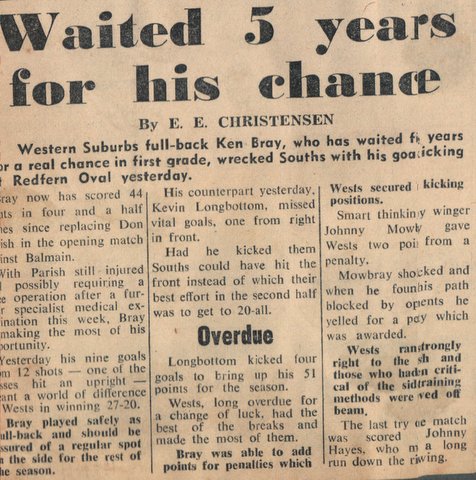 Wests 27 beat Souths 20.

Ken kicked 8 goals from 10 attempts.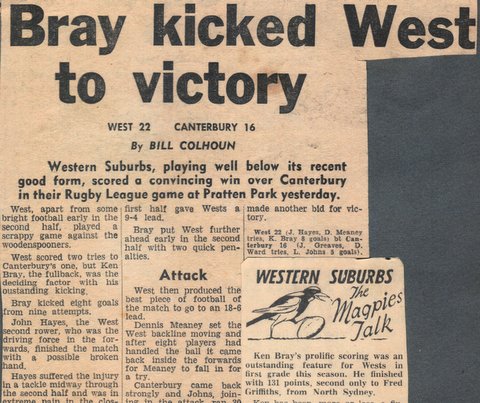 Ken is in fine form.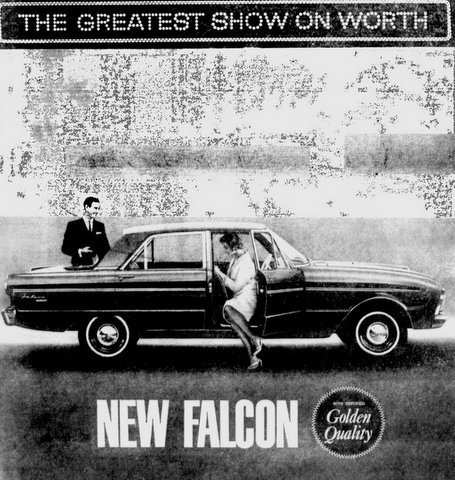 1964 Car of the Year.

Last game of 1964 for Wests and also Jack Fitzgerald's last game as coach.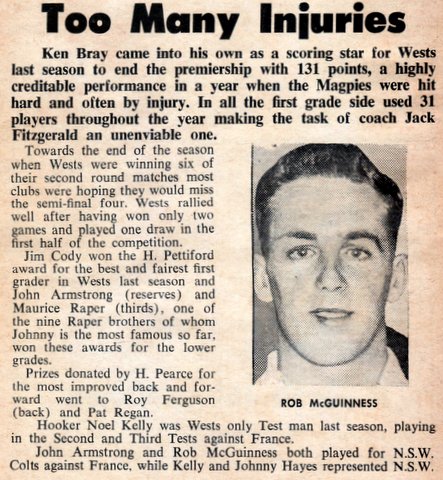 1964 season in review.
1965.
After a record breaking year for Ken injury once again caused drama in Kens football career.
Ken played all pre-season games in First Grade before injury.
First Grade Ken played 7 games and kicked 22 goals. Reserve Grade 4 games no points.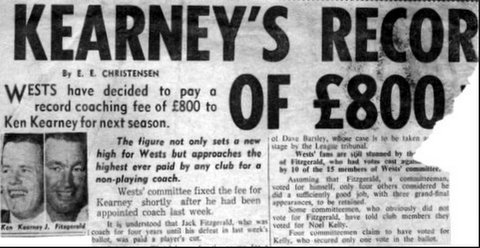 Very BIG news at Wests.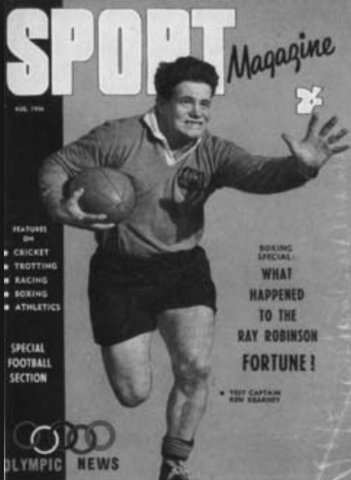 Killer on the burst.
Wests had a new coach in 1965 Ken Kearney.
Killer only lasted one season before Noel Kelly was appointed Capt/Coach.
Wests only had 6 wins and came 8th in a 10 team comp.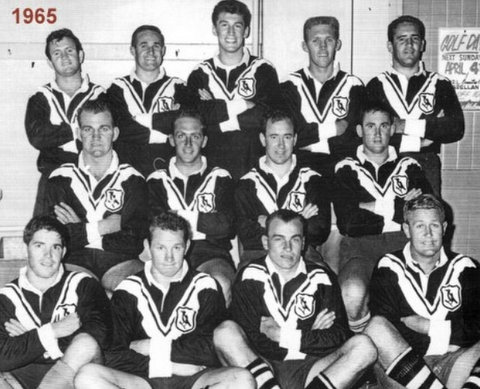 Team photo taken in the Pratten Park dressing room.
Ken is second from the right back row. Between John Armstrong and Noel Thornton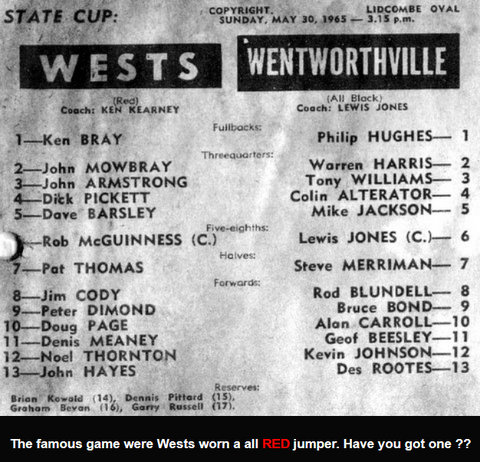 Unusual game with Wests playing in an all RED jumpers.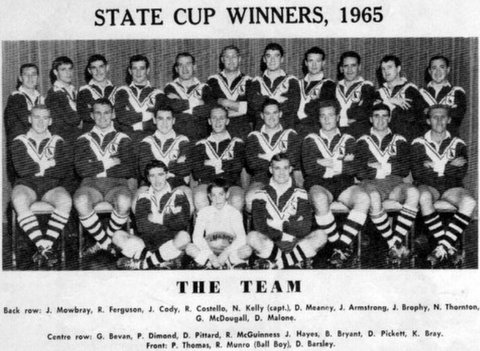 The only good news in 1965 was that Wests won the State Cup.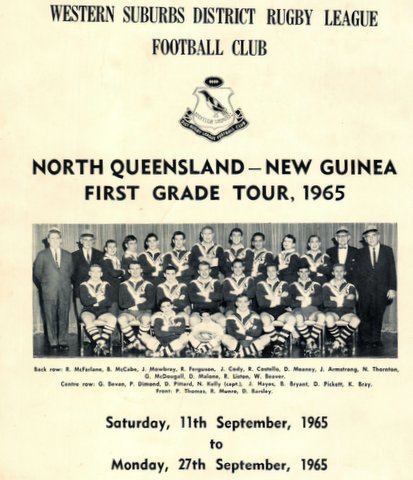 After the State Cup win it was off to sunny Nth Queensland and a even sunnier New Guinea for the end of season trip.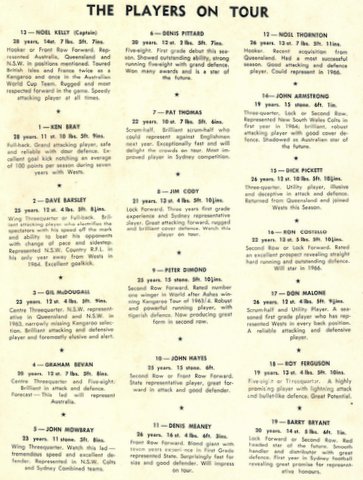 A little hard to read but Kens bio reads….
Ken Bray Age 28 11st 10lbs. 5'9ins.
Fullback. Grand attacking player, safe and reliable with dour defence.
Excellent goal kicker notching an average of
100 points per season during 7 years with Wests.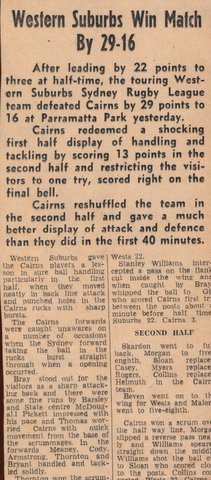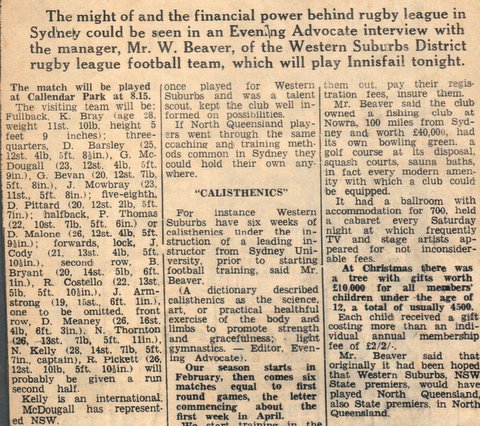 A couple of newspaper reports about the Trip North.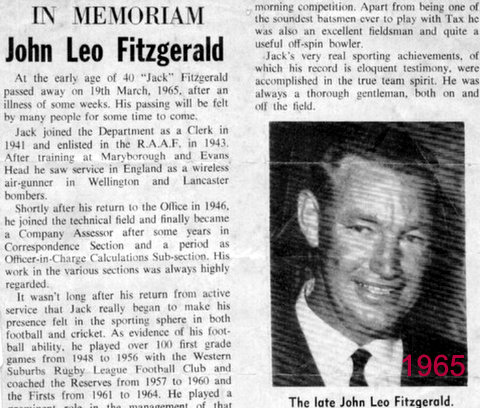 During the 1965 season Jack Fitzgerald died.
1966.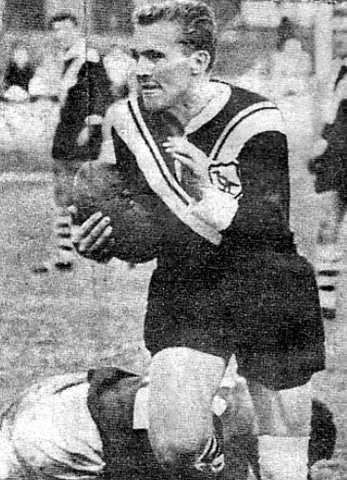 Ken featured on the front cover of the Rugby League News.
1966 is Ken's last year at Wests and in fact his last season of any level of Rugby League once again Ken was riddled with injury.
Ken's stats for 1966.
9 games in First Grade scoring 6 tries and kicking 14 goals and in Reserve Grade 2 tries.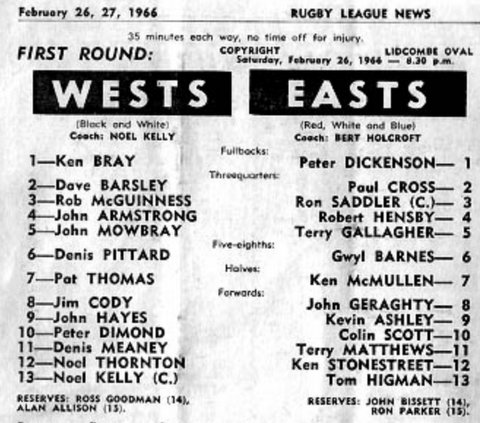 The year started off well for Ken he played in all preseason games.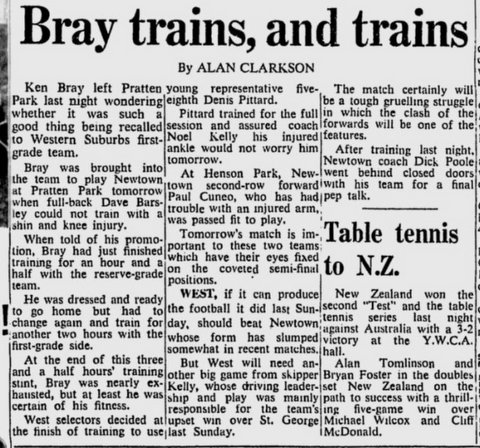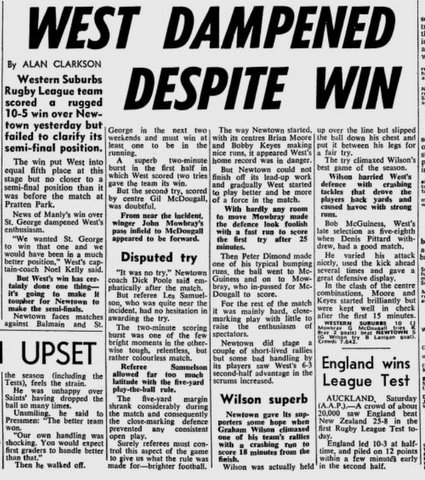 Round 16  of the season and Ken is brought into First Grade were he stayed including the playoff game against Newtown.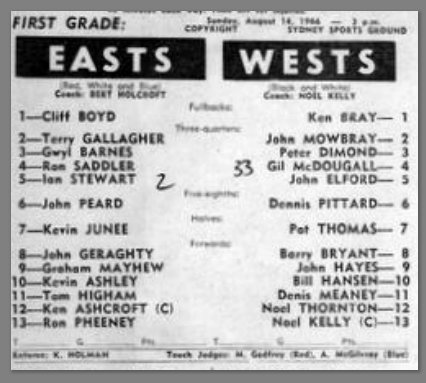 Easts 2 V's Wests 33.

Round 17  Wests need to win all the remaining games to make the semis.
Ken scored "a particularly good try"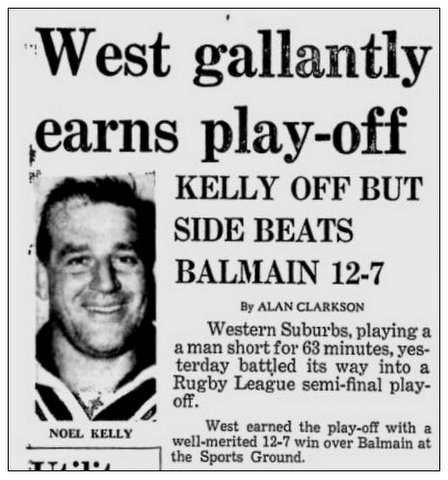 Round 18  Wests 12 beat Balmain 7. Ken kicked 3 goals.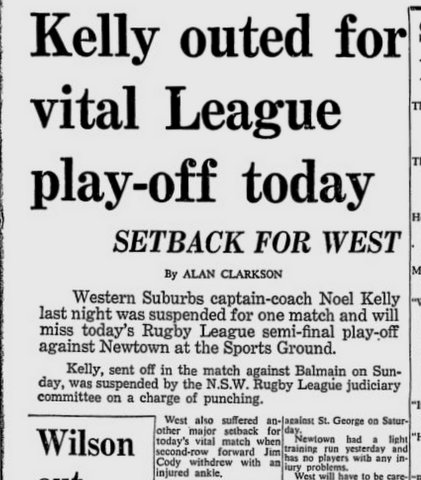 A huge loss before the Play Off game.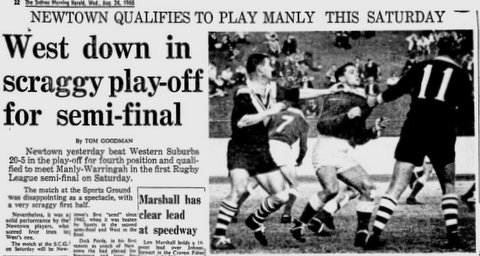 Ken kicked a goal….his last for Wests and Rugby League.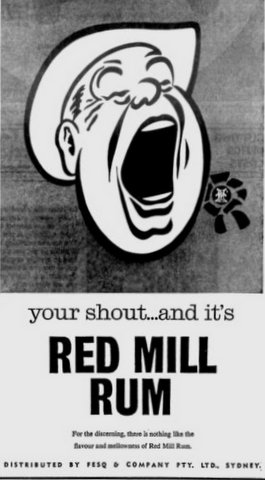 Ken came to grade football in 1955 at the age of 18 and 12 seasons later in 1966 Ken retired at the age of 30.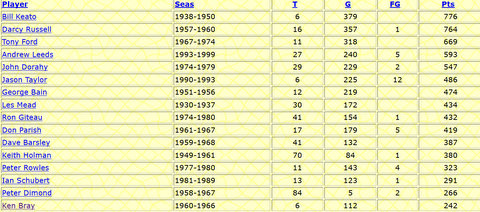 Ken is the 16th highest points scorer in the history of Western Suburbs Rugby League Club.
1908 until 1999.
*
Noel Kelly a few years ago picked his Dream Team and guess who was Fullback ? See below for the answer.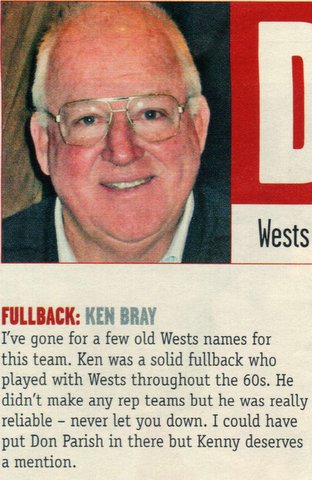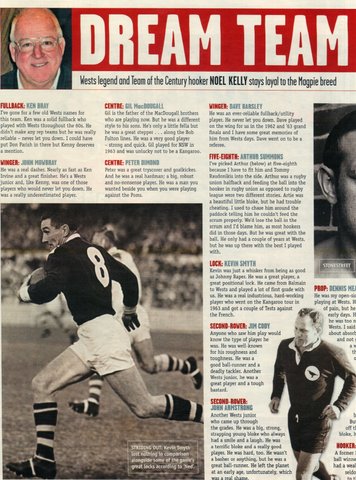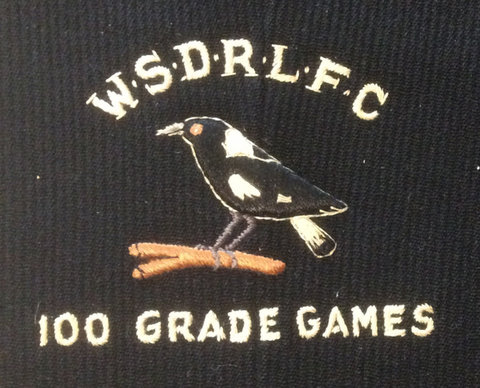 I would like to thank Kens daughter Sandra who is now the custodian of Ken's Rugby League memorabilia for letting me scan and photo it. The blazer pocket above is one example of the treasures Sandra holds dear.
*
The interview with Ken was coming to an end (sadly for me) so it was time for my usual hard hitting questions…..
What pub did you drink at after training and games ?
"The closest…the Ashfield Hotel and after games usually back to the Wests Leagues Club."
Ashfield Hotel a short walk from Pratten Park.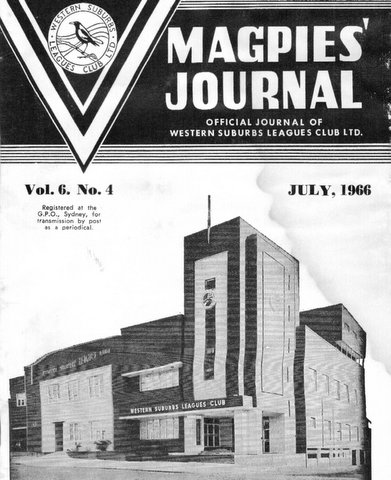 The Old Leagues Club.
Best player at Wests?  Dick Poole. Ken said he was a football genius and helped him score many tries with his brilliant passing.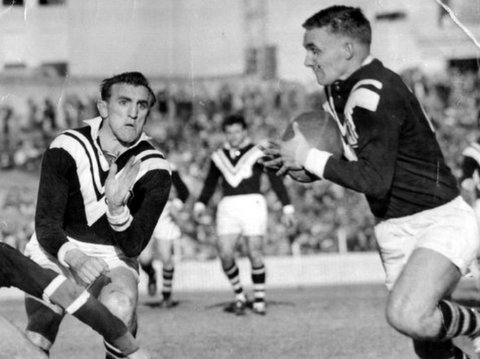 Dick Poole passing to Dave Barsley.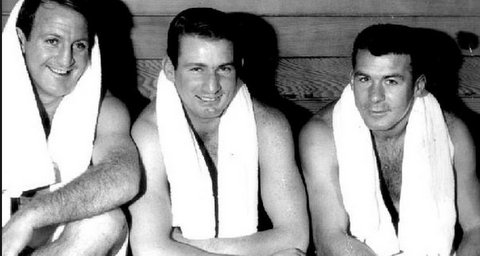 Best player ever ? John Raper.
The Big three JR, Chang and Billy Smith.
Photo may of been taken inside a Viking Sauna courtesy of Rex Mossop.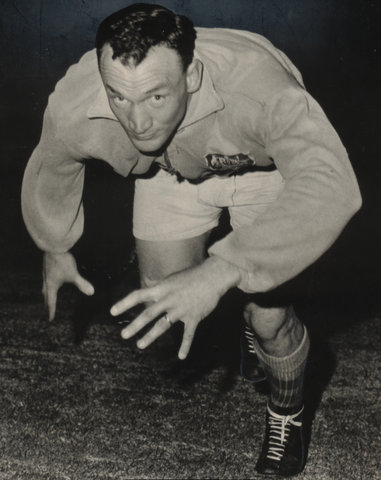 Kevin Ryan.
In one game against St George Kevin Ryan's jumper was torn and he had to strip down on the field to Kens surprise and others Kevin was not wearing shoulder pads….all the years Ken had played against Kevin he always though by the look of him he had shoulder pads on.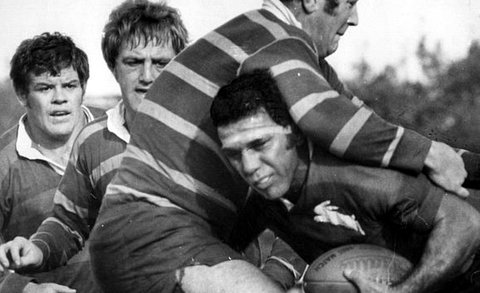 John Sattler .
Hardest player or the one you did not like to be tackled by or have to tackle. There was two Kevin Ryan and John Sattler.
We spoke of footie grounds and the dreaded name of North Sydney Oval came up.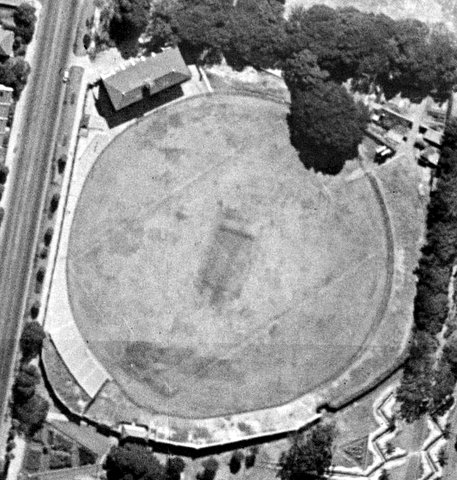 Note: The cricket pitch area and the unique angle of the footie playing field.
Ken was positive "the worst ground I ever played on, I always seemed to get injured playing on that ground".
Favorite player as a kid ?  Joe Jorgenson. (see story below)
From his childhood Ken remembers being called Joe by his mother. Mum was (as was the family) a big Balmain fan and her favorite player was Joe Jorgenson. Hence Ken's nickname Joe.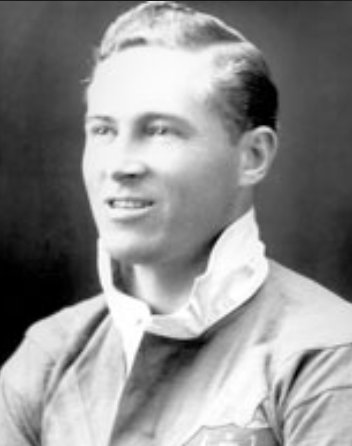 Joe Jorgenson.
Joe Jorgenson played with Balmain from 1944- 1953 .

During most of his working life Ken drove trucks and when he gave football away Ken started driving cabs for his dad and eventually purchased his own cab and drove the busy streets of Sydney until 1990.
In the early 1990's Ken hitched up the trusty Millard and drove around Australia for almost 3 years. "the best time of my life"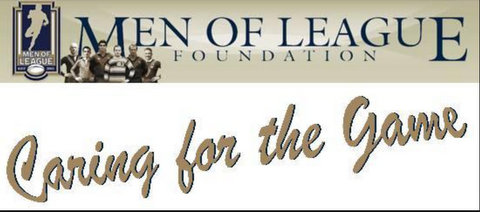 Ken became very involved with the Men Of League and is a regularly at their functions.
Today Ken is living the good life up in the Tweed Heads area and has the occasional beer with his mates at the local hotel.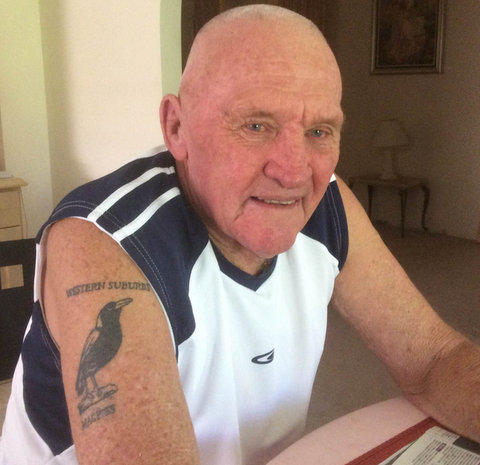 Photo taken in early 2017.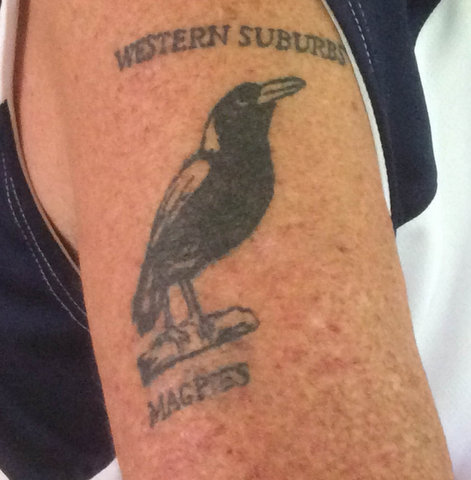 As you can see Ken Bray is very proud to be an Old Magpie.
My time with Ken Bray the proud old Rugby league warrior was up and it was sadly time to say good bye.
Thanks Ken for your time and for letting me post your wonderful story.
 Ken I hope to catch up with you at this years Pratten Park Magpies Reunion which is being held on
Saturday the 22nd of July 2017.