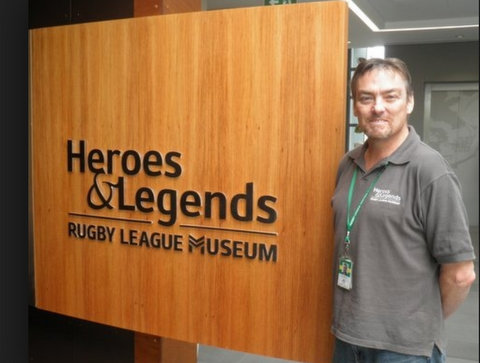 Not sure if you  have heard of Terry Williams who until last year was the historian at the NRL Museum at League Central.
Below is a CV of Terry Williams.
Terry Williams has been involved in rugby league history for over 25 years and has written books on Newtown "Out of the Blue" (1993) and "Through Blue Eyes" (2008) as well as the NSWRL Referees Association Centenary Publication "Above All for Rugby League" (2008). He has also written for a number of publications in Australia and overseas and in 2009 delivered the Annual Tom Brock Lecture. In 2017 he was a guest speaker at the Spirit of Anzac Centenary Exhibition at Darling Harbour and in 2018 was asked by Australian coach Mal Meninga to address the Kangaroos, Jillaroos, Junior Kangaroos and both the Men's and Women's ADFRL teams at Enoggera Army Barracks. From 2012 until November 2018 he was historian at the NRL museum.
A few years ago I wrote a story on Terry and the museum
 see link  below.
http://www.noelkellyskids.info/the_rugby_league_museum_one_of_a_kind
Terry has also written books on his beloved Newtown.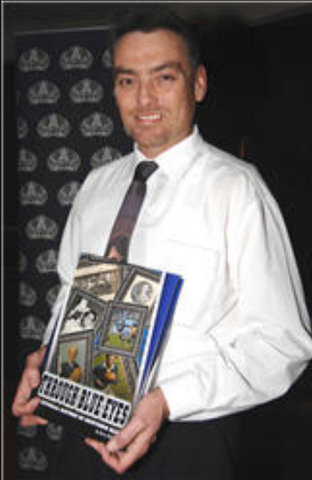 Terry at the book launch of one of his books  "Through Blue Eyes"
Over the years Terry has been a great help for both myself and Wests Archives with research into Rugby League.
Terry is "Go Fund Me" at the moment to get enough money to finish and publish his book. "Headgear to Helmets"
If you click onto this link it will explain what I am talking about it also includes Terry excellent doco
"Headgear to Helmets"..
Link…..  https://www.gofundme.com/f/headgear-to-helmets-book
If you feel inclined please give generously .
Cheers Tony.
Ps Terry is a great bloke…only problem he loves Newtown!!!