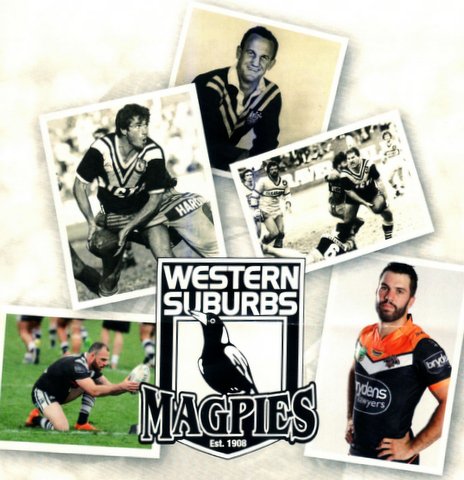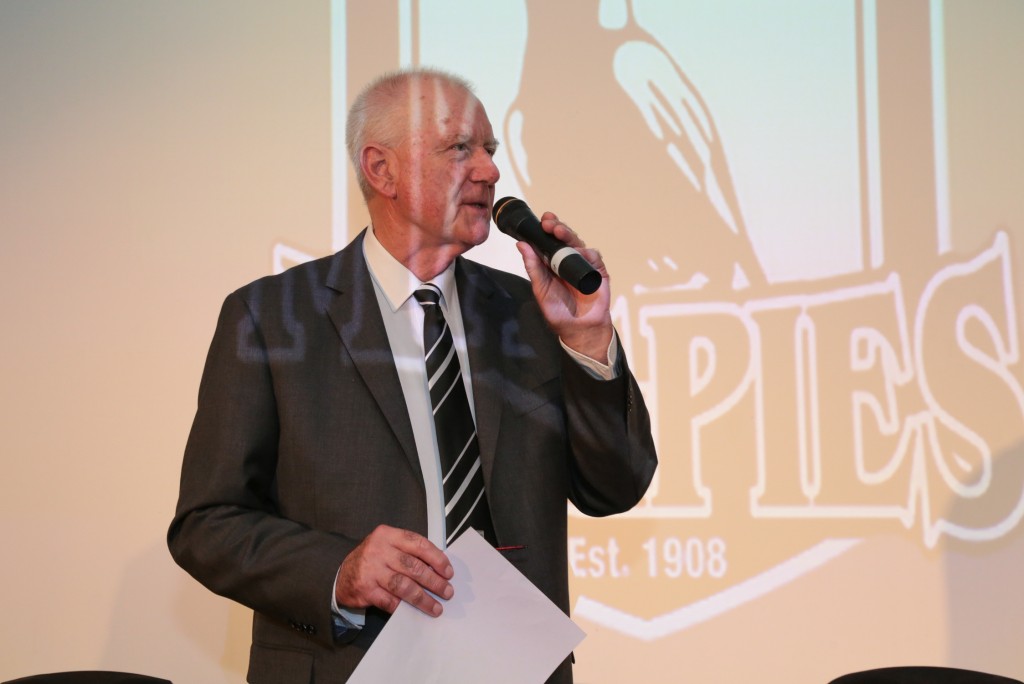 Rick Wayde welcomes all to the 2017 Heritage Night.
This years theme was "Home Grown".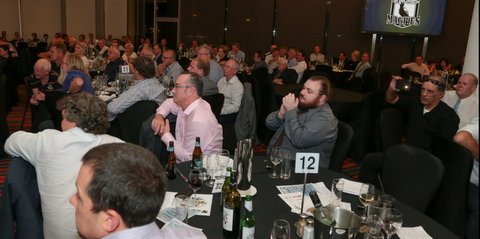 Part of the very large crowd.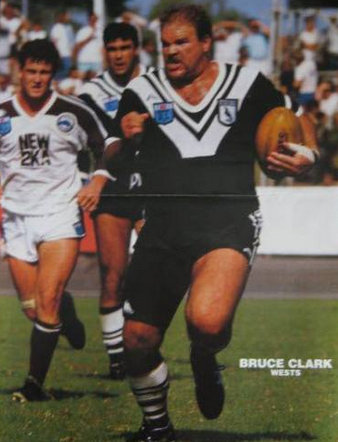 Speaking of "Home Grown" Big Bruce Clark.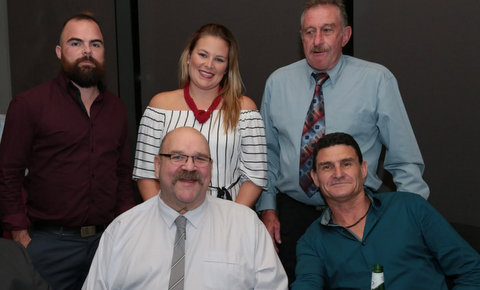 Bruce with friend's.
L-R Shannon Gallant, Brooke Gallant, Wayne Bennett and Brett Clarke.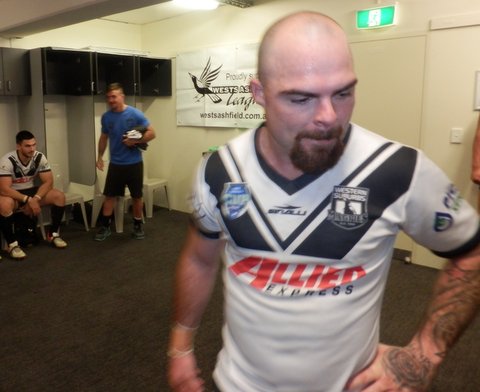 Shannon Gallant in his playing day's at West's.
The first event of the night were the interview's.
Mick Pinkerton, Trevor Cogger and Steve Ghosn.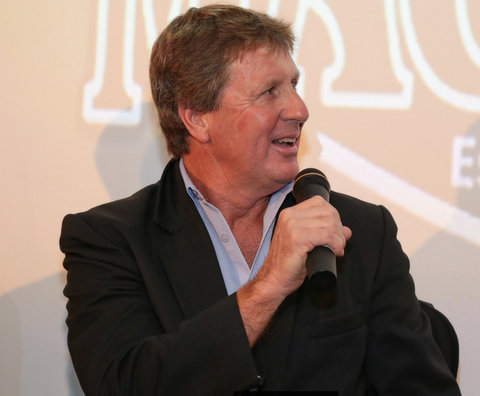 Trevor Cogger.
Local junior who played the most games in all grades for West's. 303 including 161 First Grade games.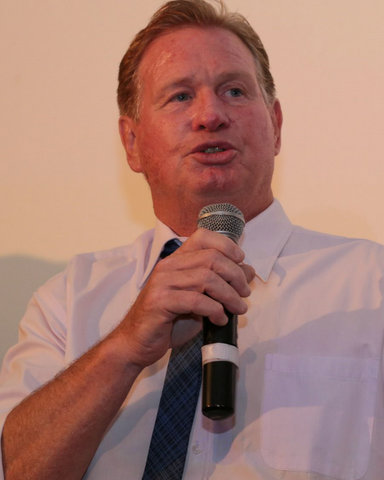 Mick Pinkerton.
Local junior who played a total of 134 games for West's.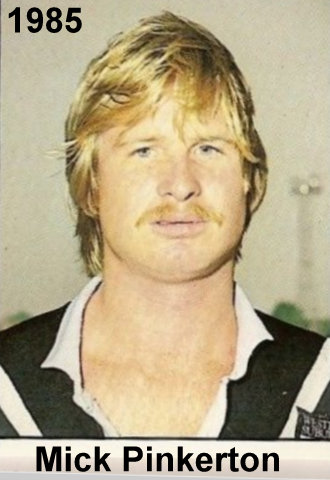 Another West's junior Leo 'Ledge' Epifania on stage far right.
Interview Part 2.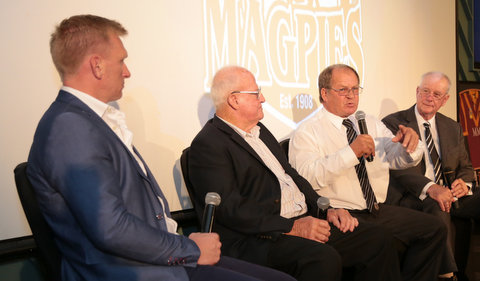 West's Tiger's Interim Head coach Andrew Webster , Noel Kelly and Tommy Raudonikis .
Ned and Tommy sharing stories from the "Good Old Days".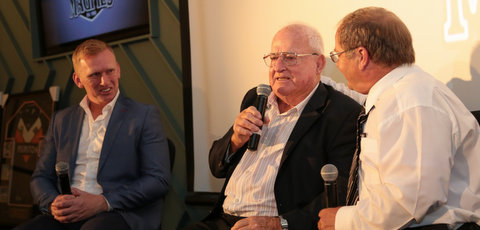 Ned gets serious about West's.

The crowd listen intently to Ned and the boy's.
Interview Part 3.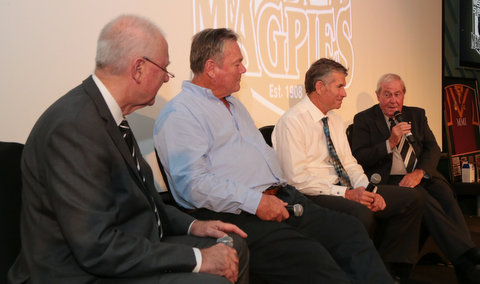 Rick, Bob Cooper, Wayne Smith and Roy Masters.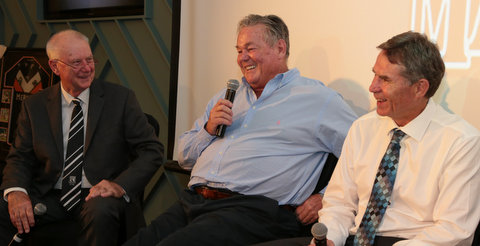 Bob Cooper, (centre) West's Junior played 81 First Grade games with Wests.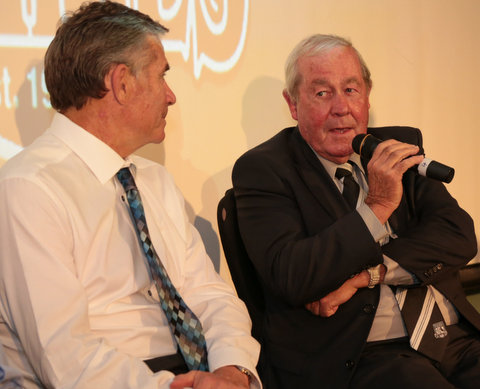 Wayne Smith Local Junior (Fed's) played 163 First Grade games for West's.
Ranked third to Tommy R (201) and Yappy Holman (203).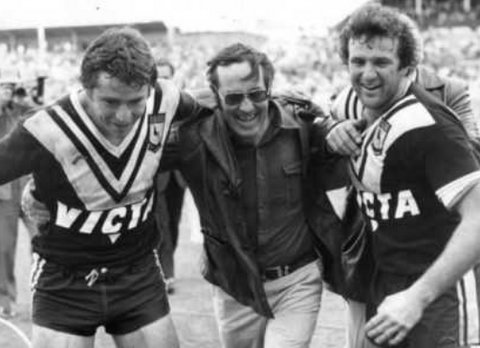 Wayne Smith, Roy and Ron Giteau @ the SCG.
Below are a few photos of the crowd on the night.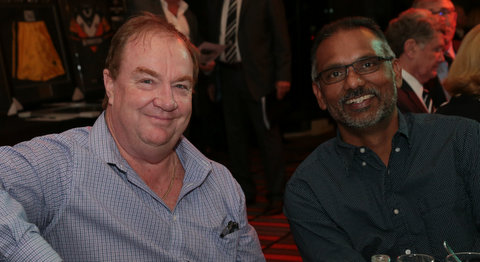 Alan Neil and friend.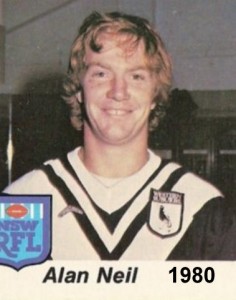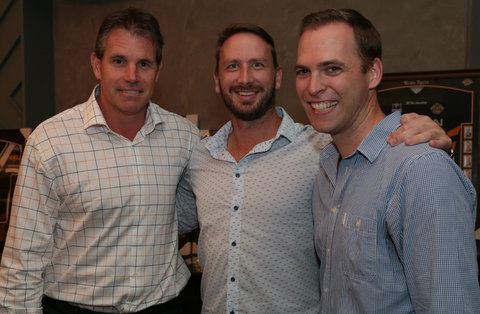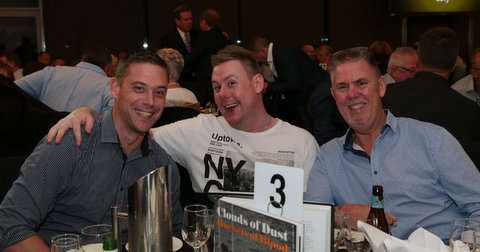 Table 3 .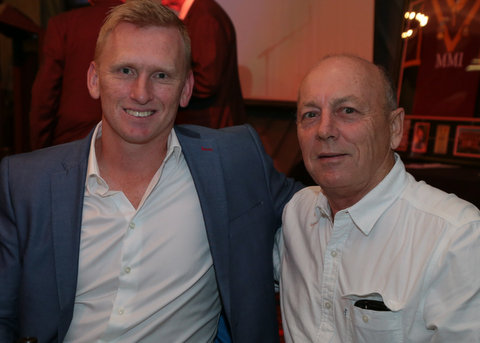 Andrew Webster and friend.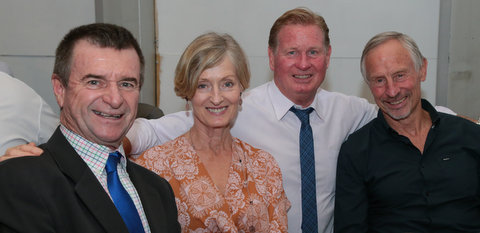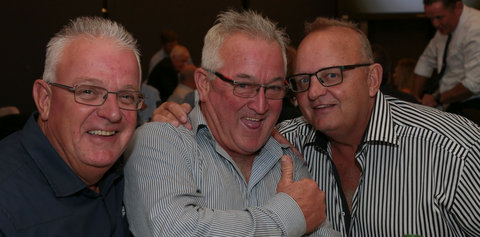 I think they just heard that Ivan Cleary is the new West's Tigers coach.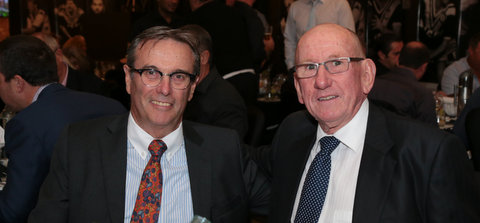 Robert Crawley and Ron Chilcott.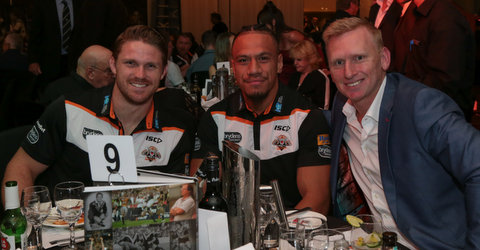 Chris Lawrence, Sauaso Sue  and Andrew Webster.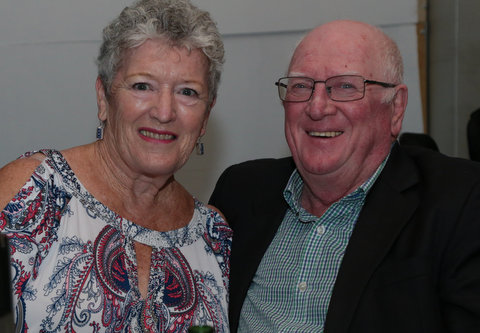 Lynn and Geoff Henry.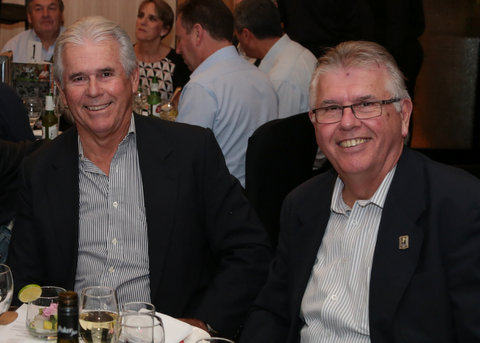 Kevin and Geoff Dark.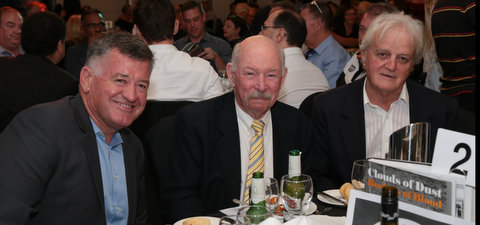 Table 2.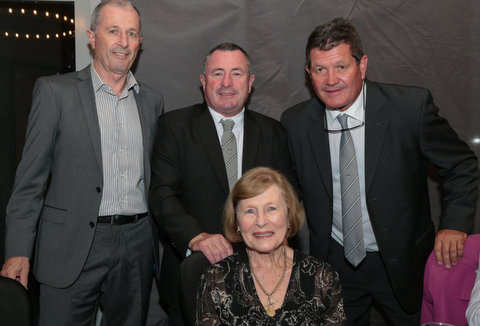 Mum surrounded by her son's.
Bill Jr, Geoff and John.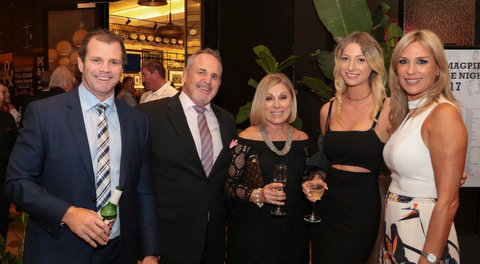 Brian and Elle Cook (centre) with Guests.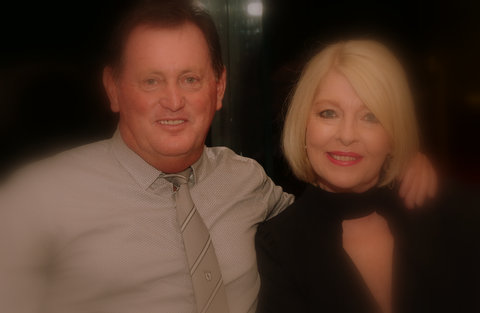 Nathan and Cherie .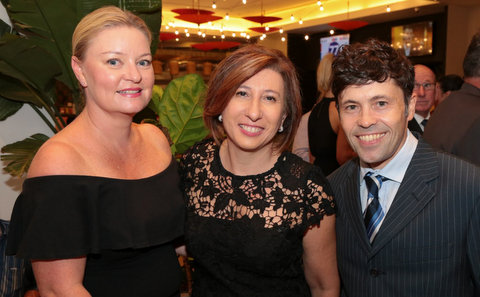 Shannon Gallant, Bob Cairns, Mick Pinkerton, Kevin Montgomery and Brett Clarke.
*
Its time for the all important Raffle….prize is the new edition of
"Clouds of Dust Buckets of Blood"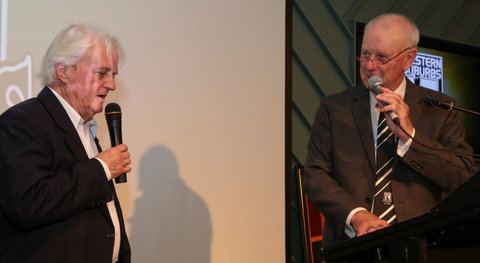 Gary Lester talks to Rick about the book before the draw.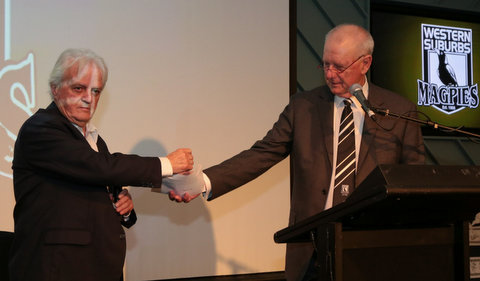 The winner is………Number…… 7.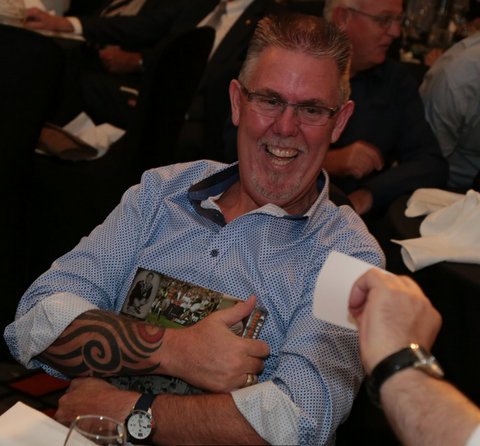 One lucky and very happy winner.
More crowd photos below.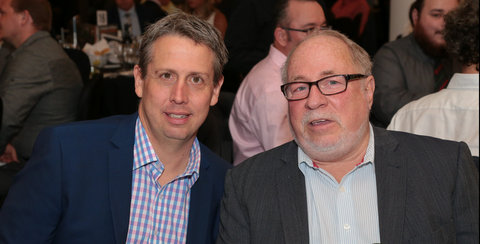 Simon Cook and Gary Johnston.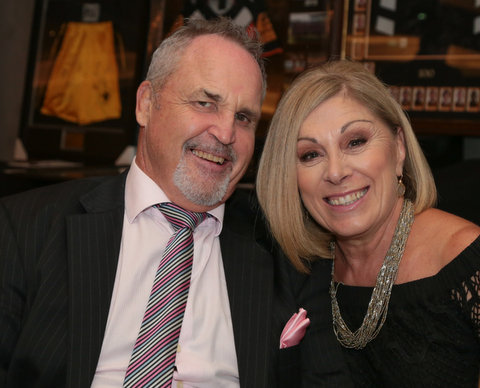 Brian and Elle Cook.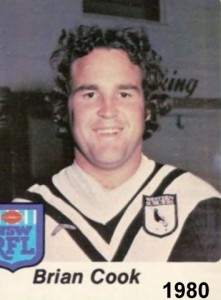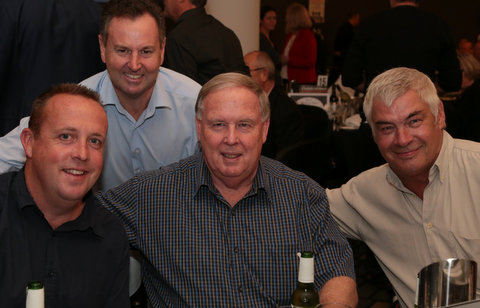 Four Likely Lads.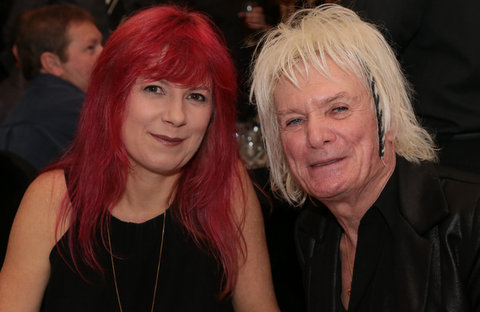 Clare and Dennis Burgess.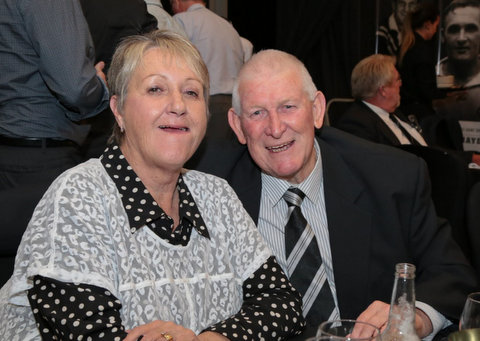 AJ and Tony Ford.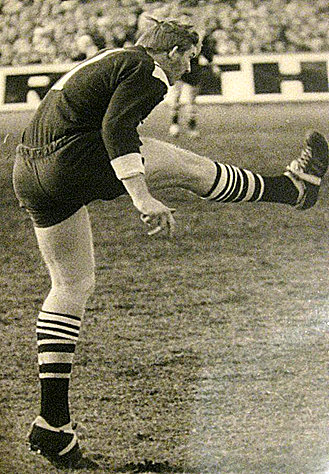 Tony in his playing days.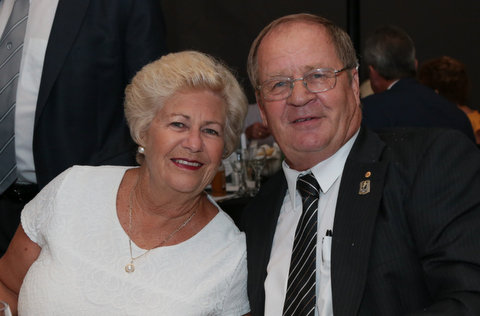 Trish and Tommy Raudonikis.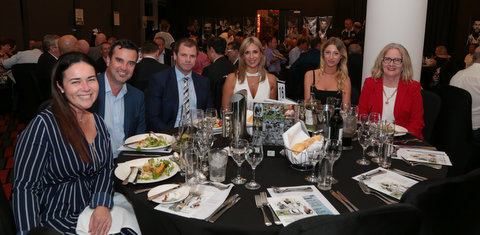 Table 16.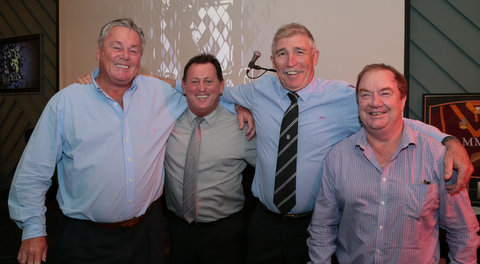 Bob Cooper, Nathan Cole, Mick Liubinskas and Alan Neil.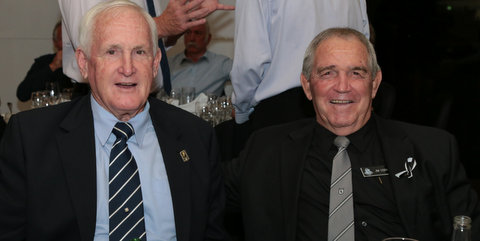 John Hayes and Jim Cody.
Linda and John Dorahy.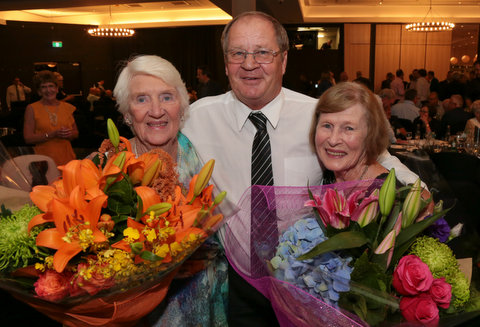 A thorn between two beautiful Roses….
Hazel Holman, Tommy and Pam Owens.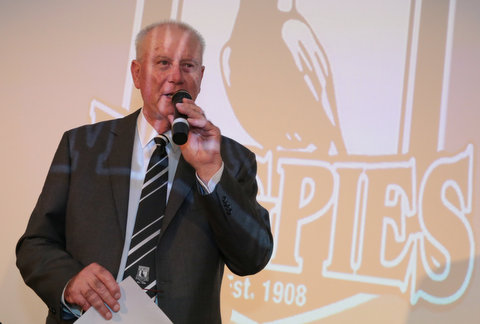 Rick Wayde calls order for the start of the Auction's.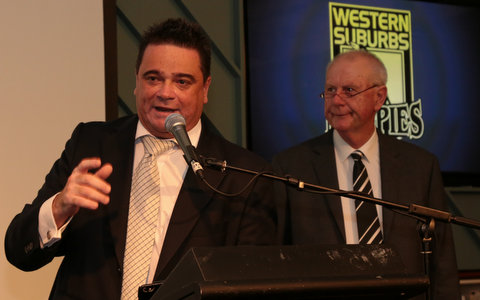 My favorite auctioneer Alby Talarico is warming up the crowd….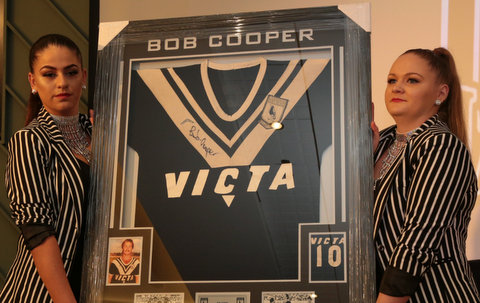 First item a Bob Cooper signed jumper.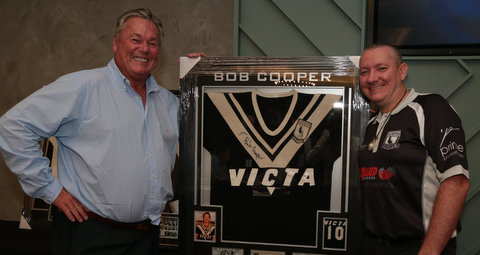 Bob and the winning bidder Colin Ison.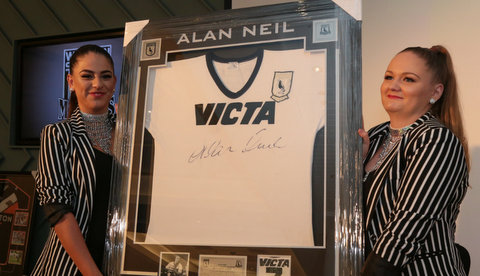 Second item an Alan Neil signed Victa T Shirt.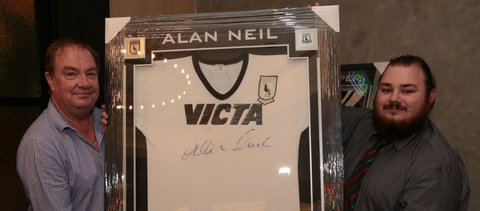 Alan with winner Philip Cross.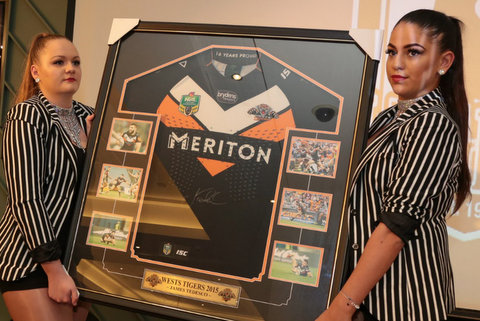 Third item an Wests Tigers jumper signed by James Tedesco.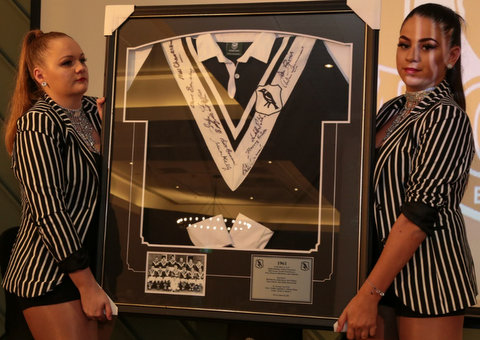 To me the item of the night.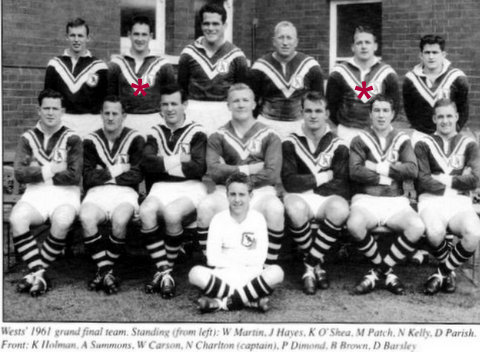 * Chow and Ned.
A 1961 Grand Final jumper sign by the Wests Team.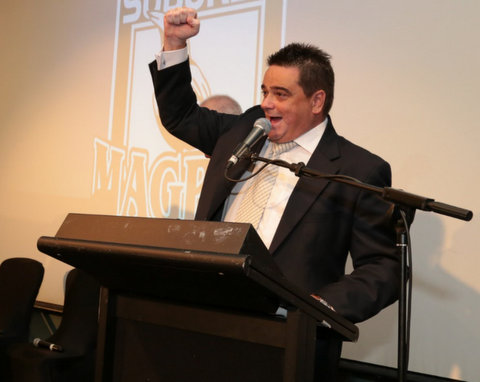 Alby Talarico in full flight.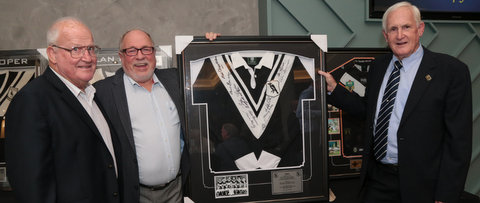 The very lucky bidder Gary Johnston with Ned and Chow .
*
A few more photos from this great night……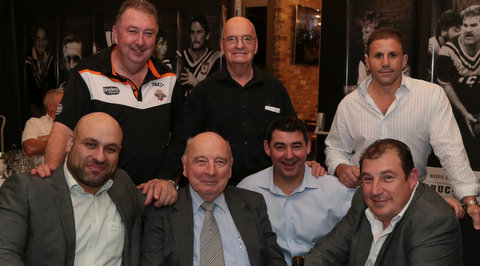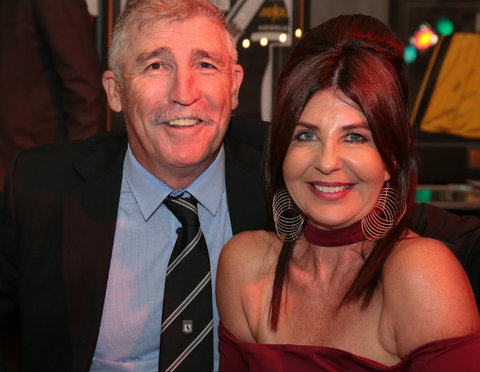 Mick and Vicki Luibinskas.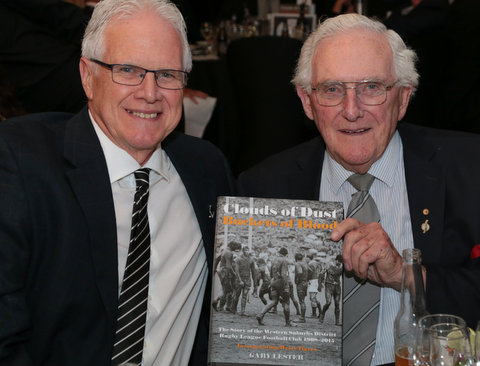 Neil and Alan Davidson.
I think Dad won the book??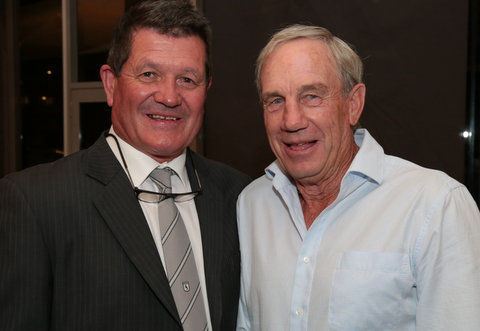 John Owens and Tim Murphy.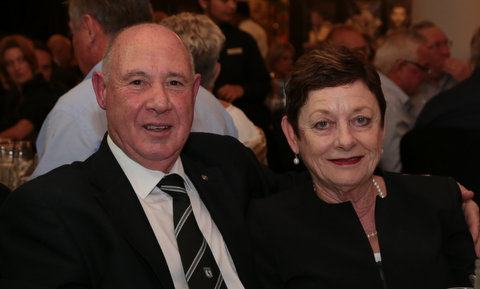 Tony and Mrs Andreacchio.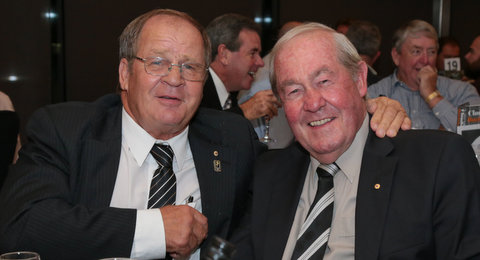 Tommy and Roy Masters.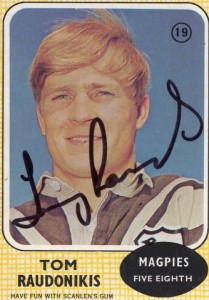 Photo taken a few years earlier….
(thanks to Big Steve Dillon for this photo)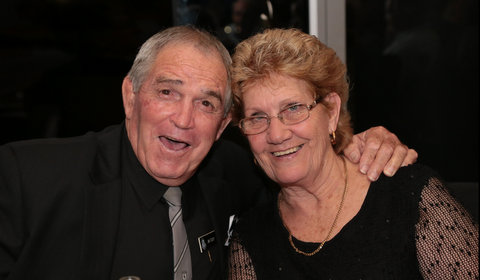 Jim and Terry Cody.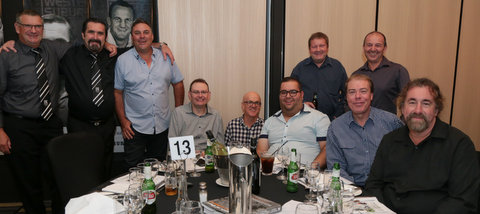 Lucky Table 13.
Lynn  and Wayne Smith.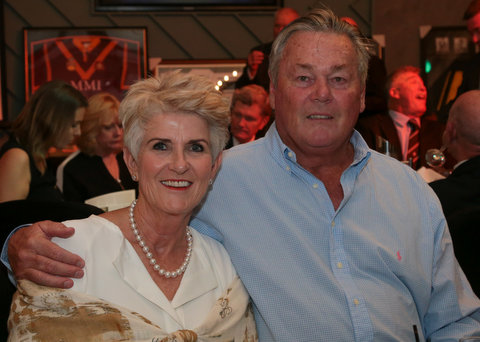 Colleen and Bob Cooper.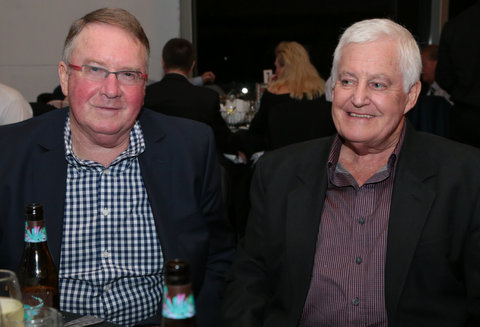 Geoff Squires  and  Carl Ross.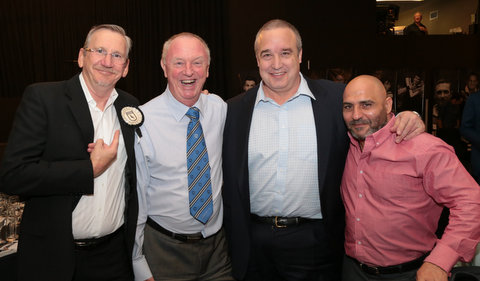 A happy crowd of Magpie supporters.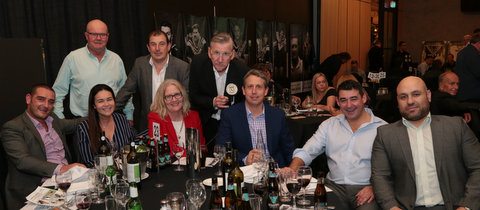 Everyone's into the Red…..time to go home…almost!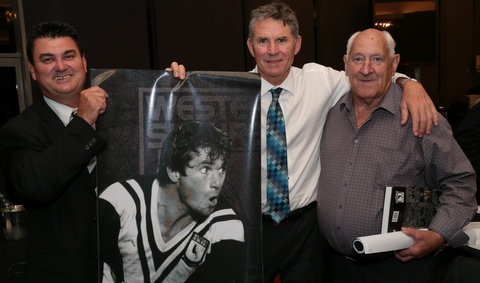 Now its time to go home…there taking down the photos from the wall……
It truly was a wonderful night.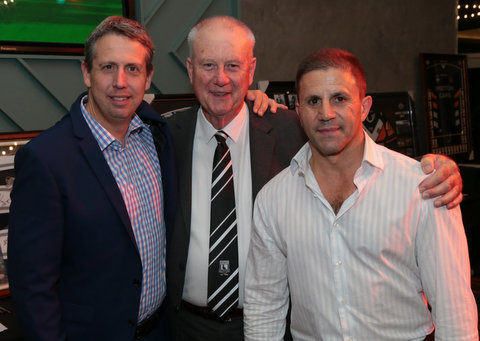 Simon Cook CEO of Wests Ashfield, Rick Wayde and Leo Epifania
Thanks to Rick Wayde, all of his helpers and the crew at Wests Ashfield for
putting together a "Home Grown" Night to Remember.
As the Four Seasons sang in 1963…..
"Oh what a Night……