Ray Bernasconi on the sick list.
Ray Bernasconi.
(updated Tuesday 10th May 2016)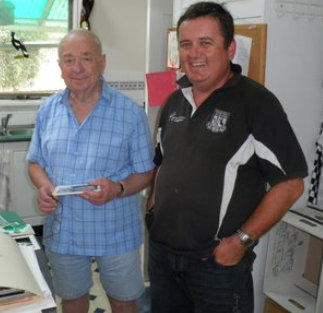 Ray on the left with Craig Woodley.
I received  2 emails from James and Alma Mc Whinnie informing me that Ray is not traveling so well these days.
See below.
Hi Tony
We wish to advise you that our dear friend Raymond Bernasconi is now living at BETHAL NURSING HOME & HOSTEL, 31 Clissold Street, Ashfield. 2131 
Phone number of Bethal is 9798 6766.
Kind regards
James & Alma
Hi Tony
Poor Ray is in the wars lately, besides all the other accidents happening to him he slipped and fell one day during the week and cracked a rib, he is in a lot of pain but O K.

The Nursing Home where he is now living does not have a phone to his room.

Anyway yes that would be very nice of you, try and explain that the phone number is direct to the nursing home and not to Ray.
The daughter is going to have Telstra install a phone for him.

James and I visit Ray when we can.
We have informed the Wests Leagues Club.
Thank you for helping out.
Great to hear from you once again.
Best regards
James & Alma
Good news about Ray.

His phone number is
9716-4134